Payday in Texas
Here's the prize money payout for each golfer at the 2022 Ascendant LPGA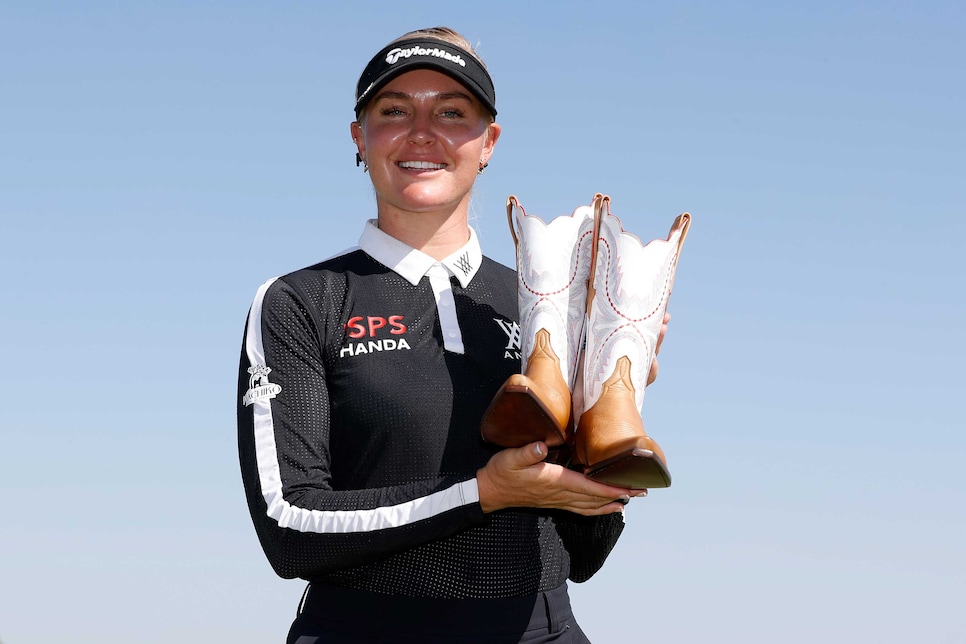 Charley Hull poses with a pair of custom cowboy boots after winning The Ascendant LPGA benefiting Volunteers of America on Sunday at Old American Golf Club in Texas.
Tom Pennington
Much was expected of Charley Hull when she got through LPGA Q School as an 18-year-old in 2014. More at least than just one victory in her first seven-plus years on tour. At the time, the Englishwoman was coming off winning the Ladies European Tour Order of Merit and had become the youngest golfer to ever compete in the Solheim Cup a year earlier.
On Sunday, however, Hull was able to (finally) claim win No. 2, beating China's Xiyu Lin by at The Ascendant LPGA. A final-round 64—with eight birdies to bring her week-long total to 23—gave Hull an 18-under 266 total at Old American Golf Club in The Colony, Texas.
If the victory was a long time coming, it was something Hull had perhaps foreshadowed in the 2022 season, having finished in the top-10 four times and the top 20 in seven of her previous 16 starts.
With the victory, Hull earned a prize money payout of $255,000 from an overall purse of $1.7 million. The first-place payday put Hull past the $1 million in earnings in 2022 and made her the sixth English golfer to win multiple times on the LPGA Tour.
Here's the prize money payouts for every golfer who made the cut this week in Texas.
Win: Charley Hull, -18, $255,000
2: Xiyu Janet Lin, -17, $154,808
3: Lydia Ko, -16, $112,302
4: Atthaya Thitikul, -12, $86,874
T-5: Cheyenne Knight, -11, $63,567
T-5: Moriya Jutanugarn, -11, $63,567
T-7: Lizette Salas, -10, $44,921
T-7: So Yeon Ryu, -10, $44,921
9: Celine Boutier, -9, $37,717
10: Lexi Thompson, -8, $34,326
T-11: Lilia Vu, -7, $27,986
T-11: Wichanee Meechai, -7, $27,986
T-11: Nasa Hataoka, -7, $27,986
T-11: Albane Valenzuela, -7, $27,986
T-11: A Lim Kim, -7, $27,986
T-16: Ruoning Yin, -6, $21,613
T-16: Madelene Sagstrom, -6, $21,613
T-16: Pornanong Phatlum, -6, $21,613
T-16: Lindy Duncan, -6, $21,613
T-20: Yealimi Noh, -5, $18,477
T-20: Ally Ewing, -5, $18,477
T-20: Ayaka Furue, -5, $18,477
T-20: Emily Kristine Pedersen, -5, $18,477
T-24: Allison Emrey, -4, $15,595
T-24: Jennifer Kupcho, -4, $15,595
T-24: Jessica Korda, -4, $15,595
T-24: Frida Kinhult, -4, $15,595
T-24: Maddie Szeryk, -4, $15,595
T-29: Daniela Darquea, -3, $12,798
T-29: Brooke M. Henderson, -3, $12,798
T-29: Jodi Ewart Shadoff, -3, $12,798
T-29: Yaeeun Hong, -3, $12,798
T-29: Gaby Lopez, -3, $12,798
T-34: Linnea Johansson, -2, $10,425
T-34: Georgia Hall, -2, $10,425
T-34: Karis Anne Davidson, -2, $10,425
T-34: Ariya Jutanugarn, -2, $10,425
T-34: Narin An, -2, $10,425
T-39: Emma Talley, -1, $8,814
T-39: Danielle Kang, -1, $8,814
T-39: Nanna Koerstz Madsen, -1, $8,814
T-42: Pauline Roussin, E, $7,967
T-42: Yuka Saso, E, $7,967
T-44: Gerina Mendoza, +1, $6,950
T-44: Brittany Altomare, +1, $6,950
T-44: Matilda Castren, +1, $6,950
T-44: Stephanie Meadow, +1, $6,950
T-44: Jeongeun Lee5, +1, $6,950
T-49: Ashleigh Buhai, +2, $5,606
T-49: Amanda Doherty, +2, $5,606
T-49: Haeji Kang, +2, $5,606
T-49: Ruixin Liu, +2, $5,606
T-49: Caroline Masson, +2, $5,606
T-49: Brittany Lang, +2, $5,606
T-49: Sarah Schmelzel, +2, $5,606
T-56: Alana Uriell, +3, $4,746
T-56: Lindsey Weaver-Wright, +3, $4,746
T-56: Caroline Inglis, +3, $4,746
T-59: Anna Nordqvist, +4, $4,125
T-59: Jasmine Suwannapura, +4, $4,125
T-59: Lauren Coughlin, +4, $4,125
T-59: Celine Herbin, +4, $4,125
T-59: Jeongeun Lee6, +4, $4,125
T-59: Stacy Lewis, +4, $4,125
T-65: Lauren Hartlage, +5, $3,644
T-65: Katherine Perry-Hamski, +5, $3,644
T-65: Aditi Ashok, +5, $3,644
T-65: Tiffany Chan, +5, $3,644
T-65: Bailey Shoemaker, +5, Amateur
T-65: Megan Khang, +5, $3,644
T-71: Allisen Corpuz, +6, $3,370
T-71: Gemma Dryburgh, +6, $3,370
T-73: Sophia Schubert, +7, $3,284
T-73: Kelly Tan, +7, $3,284
75: Jennifer Song, +8, $3,221
77: Ryann O'Toole, +10, $3,141
T-78: Ayako Uehara, +11, $3,082
T-78: Christina Kim, +11, $3,082
80: Cydney Clanton, +12, $3,023