News
Here's the prize money payout for each golfer at the 2020 CME Group Tour Championship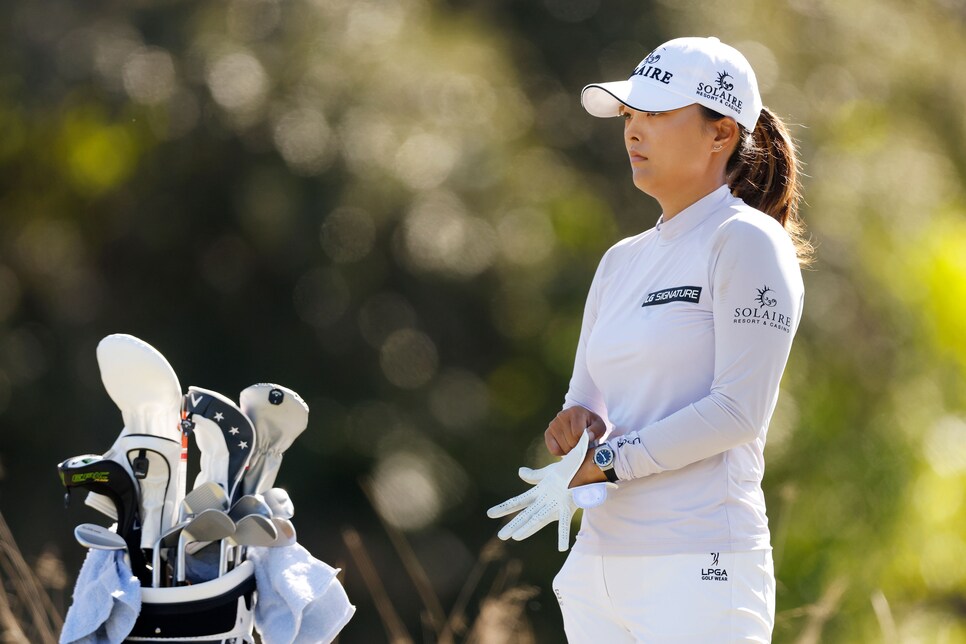 Jin Young Ko closed with a XX-under XX to win the CME Group Tour Championship by XX strokes.
Michael Reaves
There's a reason why everyone on the LPGA Tour wants to play in the CME Group Tour Championship. Competing in the no-cut, limited-field finale to the tour year is a symbol of a season well played, even if the season was interrupted by a pandemic.
There is also a financial reward that comes from playing in the season finale. For World No. 1 Jin Young Ko, the winner on Sunday at Tiburón Golf Club in Naples, Fla., a come-from-behind five-stroke runaway with a closing 66 earned her $1.1 million, the largest first-place payday on tour in 2020.
Ko, 25, played in just four events on the LPGA Tour this season, choosing to stay in her native South Korea and wait out the pandemic. Yet she earned $1.66 million in those starts to jump to No. 1 on the money list for the year. And she also topped the $5 million in career earnings, becoming the 71st player in LPGA history to reach that mark
Ko passed third-round leader Sei Young Kim on Sunday, but Kim didn't walk away without a reward of her own. With a share of second, the 27-year-old earned enough points to claim the Rolex Player of the Year award for the first time in her career.
Here's the prize money payout for each player in the field this week. We'll update this list shortly after the finish on Sunday to list the names of those who played and how much they earned.
1: Jin Young Ko, -18, $1,100,000
T-2: Hannah Green, -13, $209,555
T-2: Sei Young Kim, -13, $209,555
4: Mina Harigae, -12, $117,279
T-5: Lydia Ko, -11, $82,319
T-5: Lexi Thompson, -11, $82,319
T-7: Brooke M. Henderson, -10, $52,021
T-7: Austin Ernst, -10, $52,021
T-7: Georgia Hall, -10, $52,021
T-10: Ariya Jutanugarn, -8, $37,162
T-10: Anna Nordqvist, -8, $37,162
T-10: Cristie Kerr, -8, $37,162
T-13: Brittany Lincicome, -7, $27,839
T-13: So Yeon Ryu, -7, $27,839
T-13: Madelene Sagstrom, -7, $27,839
T-13: Perrine Delacour, -7, $27,839
T-13: Charley Hull, -7, $27,839
T-13: Minjee Lee, -7, $27,839
T-19: Christina Kim, -6, $21,970
T-19: Celine Boutier, -6, $21,970
T-19: Nelly Korda, -6, $21,970
T-19: Cheyenne Knight, -6, $21,970
T-23: Jenny Shin, -5, $18,832
T-23: Gaby Lopez, -5, $18,832
T-23: Katherine Kirk, -5, $18,832
T-23: Xiyu Lin, -5, $18,832
T-23: Sarah Schmelzel, -5, $18,832
T-28: Jennifer Kupcho, -4, $16,638
T-28: Cydney Clanton, -4, $16,638
T-30: Jessica Korda, -3, $14,671
T-30: Danielle Kang, -3, $14,671
T-30: Amy Yang, -3, $14,671
T-30: Yealimi Noh, -3, $14,671
T-30: Caroline Masson, -3, $14,671
T-35: Brittany Altomare, -2, $12,661
T-35: Jodi Ewart Shadoff, -2, $12,661
T-35: Inbee Park, -2, $12,661
T-38: Nasa Hataoka, -1, $10,782
T-38: Azahara Munoz, -1, $10,782
T-38: Stephanie Meadow, -1, $10,782
T-38: Linnea Strom, -1, $10,782
T-38: Megan Khang, -1, $10,782
T-38: Moriya Jutanugarn, -1, $10,782
T-44: Carlota Ciganda, E, $9,340
T-44: Mirim Lee, E, $9,340
T-46: Alena Sharp, +1, $8,129
T-46: In Gee Chun, +1, $8,129
T-46: Stacy Lewis, +1, $8,129
T-46: Lizette Salas, +1, $8,129
T-46: Jennifer Song, +1, $8,129
T-46: Robynn Ree, +1, $8,129
T-46: Leona Maguire, +1, $8,129
T-53: Emma Talley, +2, $6,806
T-53: Lindsey Weaver, +2, $6,806
T-53: Sarah Kemp, +2, $6,806
T-53: Jasmine Suwannapura, +2, $6,806
T-53: Andrea Lee, +2, $6,806
T-53: Nanna Koerstz Madsen, +2, $6,806
T-59: Pernilla Lindberg, +3, $6,107
T-59: Mel Reid, +3, $6,107
T-61: Maria Fassi, +4, $5,757
T-61: Anne van Dam, +4, $5,757
T-61: Ashleigh Buhai, +4, $5,757
64: Maria Fernanda Torres, +5, $5,582
65: Kelly Tan, +6, $5,495
67: Hee Young Park, +8, $5,320
T-68: Bianca Pagdanganan, +9, $5,189
T-68: Angela Stanford, +9, $5,189
70: Kristen Gillman, +11, $5,058
71: Brittany Lang, +15, $4,971
72: Natalie Gulbis, +24, $4,927