News
Here's the prize money payout for each golfer at the 2020 AIG Women's British Open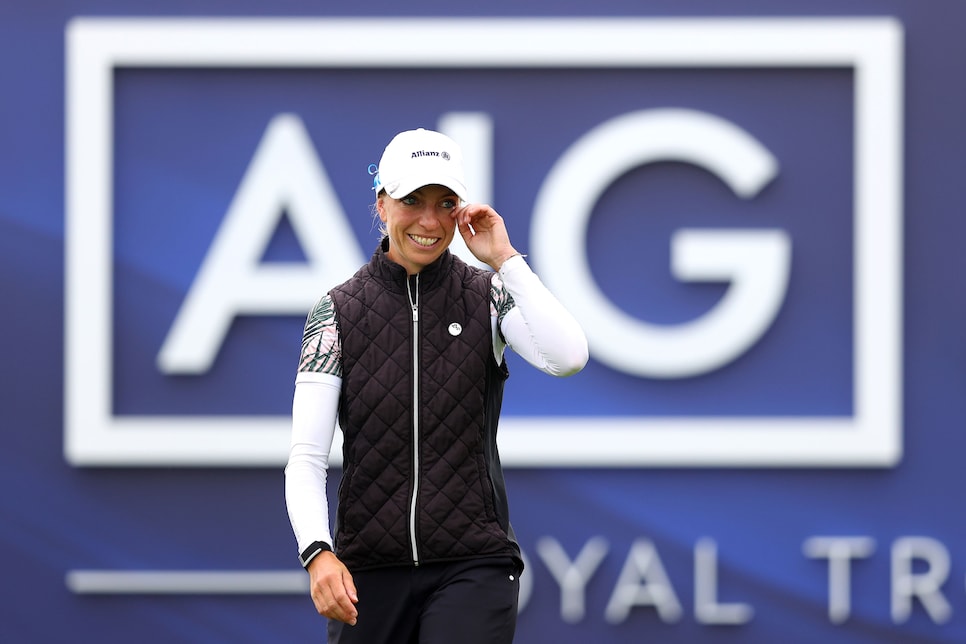 How big a victory was the AIG Women's British Open for Germany's Sophia Popov? Well consider this: Prior to the win at Royal Troon, Popov, 27, had earned a mere $108,051 on the LPGA Tour in 33 pro starts. Her performance this week in Scotland however, earned his $675,000, or more than five times her career earnings.
Yes, it's safe to call the triumph a life-altering event.
Popov didn't have official LPGA membership entering the week, but the victory secured that through the 2021 season. She also becomes the first player from Germany to win a women's major championship and just the third German player to win a major, joining Martin Kaymer and Bernhard Langer.
"It feels amazing," Popov said. "There's a lot of hard work behind it, and a lot of struggles that I went through the last six years, especially health-wise, and I'm just glad I was able to overcome everything and just keep my head in it. I knew I was capable. I just had a lot of obstacles thrown in my way, and I just, I'm glad I stuck with it. I almost quit playing last year, so thank God I didn't."
The overall prize money payout from the R&A was $4.5 million. Here's how much each golfer who made the cut earned for their efforts in the year's first women's major.
WIN: Sophia Popov, -7, $675,000
2: Jasmine Suwannapura, -5, $407,926
3: Minjee Lee, -3, $295,468
4: Inbee Park, -1, $228,194
5: Austin Ernst, E, $183,349
6: Momoko Ueda, +1, $149,712
T-7: Andrea Lee, +2, $105,426
T-7: In Gee Chun, +2, $105,426
T-7: Jennifer Song, +2, $105,426
T-7: Caroline Masson, +2, $105,426
T-11: Ashleigh Buhai, +3, $77,057
T-11: Kristen Gillman, +3, $77,057
T-11: Emily Kristine Pedersen, +3, $77,057
T-14: Marina Alex, +4, $60,240
T-14: Angela Stanford, +4, $60,240
T-14: Nelly Korda, +4, $60,240
T-14: Cydney Clanton, +4, $60,240
T-14: Lydia Ko, +4, $60,240
T-19: Lizette Salas, +5, $49,926
T-19: Brittany Altomare, +5, $49,926
T-19: Lindsey Weaver, +5, $49,926
T-22: Ally McDonald, +6, $41,276
T-22: Haru Nomura, +6, $41,276
T-22: Caroline Inglis, +6, $41,276
T-22: Alena Sharp, +6, $41,276
T-22: Ariya Jutanugarn, +6, $41,276
T-22: Megan Khang, +6, $41,276
T-22: Katherine Kirk, +6, $41,276
T-29: Alison Lee, +7, $33,556
T-29: Hannah Green, +7, $33,556
T-29: Dani Holmqvist, +7, $33,556
T-32: Danielle Kang, +8, $27,149
T-32: Mi Hyang Lee, +8, $27,149
T-32: Jing Yan, +8, $27,149
T-32: Elizabeth Szokol, +8, $27,149
T-32: Yealimi Noh, +8, $27,149
T-32: Lee-Anne Pace, +8, $27,149
T-32: Anna Nordqvist, +8, $27,149
T-39: Stephanie Meadow, +9, $20,326
T-39: Perrine Delacour, +9, $20,326
T-39: Dana Finkelstein, +9, $20,326
T-39: Jodi Ewart Shadoff, +9, $20,326
T-39: Mel Reid, +9, $20,326
T-39: Azahara Munoz, +9, $20,326
T-45: Pernilla Lindberg, +10, $15,728
T-45: Laura Fuenfstueck, +10, $15,728
T-45: Georgia Hall, +10, $15,728
T-45: Amy Olson, +10, $15,728
T-45: Cheyenne Knight, +10, $15,728
T-45: Anne van Dam, +10, $15,728
T-51: Amy Yang, +11, $12,702
T-51: Carlota Ciganda, +11, $12,702
T-51: Bronte Law, +11, $12,702
T-51: Celine Herbin, +11, $12,702
T-51: Jenny Shin, +11, $12,702
T-56: Felicity Johnson, +12, $10,907
T-56: Julieta Granada, +12, $10,907
T-56: Moriya Jutanugarn, +12, $10,907
T-59: Gaby Lopez, +13, $9,384
T-59: Angel Yin, +13, $9,384
T-59: Morgan Pressel, +13, $9,384
T-59: Catriona Matthew, +13, $9,384
T-59: Nuria Iturrioz, +13, $9,384
T-64: Dottie Ardina, +14, $8,217
T-64: Maria Fernanda Torres, +14, $8,217
T-64: Nasa Hataoka, +14, $8,217
T-64: Emma Talley, +14, $8,217
T-64: Becky Morgan, +14, $8,217
69: Sandra Gal, +15, $7,544
70: Sarah Jane Smith, +17, $7,321
71: Johanna Gustavsson, +18, $5,546
T-72: Camilla Lennarth, +19, $5,358
T-72: Stephanie Kyriacou, +19, $5,358
74: Michele Thomson, +22, $5,171