News
Here's the one Memorial tradition Jack Nicklaus isn't going to let COVID-19 put a stop to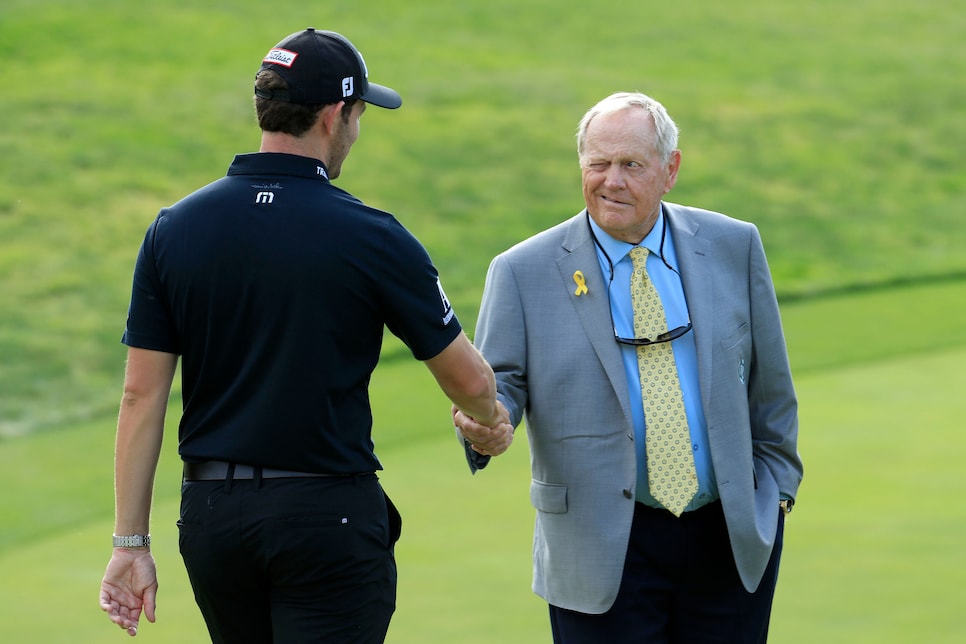 Jack Nicklaus shakes hands with new Memorial winner Patrick Cantlay after his 2019 victory at Muirfield Village.
Andy Lyons
In a year of broken schedules—including the cancellation of the Open Championship—unfulfilled promises and traditions interrupted, Jack Nicklaus insists he will keep one tradition alive at this week's Memorial Tournament.
Hosting the Memorial for the 45th year, Nicklaus has made it his mission to shake hands with the tournament winner as he comes off the green at the 18th hole at Muirfield Village Golf Club at the conclusion of play. The 80-year-old golf legend says this year won't be any different, even if many other things are.
There will be no fans at the Memorial, even after tournament officials laid out an extensive plan of safety protocols that the state of Ohio approved. There is no honoree ceremony this year, so Nick Price will receive his celebration in 2021, as will CBS Sports broadcaster Jim Nantz, the tournament's journalism honoree.
But count on Jack to be back at 18 at the appointed time with a hand extended.
"I going to walk right out there and shake their hand," Nicklaus said Tuesday during his traditional pre-tournament interview, another tradition preserved, even if it was done virtually. "If they don't want to shake my hand, that's fine, I'll give them a fist bump or an elbow bump, but I'm not going to give them COVID-19, so that's … I wouldn't put anybody in that position. I wouldn't do that, and if I was in any danger of doing that, I wouldn't shake their hands.
"Incidentally," he added, "I like shaking their hand, too. I think that's a great tradition, but it was as much fun for me as I hope it is for them."
Nicklaus had planned to also shake the hand of the winner of the Workday Charity Open, the event that preceded the Memorial at Muirfield Village (yet another twist to the golf season) but he didn't have the chance when tee times were moved up on Sunday. He was just getting on a plane when the playoff between Justin Thomas and eventual winner Colin Morikawa was starting. The last thing he saw was Thomas making a 50-foot birdie putt on the first playoff hole. Figuring that was the putt to clinch the win, he texted Thomas a premature congratulations as they took off, only to have to text him later to apologize for jumping the gun.
Nicklaus also had planned to have fans, albeit a limited number, making the Memorial the first tournament since the PGA Tour started up again in June to do so. But a week ago Monday officials reversed course in a joint decision with the tour. In the end, Nicklaus said the players balked at the idea of having fans when coronavirus cases are rising in Ohio, as it is in other states. He understood their concerns.
"I think it was the players' choice and the tour's choice at this point to say, we would prefer not to have fans," he said. "I think that the tour probably made the right decision as it relates to the Memorial tournament. Maybe we are a little too early for the galleries. We didn't have a problem with it. My goal putting on the golf tournament is to bring major championship-type golf back to Columbus, Ohio, where I grew up. That's why this whole event is being played. It's not being played for the players, it's being played for Central Ohio."
Nevertheless, he added, if players were unwilling to enter because of risk of exposure to the virus from spectators, the tournament and its charitable cause certainly could have been hampered.
"You can't have a dance without the dancing girls, and so … I can understand where some might be very hesitant," Nicklaus said. "I think we're probably doing the right thing right now, and we're going to have a good tournament either way."
And Jack will make sure it ends on a proper high note.
By the way, the Open Championship was to have been played this week at Royal St. George's. It's appropriate that in the reconfigured tour calendar, the Memorial takes its place. Nicklaus named Muirfield Village after Muirfield, in Scotland, where he completed the career grand slam, and the Claret Jug is at the center of the club's crest.