News
Here's what was going through Hudson Swafford's mind when he won, then lost, then won back the Corales Puntacana title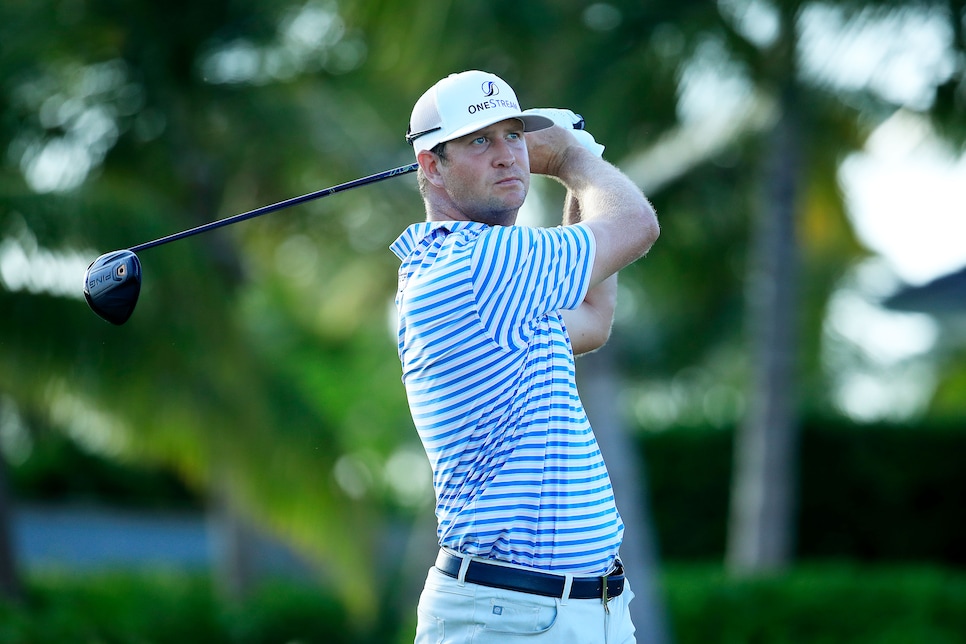 Hudson Swafford was on "cruise control" Sunday at the Corales Puntacana Resort & Club Championship. After three birdies and an eagle through his first nine holes, and with a four-shot lead with six to go, he had every reason to feel that way.
Then a stubbed chip rolled back to his feet and he double-bogeyed the 13th.
Two holes later, a 9-iron from the middle of the fairway that he "quit on" and another bogey.
Just like that, the lead was gone. Swafford was suddenly tied with Mackenzie Hughes and on the verge of choking away his first title in three years and the second of his PGA Tour career.
Only it turned out that he wasn't. It only looked that way.
"I still had great self-belief," Swafford said. "I just kept going just knowing that if I just focused on my rhythm, that my game was going to be good."
And on the 17th hole, it was better than that.
With the breeze whipping along the Caribbean shores and the outcome in the balance, the 33-year-old Swafford, playing this season on a major medical extension after foot surgery in July 2019, stuffed a 6-iron to 10 feet on the tricky 210-yard par 3 to set up a birdie to grab the lead for good.
"I was just envisioning my shot at 17 on PGA West when I stepped up on the 17th green," Swafford said, citing his other PGA Tour victory in 2017. "That was an 8-iron versus a 6-iron here, but [my caddie] Kyle [Bradley] said, 'You know, this is just a three-quarter 6-iron, you've been hitting your 6-iron great all day, all week, just hit one more. It's a 190 [yards], just do it,' and I hit a beauty, then a solid putt and it went right in."
One hole later, he made another clutch one, successfully navigating the steep ridge between his ball and the hole on 18 and then knocking in a nervy eight-footer for par and a one-stroke victory over Tyler McCumber.
From major medical extension to exempt on tour through 2023, Swafford also locked up spots in the 2021 Masters, PGA Championship, Players and Sentry Tournament of Champions with the win. It had been a long-time coming.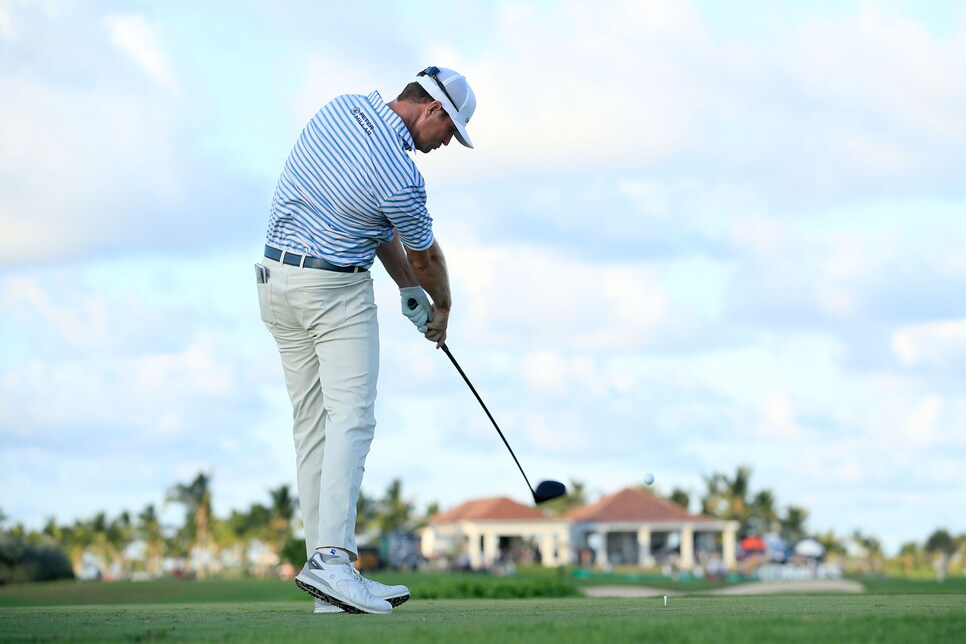 Hudson Swafford hits his tee shot on the 18th hole during the final round of the Corales Puntacana Resort & Club Championship.
Andy Lyons
"It's tough," Swafford said of the foot injury, which was preceded by a rib injury in 2018. "Being hurt out here is not fun."
It was also a long road back.
Swafford missed four months after having a small bone in the bottom of his foot removed in summer 2019. The time off was a blessing of sorts in that it allowed him to spend time at home after his wife gave birth to the couple's son in December 2018. But he was also eager to get back to playing to try to secure his card.
When Swafford did return to competition, his first start was at the French Open on the European Tour last October, followed by a half dozen starts on the PGA Tour. He felt like he was just starting to find his groove this past spring, then the COVID-19 pandemic shut down the season for three months.
It turned out that break helped, too.
"Came back, felt like every aspect of my game had gotten better," Swafford said. "It just really wasn't showing. I was getting in my own way and then some more doubt just kind of crept in and I kept thinking about the medical."
With just seven starts to gain enough points and time running out on the medical extension, the game became a mental one as much if not more than a physical one. Swafford felt he kept getting in his own way, so he called sport psychologist Dr. Bhrett McCabe.
Hudson Swafford celebrates with his caddie Kyle Bradley after putting to win on the 18th green.
Andy Lyons
The two men have known each other for years and had worked together in the past. From where McCabe sat, there was nothing new. It was just a matter of reminding Swafford about all the little processes that had gotten him to where he was before injuries had derailed him.
That included bringing McCabe in over the weekend in the Dominican Republic.
"He got me back on the straight and narrow, being like a kid and having fun again," Swafford said. "He's like, If you keep thinking about a medical, you're not going to keep your card anyway, so you might as well go out and have fun. You know your game's good, you know your stuff's good, it's going to show up. Just commit to the process and have fun and see what happens."
Then came the closing stretch on Sunday: A sloppy par on the par-5 12th, the double on 13, the bogey on 15.
The lead had slipped away but Swafford wasn't choking, at least not in his own head and with reason. Chipping isn't the strong suit of his game but iron play and putting is. And as McCabe puts it, "sh*t happens." How his client managed it is what would matter.
Of that, the finish left little doubt.
"I knew I had to just kind of dig deep and hit some solid golf shots with the wind," Swafford said. "I hit a lot of them through 69 hole. I knew I could continue to do it."