Nightmare Fuel
The worst post-victory plane ride ever, as told by Harry Higgs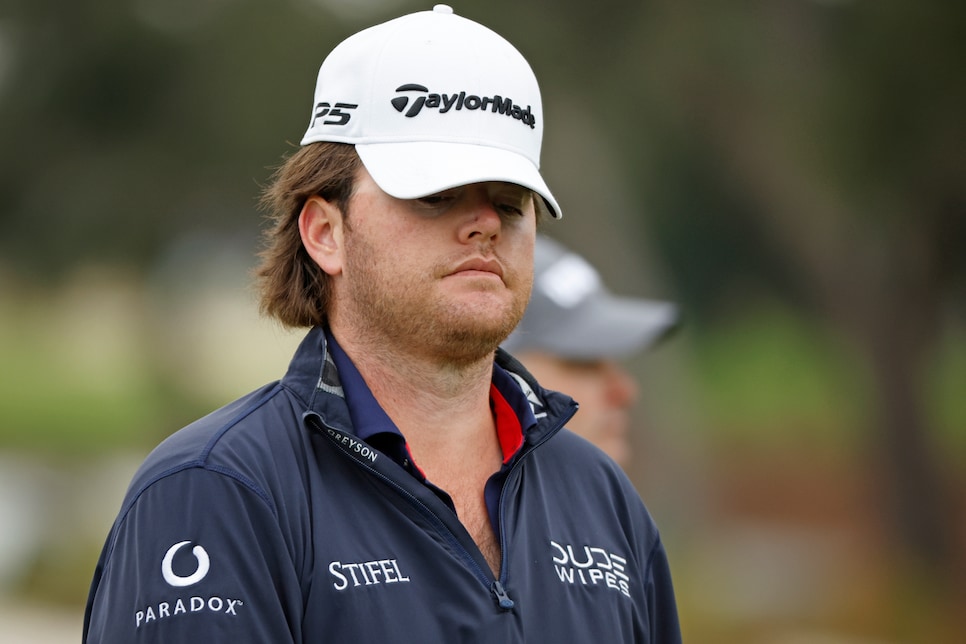 Harry Higgs has yet to win on the PGA Tour, but he does have two victories as a professional, one coming on the Korn Ferry Tour in 2019 and the other on the PGA Tour Latinoamerica in 2018. Unfortunately, those triumphs don't come with the all the trappings that a big-tour win comes with.
Specifically, the win at the Diners Club Peru Open in 2018, which Higgs claimed with a final-round 68 at Los Inkas Golf Club in Lima, Peru. His winner's check that week? $31,500.
It may not have been much, but Higgs still celebrated like it was. This week, Higgs, now in his fourth full season on the PGA Tour, is back in Latin America for the Mexico Open, which brought back all sorts of memories from his time grinding away on the PGA Tour Latinoamerica. One of his favorite memories? The post-victory meal in Peru.
"One of the things I also remember from Peru is all the lomo saltado that I ate," Higgs said Wednesday. "The food there, it was fantastic. It was one of the best meals I think I ever had and I think it was because we had won on Sunday and then went up to the hotel we were staying at and we had four, five hours to kill before flying the midnight flight back to Dallas. Fortunately for me, it was direct."
For curious food brains like myself, lomo saltado is literally steak, french fries, rice and vegetables. The most Harry Higgs-sounding meal ever, and I mean that in a good way.
As for the rest of Higgs' story, it took a rough turn.
"I think I might have had two orders of lomo saltado, probably a few too many beers and then wandered to the airport and got on the plane," he said. "I was so caught up in the win and everything, I didn't download any shows on my iPad and figured that the plane that we'd be on may be a newer plane and it might have the entertainment on the seatback. It didn't, so it was a pretty miserable flight. You're so jacked up, you can't really sleep and I had nothing to do, so basically spent the next seven hours thinking about my win and also staring at the chair in front of me. But my belly was full and I very much enjoyed the food in Peru."
Minus the winning the golf tournament part, we've all been here before. You're in the airport and it hits you - "I didn't download any podcasts or shows or movies." Then, like an absolute moron, you try to download stuff on the crappy airport WiFi and by the time it downloads halfway it's already too late. "It's OK, they'll have TVs on the plane." Then you make you're way to your seat, pray to see a TV in the back of a seat in row 1 and come up empty. Disaster. Looks like you're going to have to A. try to sleep but never actually sleep OR B. Read the latest edition of Hemispheres cover to cover five times.
Fortunately for Higgs, he had a third option - think about his first win as a pro for seven straight hours, and the two helpings of lomo saltado. Much better than some podcast you'd tune out of an hour in anyway.