PGA Tour
Harry Higgs has a great idea if he gets fined for flashing the crowd in Phoenix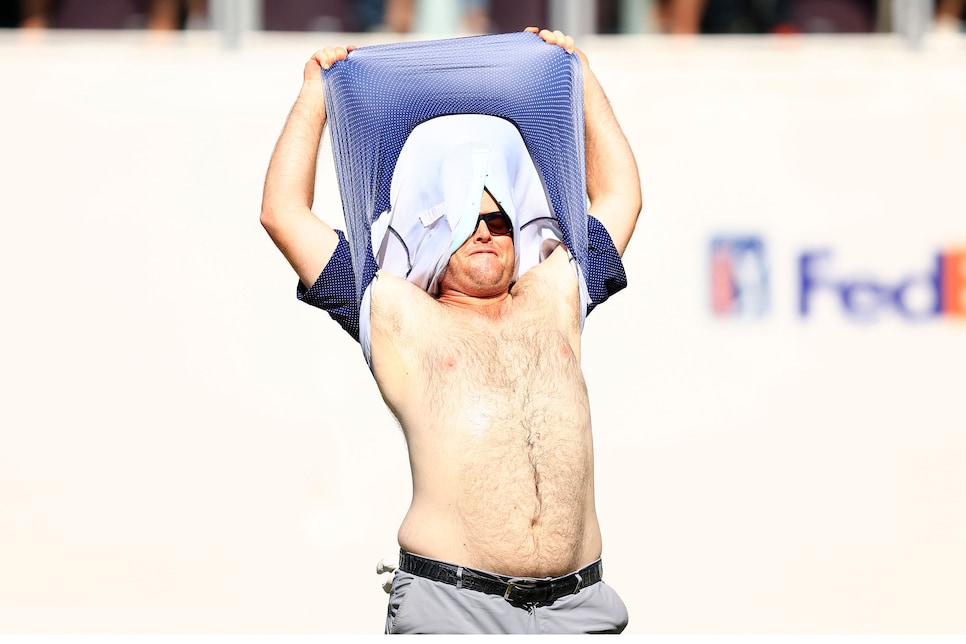 Harry Higgs gave the crazy crowd at the WM Phoenix Open something more to shout about last Sunday.
Mike Mulholland
There was one sure bet for this week's Genesis Invitational: Harry Higgs would not be flashing the crowd at Riviera Country Club. No way, no how, no Hollywood sequel. The viral moment from last Sunday's final round at the WM Phoenix Open—where the gregarious Higgs and his equally playful counterpart Joel Dahmen showed some skin to the raucous crowd surrounding the 16th hole—was a one-time dalliance into the surreal.
Whether he'll pay for it remains uncertain. The presumption among many has been that the PGA Tour will take some disciplinary measures against Higgs and Dahmen for their antics, likely a lightening of the wallet. Tour officials don't release when such action is taken, and Higgs says nothing has happened yet.
"I may be fined. I've heard whispers but nothing official yet," Higgs said. "There was a phone call [from the tour] and a 'Hey, you know you're not supposed to do that.' I know I'm not supposed to do that. I'm 30 years old, I know I'm not supposed to lift my shirt up on national television in front of thousands of fans."
If a fine does come to pass, Higgs—who charged back on Friday with two eagles and a birdie over his final eight holes to make the cut at Riviera by a shot—sounds like he's ready to get creative in how he might handle that, too.
"We may end up having some fun with it," Higgs said. "If we are fined, and we deserve to be, we would pay our fine but kind of raise money to donate to charity."