PGA Tour
Cracked driver mishap doesn't keep tour pro from contention in Napa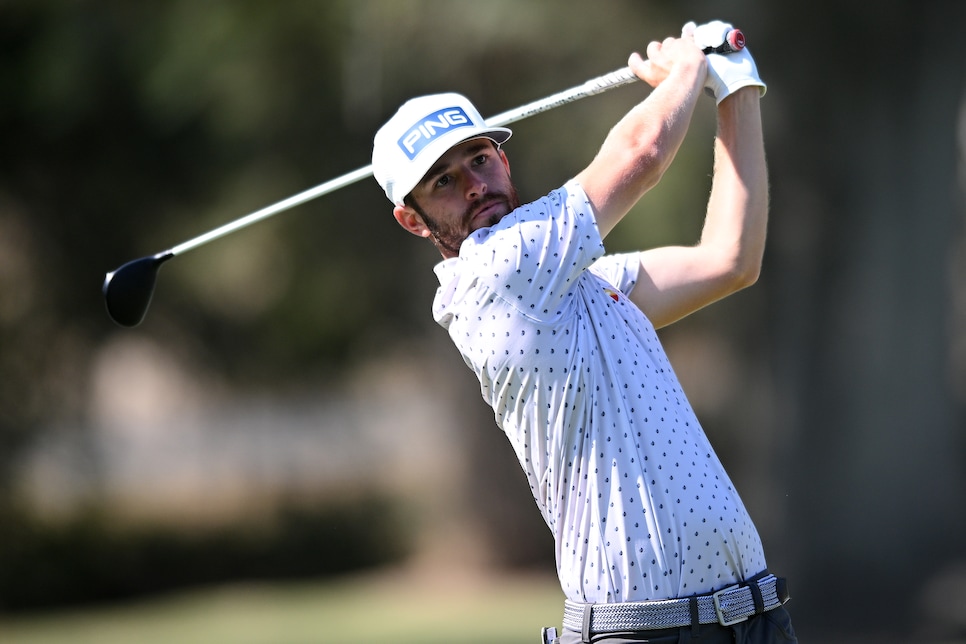 Harrison Endycott hits a drive during the first round of the Fortinet Championship.
Orlando Ramirez
It could have been a nightmarish start for Australian Harrison Endycott in his PGA Tour debut this week. On only his second drive in the second round of the Fortinet Championship in Napa, Calif., on Friday, Endycott took what he thought was a really good swing and his ball came off the clubface like it was made of Play-Doh.
"I looked down and there was a nice big cut right through the center of my driver head," Endycott said.
So the 26-year-old Korn Ferry Tour alum had to play the rest of round by hitting 3-wood where he would have pulled the big club at Silverado. "The challenge," he said, "was kind of grinding that round and to make the cut with a 3-wood with that wind on that back nine was brutal. I was very proud of myself to hang in there."
Endycott ended up besting his first round of the tournament, in which he made 18 pars, by shooting two-under-par 70 in the second round. Playing alone on Saturday as the first man off after making the cut on the number, he fired a bogey-free seven-under 65 to reach nine under and get into into contention before the leaders teed off early in the afternoon in California wine country.
"Oh, it was awesome," Endycott said of playing on a fresh track in the morning. "You've got no one to worry about and the greens were perfect. … It's been an amazing experience this week. I'm just trying to do my best every day and go from there."
He added, "Look, it's funny ... like I feel very, very comfortable out there when I'm within my own element. But when you do kind of smell the roses in between shots, you're kind of like this is a different atmosphere. It might take a little time to get used to, but right now I'm enjoying it.
Endycott's dad, who lives in Australia, is on-site this week after coming to the States to see the end of the Korn Ferry season after not being able to travel because of the pandemic. Harrison finished 19th in the Korn Ferry standings on the strength of his victory in May at the Huntsville Championship. There, his rounds included a 63 and 64 and he finished with a 16-under total.
He turned pro in 2017 after winning numerous amateur events in his homeland, as well as the prestigious Porter Cup in upstate New York. Endycott then qualified for the Latinoamerica Tour before reaching the Korn Ferry for the extended 2020-21 KFT campaign.
"To be able to spend some time and watch me play some golf has been really special for me and my family," he said. "It's awesome to be going into Sunday in contention, too, while he's here and looking forward to getting after it."