The Loop
Harris English dismisses No. 1 seed Rory McIlroy in Match Play upset
MARANA, Ariz. -- It was two years ago that Harris English last teed it up with Rory McIlroy. Suffice it to say English feels like a different player.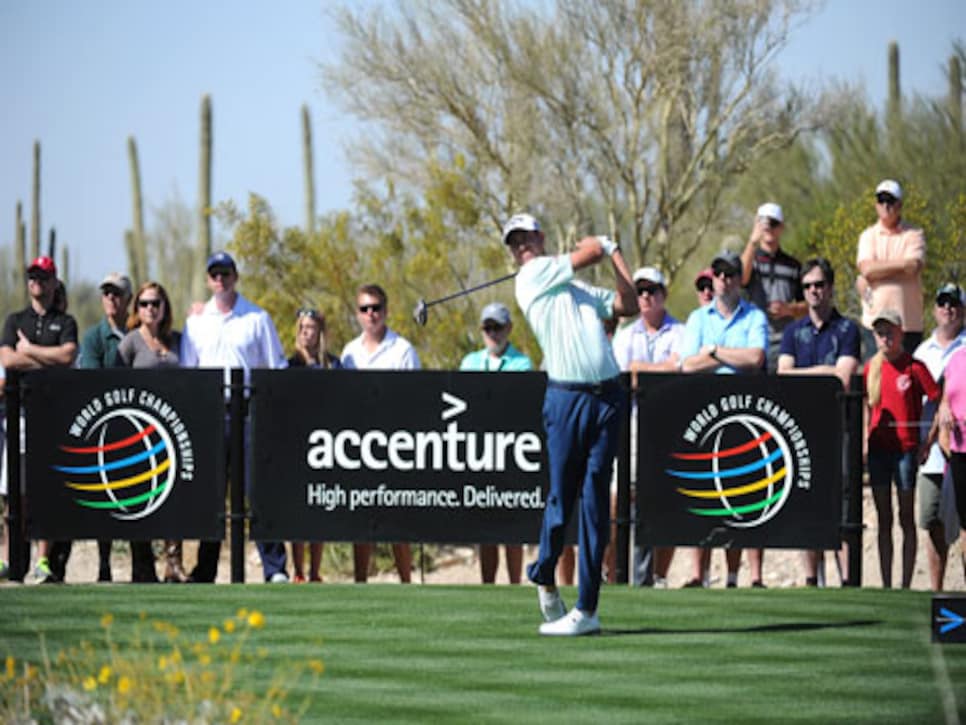 After making a 19-foot putt on the 17th hole to square his match with McIlroy, English prevailed in extra holes. Photo by Getty Images.
Paired with McIlroy in the final round of the 2012 Honda Classic, English shot a closing 77 while McIlroy went on to win the tournament. This time it was English who came out on top, beating No. 1-seeded McIlroy on the 19th hole in the second round of the WGC-Accenture Match Play.
"I kinda felt out of my element that day," English recalled after Thursday's win at Dove Mountain. "I've been growing in confidence a lot these past two years. I feel like I'm such a different player than my rookie year."
English and McIlroy traded blows on the back nine, with no holes being halved. Two down standing on the 14th tee, McIlroy made three straight birdies to take his first lead of the match.
Having seemingly lost all momentum, English hadn't lost his cool. Faced with a double-breaking, 19-foot birdie putt on the 17th hole to square the match, he drained it before winning with a par on the 19th hole.
[Related: Rickie's run and G-Mac's comeback
](http://www.golfdigest.com/golf-tours-news/blogs/local-knowledge/2014/02/wgc-match-play-rickies-run-g-macs-comebacks-and-cactus-probl.html)
"I pretty much knew exactly where it was going, and knew I was gonna make it," said the 24-year-old Sea Island resident.
Now with two PGA Tour victories and a match-play triumph over the former world No. 1, English has compiled an impressive resume since the 2012 Honda, when he was playing in just his sixth tour event. Even though English and McIlroy were born only 80 days apart, English remembered trying to stay out of the Northern Irishman's way that day in Florida.
He may have thought he could play with the best players in the world in 2012. But now English has learned how to truly compete with them and finish off a round, he explained.
"It's been a whirlwind. Last year was probably the best year of my life," English said. "And I've been playing really well this year, too. Getting into these bigger events is a dream come true. A couple years ago I was ready to graduate college, and now I'm touring the world playing great golf."