News
Harold Varner III had the perfect response when asked if Bryson DeChambeau motivates him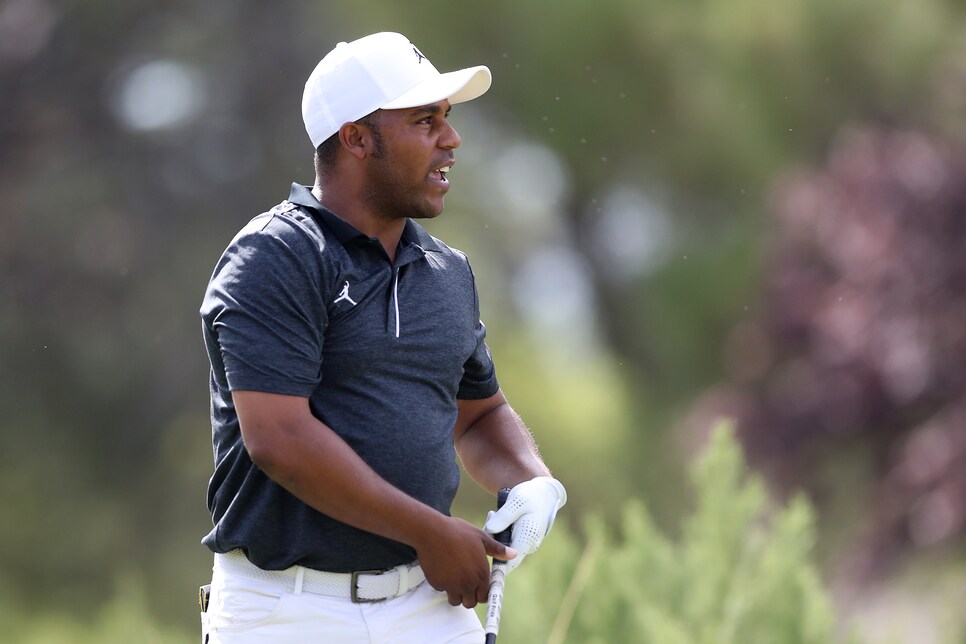 Among their sporting brethren, golfers are not known for their colorful commentary following play. In their defense, it's hard to be insightful when the question is "Tell me about your round." Nevertheless, post-round interviews are mostly a mundane exercise.
Varner turned in one of the best performances of the morning wave at the Shriners Hospital for Children Open, racking up nine birdies and a bogey for an eight-under 63. It was a score bested only by Bryson DeChambeau as the afternoon groups tee off at TPC Summerlin in Las Vegas. "Yeah, it was good," Varner said after his round. "Just good to be back playing. It's been a while. Haven't played since Napa, so I just wanted to get back to it. Nothing too crazy, but, yeah, made a lot of birdies."
In one sense the 63 is not a surprise; Varner ranked 13th on tour in Round 1 scoring last season. Conversely, this leaderboard proximity to DeChambeau—the most talked-about personality in golf in 2020—begs some type of juxtaposition, leading to this question from the assembled media:
Q: When there is no wind on a golf course that's got no rough and you see that the scores are already 5-, 6-under par when you're teeing off and one of those is the reigning U.S. Open champion, do you have to kick yourself in gear or just go from —
Apparently Varner got the gist and responded in kind.
"No. My foot is pretty far up my butt by the time I start, so we're ready to go," Varner said. "What do I need to do? I play golf. If he plays good and I play good, I like my chances."
Anatomical complexities aside, that is a picture not normally painted in pressers. Varner was also asked if the course suits his personality, to which he remarked "I think Vegas fits my personality more than the golf course, but that's neither here nor there."
Keep in mind, these are Round 1 quotes. Should Varner stay the course and ultimately grab his first win on tour this weekend, we can only imagine the commentary gold that will rain from the winner's circle.