SCOTTISH OPEN
Happy Tyrrell Hatton in contention again in Scotland, looking for first win in 2 years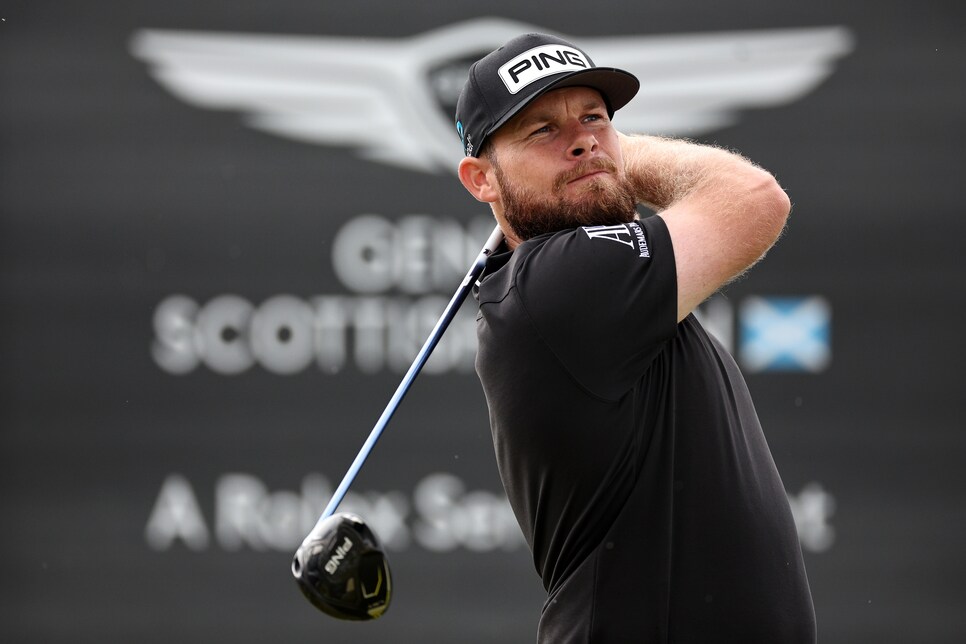 GULLANE, Scotland — Quietly, Tyrrell Hatton is amassing quite a record in 2023. The 31-year-old Englishman has yet to win a tournament, but his schedule is dotted with high-quality performances. It's a lengthy and impressive list: T-6 in the WM Phoenix Open, T-4 at the Arnold Palmer Invitational, second at the Players, T-3 at Wells Fargo, T-5 at the Byron Nelson Classic, T-12 at the Memorial and T-3 at the RBC Canadian Open.
His major finishes haven't been quite so impressive. But even there, Hatton has been consistent enough. In all three this year, he has played all four rounds en route to a T-34 at the Masters, T-15 at the PGA and a T-27 at the U.S. Open. Just about all year, the two-time Ryder Cup player has been there or thereabouts.
Here he comes again. Reunited with his regular caddie, Mick Donaghy, after the Glaswegian's recovery from a knee operation, Hatton is nine under par halfway through the Genesis Scottish Open at the Renaissance Club. More impressively, he reached that number after opening with a relatively pedestrian round on Thursday (one-under 69). Which means, for those keeping score, Hatton got himself around the Tom Doak-design on the southern shore of the Firth of Forth in a nifty eight-under 62 on Day 2. He's one shot behind Rory McIlroy.
Normally, such a score would be a cue for at least mild celebration, maybe a smile or two, or a pat on one's metaphorical back. But not for Hatton, professional golf's most demonstrative post-shot player. The best he could manage was a typical mixture of downbeat glumness and mild satisfaction.
"It was stressful at times, as most of my rounds are," he said. "But I'm very happy with the chances I gave myself. I hit a lot of good iron shots today, especially compared to yesterday. And it was nice to see some putts drop, too. Yesterday, I was fatting a few shots. I was hitting balls off mats last week, and even though I got here Monday night, even by yesterday I still had not managed to hit the ball first. I managed to achieve that today though. Hopefully it continues this weekend."
Filling in the gaps in that analysis, Hatton made nine birdies on a day marked by squally showers and dropped only one shot, at the short 12th. Perhaps heartened by those impressive statistics, the man from High Wycombe—already the winner of four Rolex Series events on the DP World Tour—became noticeably more positive when assessing his prospects of adding a fifth over the next 36 holes. An early finisher on Day 2, his understandable caution was imbued with an undoubted air of optimism.
"When I've got a chance to win I get more of a buzz," he said. "Ultimately, that's the position you want to find yourself in at the start of the week. I've had a good day today and got myself back into it. The guys are going to go out this afternoon and see what they shoot. Depends what kind of weather they get. The forecast didn't look great, but things can change quite rapidly up here, so we'll see. I'm happy with my day's work and looking forward to the weekend. I try my best every single week. Ultimately, that's all you can do."