The Loop
Happy Homecoming for Phelps
ALBUQUERQUE--To play your final college event on your home course is special in and of itself, but for New Mexico's Alexandra Phelps, it held even more significance when you consider the senior was born and raised in Albuquerque. With a few dozen people following her morning round--including her parents and boy friend--Phelps didn't disappoint, shooting a career-best three-under 69 at the University of New Mexico Championship Course to finish the day with a share of second place, two strokes back of Wake Forest's Nannette Hill.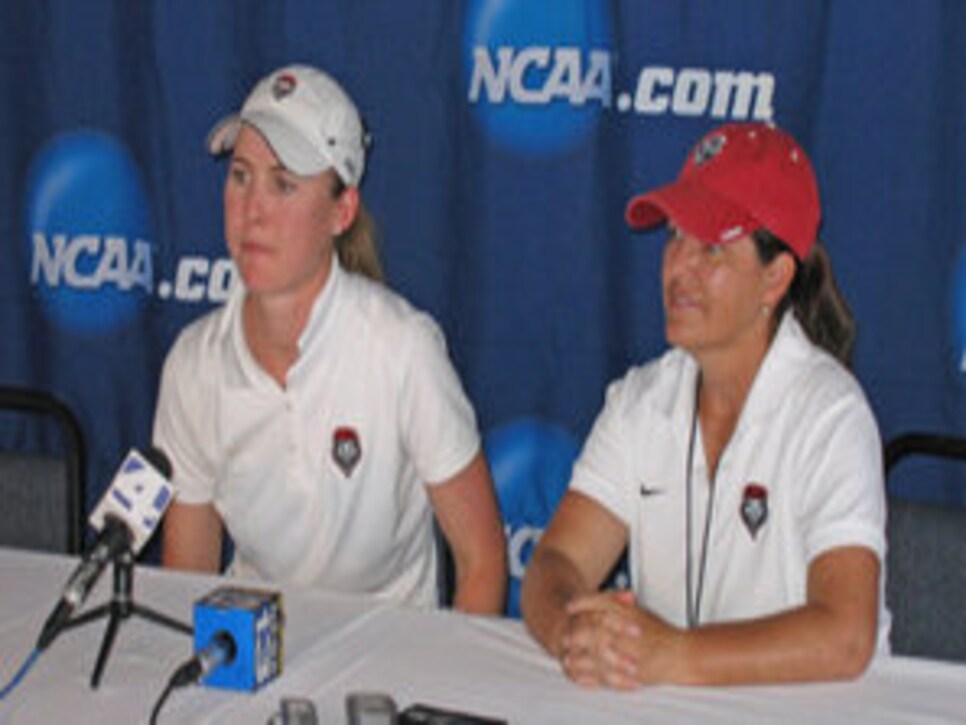 "I felt like I just got into a good groove from the very beginning," Phelps said. "It was perfect conditions today."
Phelps went through an emotional ride at the NCAA East Regional when her team missed out on advancing to nationals by one stroke. Her T-4 individual finish got her to nationals as an individual. "It's so hard because we focused all year long, really my whole career, on playing at home at nationals as a team," Phelps said. "It's a big time bummer. I think we would have really had a good shot of winning it."
Expecting to feel some nerves with the potential of a sizable gallery following her, Phelps spent some of the time between regionals and nationals working on relaxation techniques that include prayer and meditation to make sure she was ready to play. Having her coach, Jill Trujillo, walking with her helped keep her calm.
"She was not at all tentative today," said Trujillo (right in photo). "It's like a walk around her block [playing this course]. She knows all the houses and all the neighbors."
Even a four-putt for a double-bogey 6 on the eighth hole didn't phase Phelps too much. "I felt very calm and relaxed today, which I wasn't exactly expecting with all the pressure."
Can Phelps keep this up and claim the title? "My goals was just to try to come out and try and have fun," she said. "People say that but it's hard to have fun if you're not playing well. But today was really fun. Hopefully I can keep it going."
What she's got going for her is the fact that nobody knows the course as well as Phelps. Her local knowledge will really come into play if the predicted strong winds kick up beginning Wednesday. And don't forget that when Arkansas' Stacy Lewis won medalist honors a year ago she too was playing as an individual.