The Loop
Haney: Tiger comeback not as simple as just hitting balls
Tiger Woods warned everyone that he'd be rusty for his first tentative steps back into competitive golf at the Quicken Loans National last week. He only started hitting full shots again over U.S. Open weekend, two and a half months after March 31 back surgery.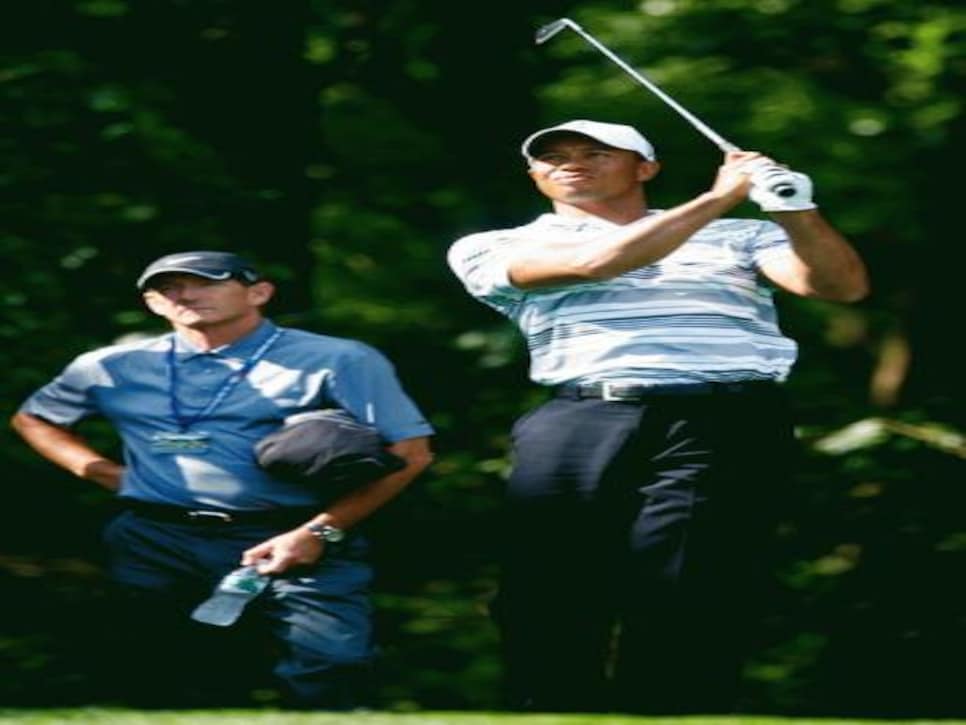 After two weeks of practice, Woods shot rounds of 74-75 and missed the cut by four shots. How close is he to getting back to full speed?
Not very close, says Hank Haney, who helped Woods come back from two separate knee surgeries in 2008.
"I know people were excited to hear that he was back hitting balls, but hitting balls isn't the same as practicing," says Haney, who worked with Woods from 2003 to 2010. "You have to get your swing going and your endurance back first. You don't just walk out there and start pounding balls for four hours. It's not that easy."
After Woods' reconstructive knee surgery in 2008, Haney worked out a four-week plan to get Woods from zero to competitive shape. It incorporated doctors' advice about how fast and often Woods could swing at a given stage of recovery.
"The doctor said he could start out making 50 wedge swings a day. I calculated how fast a wedge swing would be, and then we worked on all of his clubs swinging at that speed," says Haney. "In the second week, he could hit maybe 100 shots at 7-iron speed, so we did the same thing. Week 3 he was up to 4-iron speed, so he could hit 250-yard shots with his driver. It was only after the fourth week, when he could swing at driver speed but with a limit to the number of shots, that he could really have a 'normal' practice session."
And what was a normal practice session for off-season Tiger, circa 2005?
"He'd get up in the morning and do a full workout, and then practice from nine in the morning to about six at night, with 45 minutes for lunch," says Haney. "Four hours of hitting balls and four hours of playing. Every day."
"A lot of athletes continue to have a lot of drive. I mean, you can't question Peyton Manning's drive," says Haney. "But I saw Tiger's drive diminish as early as 2006. That's speculation and observation, but you can't deny that he doesn't practice as much. It could be because of his kids. It could be because of injuries. It doesn't matter what the because is. It's reality. The question is what happens now."
Woods hasn't said if he'll play again before the British Open July 17-20. He isn't in the field at the Greenbrier this week, which leaves the John Deere and the Scottish Open the week before Liverpool.
"He's basically practiced one week out of the last six months," says Haney. "Tony Romo had the same surgery in December, and he told me that Tiger would come back much quicker than anybody thought because his core was so strong. But Tiger said last week that his swing wasn't explosive yet because he hadn't been able to do some of his weightlifting program. That means he still has some restrictions."
Even the notion that Woods was able to practice chipping and putting extensively during the rehab process is an open question.
"There's a lot we don't know," Haney says. "With the back, how many putts can you hit? How many chips can you stand over?"
If Haney made Woods' schedule, he would have booked him for a few late-season appearance-fee events to ease back into competition, with the goal of being battle ready for the 2015 Farmers Insurance Open at Torrey Pines. "That would have been a good plan, but his plan is to go play these majors and see what happens," says Haney. "Can he catch lightning in a bottle somewhere? Sure. Liverpool and Valhalla are two courses he's won on, and I'm sure he's looking forward to getting back to them. But is it realistic to expect him to be the player he was this summer, whatever that means? I think it'll be tough."