Best route to the tour? It's not college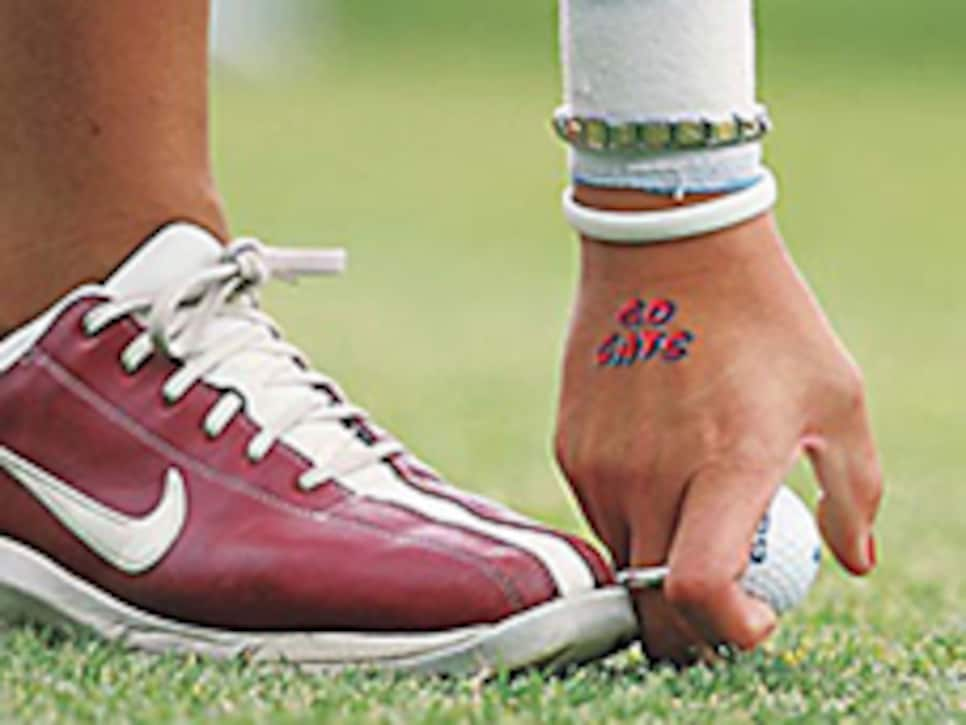 After the latest Ryder Cup, and with only one U.S. player in his 20's in the top 50 of the World Golf Ranking (Lucas Glover, No. 41), I'm often asked, "What's wrong with American golf? Why aren't we developing better young players?" My standard answer is a question of my own: "If you want to be the best golfer in the world, why would you go to college?"
I know that sounds blasphemous. For decades, it has been automatic for America's best junior golfers to go on scholarship at a traditional college powerhouse, and automatic for everyone involved to believe it was the best possible training for the tour. There's a long tradition of great players who competed in college, including former NCAA individual champions Jack Nicklaus, Hale Irwin, Ben Crenshaw, Curtis Strange, Phil Mickelson and Tiger Woods. Very often, they call those years the best of their lives.
I have no reason to doubt them. My four years on the golf team at the University of Tulsa were great; I became a better-educated, more-rounded person. I also enjoyed coaching the golf team at Southern Methodist University for five seasons, and I'm very proud that every one of my players graduated.
I'm not saying that playing college golf has little to offer a good young player; of course it does. But I am saying this: If a young person's final goal is to do everything possible to become a world-class player, playing college golf for four years shouldn't be part of the program.
The facts are on my side. Of the best young players among the top 15 in the world, the majority -- Geoff Ogilvy, Sergio Garcia, Trevor Immelman, Henrik Stenson, David Howell -- never went to college. True, Adam Scott attended Nevada-Las Vegas, Paul Casey played 3½ years at Arizona State and Luke Donald graduated from Northwestern. But in the future, fewer and fewer of the players in their 20's who crack the top echelon will have come out of college programs.
Here's why. Professional golf has really changed in the past 10 years, essentially going global. With Tiger as an inspiration and purses increasing everywhere, far more international kids than before carry the dream of becoming a tour pro. And they're being guided by instructors who have studied the American system of junior and college golf -- and improved upon it.
Today, the best training grounds for the pro game for young players in their late teens are the sports institutes of Australia, the national programs of Sweden and Great Britain, and the private academies in Florida. The theme is all golf, all the time, with emphasis on the three pillars of the game: technique, body strength and mental skills. Most college golf coaches are dedicated and well-meaning, but they and their staffs can't compete with top instructors, sport psychologists and physical trainers when it comes to developing young talent.
Even for young foreign players who can't be part of such programs, there are more and more developmental tours all over the world. The bottom line is, whatever avenue they take, the best young foreign players are turning pro earlier, and with better preparation than our college golfers. And after falling behind, American college-trained golfers are not catching up. It's all very similar to what's happening in tennis, another place American colleges have traditionally been considered the main feeder to the pro game.
The biggest problem a promising golfer encounters in the college system is time. The old days in which college golf "factories" could keep a good player eligible despite his barely going to class are basically over. Governing bodies have enforced stricter academic standards for student-athletes. That workload, combined with intense practice and tournament schedules, puts college golfers on a frenetic schedule. Contrary to the theory that American kids have gotten soft, these student-athletes are working very hard. They just have too much to do and not enough time to do it as well as they can. Meanwhile, they're competing against talents from around the world who have done nothing but work on their games. It's not a fair fight.
Tiger went to college aware that he could have developed his game faster by turning pro. At academically demanding Stanford, he pulled all-nighters to keep up his grades, even though he knew it meant being less prepared for some matches than he would have liked. Tiger had enough talent to sustain a bit of a detour, but it's instructive that he didn't stay four years.
My biggest problem with college golf for a top talent is that it stunts improvement. At college age, the best young golfers should be focused on their future. That usually means going through swing changes that short term mean higher scores but long term will produce a more fundamentally sound pro.
With winning so important to a big-time college program's ability to recruit, the emphasis is on shooting the lowest possible scores now. I've seen a lot of players put loyalty to their schools above their own development, and they delay important swing changes until turning pro. But by then their bad habits are ingrained, and they're under the pressure of playing for their livelihood. Because of college, they've missed a crucial window.
The scoring format and playing fields of college golf also impede progress. At most college tournaments, teams play with five players but count only the best four scores from each day. That can cause a player having a bad round to get in the habit of packing it in rather than battling (though that might mean he's not in the lineup for the next tournament). And in my experience, many college events were played on courses with little rough. Hitting it crooked without being punished is not good training for what players will face as pros.
Finally, just getting enough competitive experience as a college golfer can be a problem. Because big-time programs carry so many golfers but only five at a time can play in tournaments, a lot of very good players with otherwise bright futures spend time as reserves. Rather than getting better during their time in college, they're getting worse. It's the main reason some say college golf eats its young.
Of course, college golf will always be the right choice for some players who want to eventually turn pro. I encourage those players to extend their college careers to five years, redshirting one year. The difference between 12 semester hours and 15 can be enough to make the time they're able to work on their game thoughtful and productive instead of pressured and rushed.
But for a young player with the rare ability and burning desire to be one of the best players in the world, my advice would be to skip college. And as more of our elite juniors make that decision, the better chance America will have to regain dominance in golf.