FIRE PIT COLLECTIVE
The Distinctive Gwen Knapp: A breath of fresh air on the golf beat gone too soon
Editor's Note: This article first appeared in Fire Pit Collective, a Golf Digest content partner.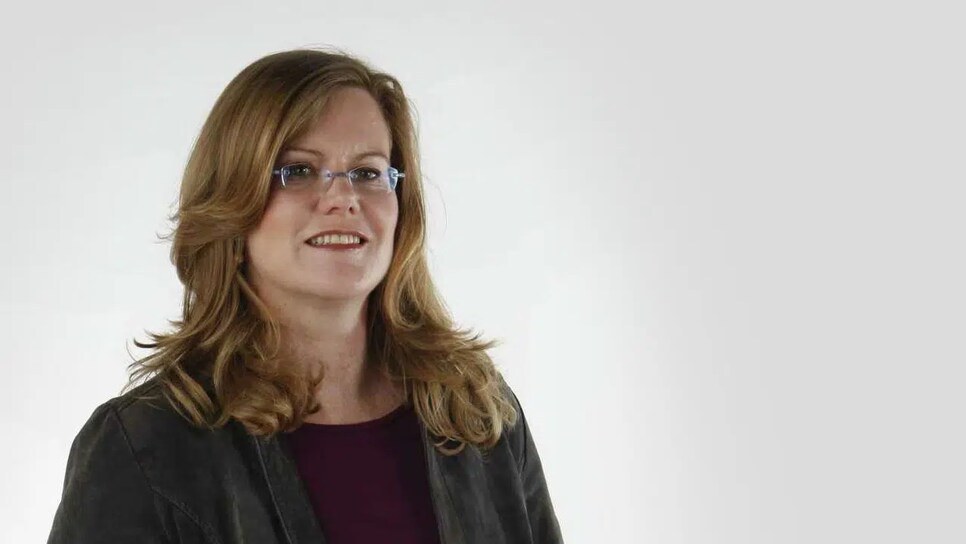 When my friend Gwen Knapp covered the 1998 U.S. Open at Olympic for the San Francisco Chronicle, the rough, off Gwen's laptop, was "bushy," the fog "kept a polite distance," the course was "rambunctious" and the host city, and her adopted one, was "naturally unruly." Lee Janzen, the winner, played "possum golf." Gwen liked words, written and spoken.
Gwen didn't know a lot about golf, but that didn't stop her from covering U.S. Opens and other golf events up and down the California coastline. Gwen was a columnist but not one who riffed. She always had a reporter's notebook in her hand and a million questions in her head. Gwen's forehead was notably broad and deep and behind it the eighth wonder of the world was in permanent residence. Atop her head was a wild, thick mane of red hair, and the effect, you could say, was that she was always on fire.
Whatever was about the only word not in her vocabulary.
Gwen was the valedictorian of her high school class, at a public school in Delaware. She went to Harvard where she swam and wrote for the Crimson and swam. Bill McKibben, the environmentalist and writer, was the editor of the paper when Gwen was a junior and he was a senior.
Her hair was often wet. (A lot of swimming, and an aversion to blow dryers and the time they take.) Her questions were endless. Her analysis of anything was longer. A good time to call Gwen was if you were driving from Philadelphia to Shinnecock Hills. She was all over that U.S. Open, in 2018.
The last paper at which she worked, The New York Times, has done deep dives about the relationship between the club and the Shinnecock Indians who built the club and live on tribal land next to it. As an editor and a writer, that was Gwen's kind of story. Her beat was the human condition. Also fairness, justice and clutch hitting by any Phillie batting eighth.
What drew Gwen to golf was the game's fierce commitment to its rules, because the equal application of those rules is what makes golf fair. Gwen covered Rocco Mediate and Tiger Woods at Torrey Pines in 2008. (Tiger, in 91 holes.) She wrote a how-it-was piece about Ben Hogan and Jack Fleck at Olympic in 1955. (Fleck, in 90 holes.) She liked that golf looked so staid but was capable of producing such weird results.
She saw humor in unlikely places. She once lost a story on her laptop because she was rear-ended and her work-in-progress was in the laptop and the laptop was in the crushed trunk. After that she offered no-laptops-in-trunks as a life tip to her friends in the trade.
She was often laughing about something. She had a great laugh.
Gwen once apologized for tossing a dictionary at me after I asked her how to spell Goldilocks on deadline when we were reporters covering high school sports for the Philadelphia Inquirer. Buzz Bissinger was our editor. This was in 1987, when there was no Google and no spellcheck. What there was was Gwen. I should point out that Gwen spelled out Goldilocks perfectly and immediately and tossed the paperback Webster's when I asked the same question on another occasion. Something like that. Maybe Buzz remembers. There are a lot of Gwen stories.
Gwen had a long run as an editor and reporter in Philadelphia. She had a long run as a columnist in San Francisco, picking up where the great Joan Ryan left off. She had a long run as an editor at The New York Times.
Three long stints, and a criminally short life. Gwen died last Friday at a hospital in New York City at age 61. Her longtime friend Nancy Cooney, an ESPN producer and a newspaperwoman at heart, was with Gwen when she died. Gwen's fiercely loyal sisters—there were four Knapp girls and many pets—were on their way to see her when she took her last breath.
Gwen and I covered baseball, football, high school and college basketball, golf and other sports side-by-side over the years. When we covered the 1993 World Series, we stayed at the grand King Edward Hotel in Toronto. We did not know the whys and wherefores of such fine lodging. We made the unhappy discovery, upon checkout, that the triangular boxes of Toblerone chocolates in the hotel mini-bars were $5 each. Gwen was outraged that hotel management had not made this all abundantly clear before our deep dive.
Gwen's sense of right and wrong was in her life's blood. My wife, Christine, has a lot of that in her, too. They had a lovely friendship. Gwen trusted Christine with her cats, note the s. Every last one of them was a hard-luck story. Gwen was drawn to them.
Gwen had no tolerance for Barry Bonds, Lance Armstrong, the swimmer Michelle Smith, for those who cheated their way to the medal stand. She had no use for sexists, racists, homophobes, corked-bat users, Ben Wright. When I left The Inquirer to join Sports Illustrated in 1995, my first story was about Wright, the CBS golf broadcaster who had made crass and homophobic comments to a reporter with The News Journal in Wilmington, Del., then lied about it on national TV, willing to bury the reporter to protect his neck. Gwen knew the reporter, Valerie Helmbreck, and paved my way to her. Gwen's indignation fueled my own. She was looking to right wrongs and stand up for little guys across the world. She loved covering Olympic Games, Winter, Summer and the outrageousness in between.
Writing did not come easily to her, and for a while, in her 30s, she talked about going to law school, in the pursuit of justice for persons to be named later. She once spent the night in the Lincoln Bedroom in the White House, some sort of unlikely award for her Habitat for Humanity work.
Gwen helped me with some of my books more than I can say. Her taste was impeccable. She would have been a great book editor because she had a terrific eye for the minutia by which any sentence sinks or swims but also a mind that could see in vivid color the writer's grand goal. Writing was a struggle for Gwen because she saw moral dilemmas in everything. When the 49ers played at night, her nightmares began long before halftime.
At The New York Times, Gwen edited innumerable golf stories by Bill Pennington and Karen Crouse, and helped them find a take no other writer had. Now and again, she would use me as a sounding board. Did Hank Haney actually violate any kind of code by writing a book about being Tiger's golf coach? A topic like that could absorb Gwen for a day. Any topic, really, could absorb Gwen for a day.
Gwen was not married and did not have children. She was thoroughly devoted to her mother and father, her three sisters and their children, her close friends. That ran both ways. Her father, a ship pilot and a seaworthy man in every way, got Gwen to sports. Her mother, a museum director and educator, got Gwen to the sports page. The whole family has the smart gene. I could never get Gwen to tell me her SAT score. I'm guessing 1,600.
For the last 15 or 20 years, one of the pleasures of my life, several times a year, has been seeing Chuck Culpepper of The Washington Post at different golf events. Chuck was one of Gwen's closest friends, and we both enjoyed (in good times) sharing Gwen stories and (in bad ones) sorting through her medical dilemmas. Most of Gwen's close friends were drawn to words and fourth-quarter drama. It's a good life.
It was Gwen's good luck and her bad luck to write side-by-side with Ray Ratto in her San Francisco years. Ratto is a great wit and a true genius who has the gift of getting to the core of anything in about 12 words. Gwen, ideally, would have had 1,200, because her first instinct was to take you through all sorts of backstory before reaching her unassailable conclusion. And may the force be with you if you ever thought you were going to turn Gwen around on one of her unassailable conclusions, though she'd be happy to listen.
"She began every day well-ordered and ready to face the joys of the day, but by sunset or game's end she transformed herself into a whirlwind of whirlwinds. Her hair, which was her primary instrument of stress relief, looked by writing time as though a family of badgers had rented it out as a boxing gym."
The last time I saw Gwen was on Christmas in 2021, in a hospital in New York City. Her hair was on fire but she was not. This end was a long time coming. What I would give to have another visit. Another two-hour conversation that resolves nothing but has a good time getting there. If you ever moved Gwen out of an apartment, you could only reach one conclusion: How could a person who was about as materialistic as Mother Teresa have so much stuff? If I had another crack at it, I'd bring packing tape. Gwen was not one for packing tape.
Her friends and family lived to be generous to her because Gwen was so impossibly generous herself. She proved what the Beatles sang at the end of The End: