News
Loving and Hating Tiger Woods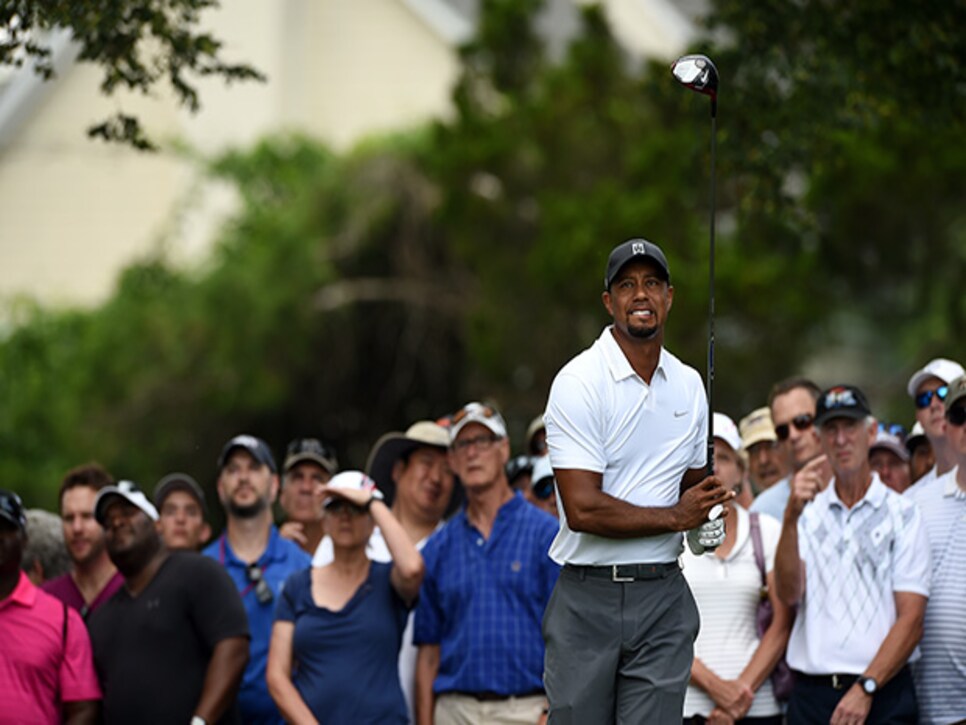 As Tiger Woods makes another return to golf, his supporters and his detractors become more entrenched in their opinions. (Getty Images)
I'm not sure who annoys me more, Tiger Lovers or Tiger Haters. They both have blind spots about the size of Brazil and, because of social media, I get to hear from them. Often.
That Tiger Woods has such large, loud followers in both groups is why he is so important to golf. The game has never had a lightning rod as tall as Tiger. No matter what he does, it is news.
And that is a good thing for the game -- a very, very good thing.
But what The Lovers have to accept is that while he's still the best in the game -- in my mind no one else has proven they are better right now considering Woods did win five times last year -- Tiger is not what he once was. No 38-year-old athlete is what he or she was at 24. None. In this regard, time remains unbeaten, untied and un-scored upon. So Lovers, please chill.
And what The Haters have to accept is that except for the occasional great performance (such as Martin Kaymer at the U.S. Open), Woods will be the lead story in golf up until the day he ends his quest to break Jack Nicklaus' mark of 18 professional major titles. Yes, there are a lot of very nice golfers at present -- Kaymer, Adam Scott, Justin Rose, Henrik Stenson, Bubba Watson, Rory McIlroy -- none have separated themselves the way Tiger did. That's just true. So Haters, please chill.
In their reactions to Woods, both The Lovers and The Haters do him a huge disservice. And since reasoned discourse is difficult in 140 characters, I want to respond to those who interacted with me on Twitter last Friday after Tiger missed the cut at the Quicken Loans National.
To think a guy who will be 39 in December, has had four operations on his left knee and is returning from back surgery can defy time sells short his 2000 season, when he won nine times with three majors, or 2006, when he won eight with two majors. It devalues the Tiger Slam.
At his best, Tiger performed on a level Bobby Jones, Ben Hogan and Jack Nicklaus played on at their best -- some would argue better. Twenty-four majors have been played since Tiger last won one. That's just true, Lovers.
But because we have seen Tiger make a career out of impossible up-and-downs, there remains in all of us a kernel of belief that we will see magic again. For some, it is more wish than belief, but it is there. And that's why the Tiger who struggles is as fascinating as the Tiger who dominates. Tiger has a lot of competitive years ahead of him, if he stays healthy and he wants them. How he performs is news. That's just true, Haters.
When Tiger missed the cut at the Quicken Loans National, I tweeted:
Honestly, I think Tiger should take rest of year off, get totally healthy & make one last run next year at Jack's record.
That prompted these replies:
Tiger misses 10th cut since turning pro in 1996. Went 7 full seasons without missing cut. What's next? Time will tell. A compelling story.
And that elicited responses like this:
How many who competed after 1900 won 5 majors after age 40? None. Nicklaus & Hogan won 3 each. Old Tom Morris won 4 in 1800s.
So I got replies like this:
I admire and respect the passion of both The Lovers and The Haters. They are part of what makes Tiger not only the most compelling athlete in golf, but one of the most compelling in all of sports. Like that painting of Kramer in the "Seinfeld" episode, we can't turn our eyes away.
While we wait to see what comes next for Woods, this would be a good time for all of us -- Lover and Haters, and Journalists trying to play it down the middle -- to appreciate what we have seen up to this point. Some day we will all be able to say we saw Tiger play. And nothing that happens next will diminish the joy of those memories. That's something that should unite The Lovers, The Haters and all those in between.
We saw magic, we saw genius. Will we see more? Lovers, I don't know. Please respect that. And Haters, I'm going to keep watching him, just in case. Please respect that.
I've been writing Tiger stories for 19 years and I ain't stopping yet.