News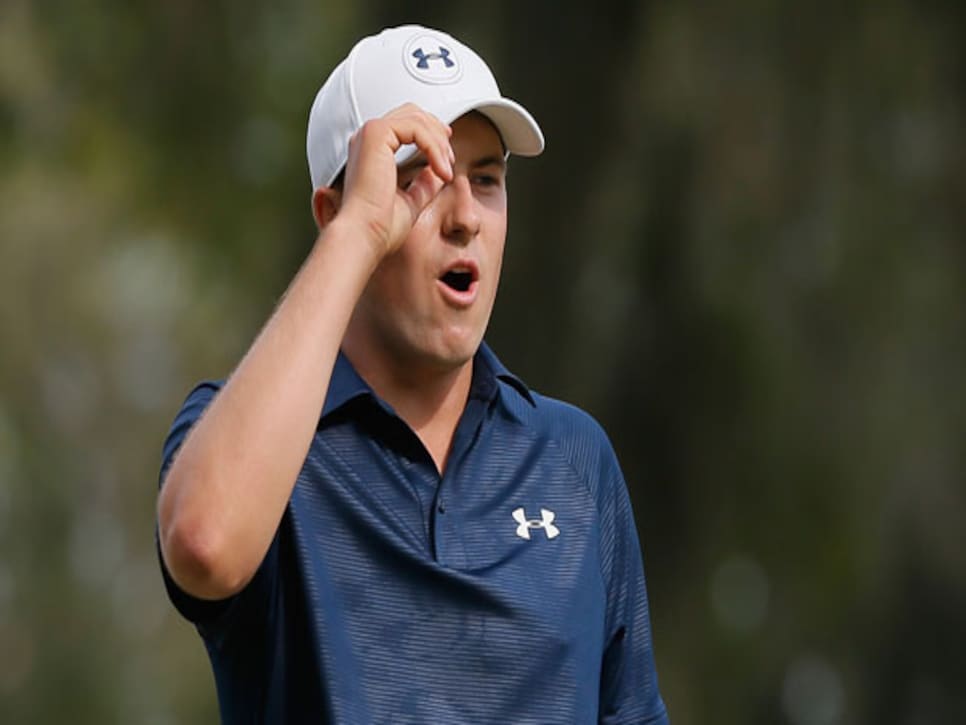 Jordan Spieth has yet to make a bogey through 54 holes at TPC Sawgrass.
PONTE VEDRA BEACH, Fla. -- One thing we've learned about Jordan Spieth in relatively short order is that he's comfortable on the big stage. This quietly cocky kid who won't be old enough to drink until July 27 tied for second in his first Masters last month.
And now he's making a run in his first Players.
Doing his best Nick Faldo imitation, Spieth tried to drive Martin Kaymer crazy with pars, opening with 10 in a row -- and making 17 in all -- on his way to a third-round 71.
That's good enough to have Spieth tied with Kaymer for the lead going to the final round, three strokes ahead of Sergio Garcia and John Senden.
Like Sunday at Augusta National, when he played with winner Bubba Watson, Spieth was in the last group with Kaymer on Saturday. And like at Augusta, where he closed with an even-par 72, the kid wasn't intimidated one bit by the magnitude of the moment.
On another Sunday, this one here, we will get to see what Spieth learned from his Masters experience.
"If you told me I was going to hit it like that, before the day started, I would have signed for one under and said thank you and walked away," he said about turning what could have easily been a 75 into a 71. "I'm very excited about where my game's at. I think it will be back there tomorrow, striking the ball and finding more fairways, and hopefully that leads to more birdies."
Playing on a Stadium Course at TPC Sawgrass that punishes the smallest mistake, Spieth opened his first go-around in the toughest event that's not a major by going 54 consecutive holes without a bogey. That's the second-best streak here behind the 66 in a row by Greg Norman in 1994 when he killed the Pete Dye creation at 24 under par.
Spieth, already No. 7 in the world, impresses with every aspect of his game. He got the first of what likely will be many PGA Tour victories at the John Deere Classic last year when he birdied the fifth playoff hole after holing a bunker shot on the final hole of regulation.
If there is one weakness for Spieth, it is that he can get down on himself and become a little pouty. We saw that on the back nine Sunday at the Masters with some club slamming and muttering. His behavior that day seemed to get in the way of regrouping when he lost focus on the first three holes of the back nine.
But Saturday, in perhaps a sign of growth -- though we did see some pouting -- Spieth was most impressive when he started struggling with his swing. He got up-and-down on 13 and 14 to save par, then took advantage of a break on 15 when he missed the fairway left but got a free drop from a drainage grate. It gave him a less-obstructed shot to the green, which he hit en route to making yet another par.
On the par-5 16th, Spieth overcooked his tee shot into the left pine straw, hit a punch-draw back to the fairway with his second shot, then missed the green long from 135 yards. Still, he saved par again when he played a cute bump-and-run to four feet.
The closest he came to showing any nerves was on No. 17, letting out a huge sigh of relief when he made it to the island green by only a couple yards. On No. 18, he missed the fairway wide right, bailing out away from the water, forcing him to punch back to the fairway with his second shot. Fittingly, he made yet another clutch up-and-down, this one from 56 yards when he holed a 13-footer from the fringe -- punctuated with an emphatic fist pump.
"I had an opportunity to play three full rounds bogey-free," he said about his reaction. It was really ugly coming in, but somehow I did it. I think it was the longest putt I made all day. It meant a lot to me before I hit it, so that's good news going into tomorrow."
Another Sunday at a big tournament, and Spieth is once again in the final group. I'm starting to get the feeling we are going to be seeing a lot of this for a lot of years. No, he's not Tiger Woods, but Spieth just might be the best we have right now and, to quote Freddie Couples, "I'm not great, I'm good, but good's not bad."
The kid's good. Let's see how good on Sunday.