News
Does It Get Any Better Than This?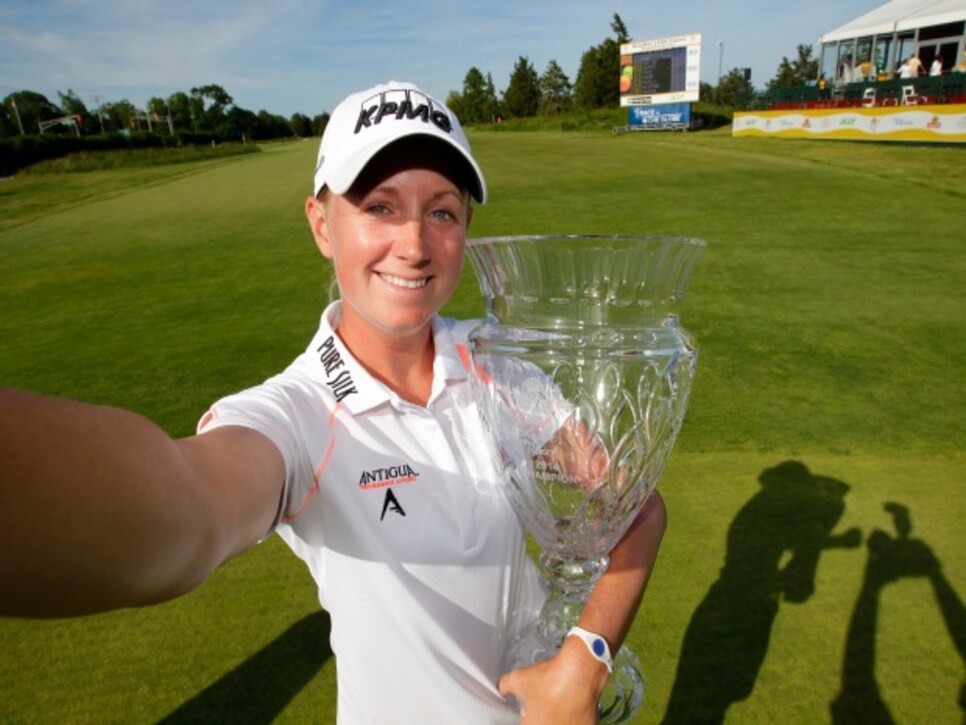 On Thursday, Whan and Lewis were in studio 8H in New York City, the home of Saturday Night Live, to announce a new partnership with the PGA of America, KPMG and NBC.
Then Lewis jumped in a helicopter for the 35-minute ride to Atlantic City, N.J., where on Sunday, sporting a KPMG logo, she won the ShopRite LPGA Classic and moved to No. 1 in the Rolex Rankings.
Talk about producing for your sponsor -- and for your tour.
"The win was what I was looking for going into the week," Lewis said. "The ranking was just a bonus."
If someone had asked Whan in January what winners would be best for business through 13 events he would have sounded like he was dreaming if he gave this list:
Lewis, Jessica Korda, Karrie Webb and Anna Nordqvist twice each joined by Paula Creamer, Lexi Thompson, Michelle Wie, Lydia Ko and Lizette Salas.
But that's what he's got.
Suffice it to say, if chief marketing office Jon Podany can't sell that talented a lineup, he should return to being a back-up quarterback at Miami of Ohio, where he met Whan.
When the Rolex Rankings were unveiled June 2, not only was Lewis No. 1 but three Americans were in the top 10 and eight in the top 20. This comes a year after Lewis was the only American in the top 10 and there were only five Yanks in the top 20.
And just as key for the global business model of the LPGA, there are eight other nations in the top 20: Korea, with five, New Zealand, Norway, Australia, China, Sweden, Spain and Scotland.
Lewis' run to No. 1 has been relentless and the timing could not be better. Since losing the top spot to Inbee Park on April 15, 2013, Lewis has had 25 top-10 finishes in 31 starts with three wins, including the Ricoh Women's British Open.
"I know how to prepare now for a tournament better," Lewis said about what's different from her one-month stay at No. 1 last year. "I want to be there for a while."
Whan and Podany, who left a much more secure job at the PGA Tour to help out his college friend, have brought the LPGA back to 32 tournaments from a low of 23. It's a remarkable turnaround.
"We are a completely different tour than we were three years ago," Lewis says. "A lot of people were writing us off. But because we are an international tour we were able to ride it out with those Asia events. Now sponsors are coming to us."
The next goals, Whan says, are higher purses and network TV exposure so the LPGA can grow its audience beyond the core golf fan who watches Golf Channel. The creation of the KPMG Women's PGA Championship was a huge step in that direction.
Not only will it have a $3.5 million purse next year at Westchester CC, up from the $2.25 million that the Wegmans LPGA Championship will pay out this year, but the weekend rounds will be on NBC three hours each day.
Returning to the New York market will also help the profile of the tour, as will the day-long summit on women in business KPMG will organize the Tuesday before the tournament each year.There could be some lucrative dominoes falling for the LPGA here.
When the USGA gets to Pinehurst for the twin U.S. Opens -- another event that will bring added attention to women's golf -- it will announce the purse for the U.S. Women's Open will go from $3.25 million, where it has been for six years, to $4 million.
And insiders say it will go up even more in 2015 when the 12-year, $1.1 billion Fox TV deal kicks in.
The Women's British has a purse of $3 million and the Evian Championship, which prides itself in matching the U.S. Women's Open as the largest purse in women's golf, is at $3.25 million.
It would be no surprise if both the Ricoh and the Evian increased their prize money, especially Evian.
"I don't think you could script it any better going in the U.S. [Women's] Open," Lewis says about the resurgence of American players.
"There are going to be a lot of challenges [about playing Pinehurst No. 2 the week after the U.S. Open] but it's a great opportunity to showcase our sport,"  she says.
The only fly in this otherwise tasty ointment is the Kraft Nabisco Championship, the first major of the year.
Kraft is out as sponsor, but Whan says the tournament is not going away or changing venues. The event founded by Dinah Shore has been at Mission Hills CC in Rancho Mirage, Calif., since 1972 and has been a major since 1983.
Whan says the tour will run the event without a sponsor for at least a year if that's what it takes.
Here's an idea: Bring it back as The Dinah Shore Championship. Stick a corporate name in front -- It was The Colgate Dinah Shore Championship once -- but get Dinah back in the mix.
Any company associated with that move would get a ton of good publicity. And that would make a very good year for Whan and the LPGA just about perfect.