News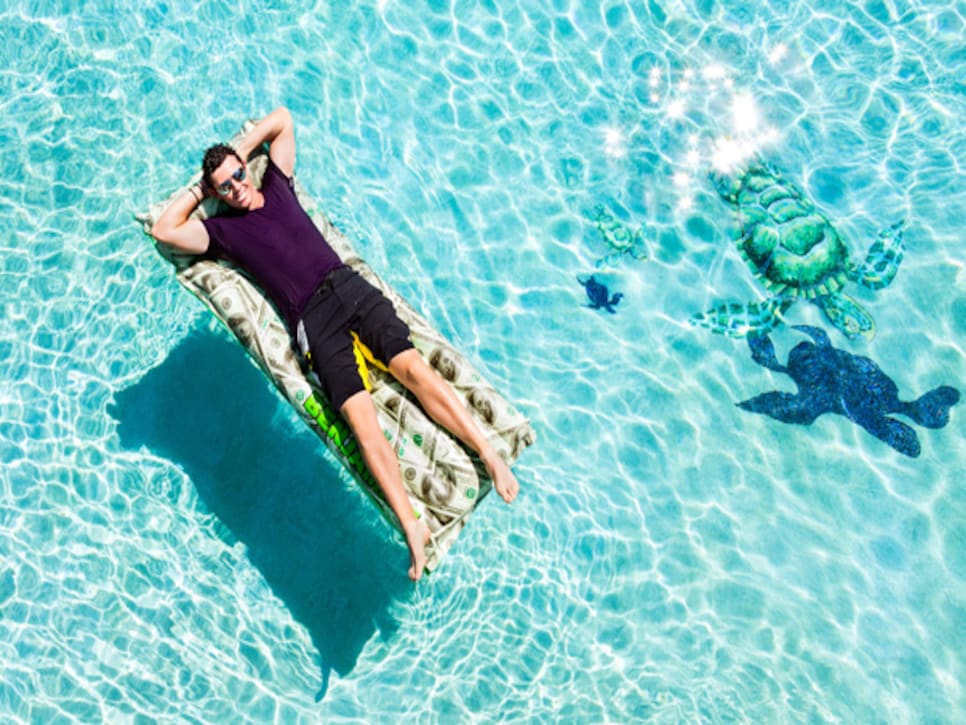 McIlroy's March 29 decision to add San Antonio to his schedule was a reminder that his 2013 campaign has not gone swimmingly.
On Thursday during the Shell Houston Open, at the 564-yard eighth hole of the Tournament Course at Redstone GC, Rory McIlroy sure didn't look like the best -- or second best -- golfer in the world. He tugged his drive into a left fairway bunker, hit the lip coming out, leaked a 5-wood into the water on the right, and made a sloppy double-bogey 7. On Friday, at the same hole, McIlroy hit two laser beams to reach the left fringe, then two-putted for the birdie that allowed him to make the cut.
Cold, hot, inconsistent -- last August seems like eons ago.
When McIlroy shot a bogey-free 66 in the final round of the 2012 PGA Championship at Kiawah Island's difficult Ocean Course -- and won by eight, the largest winning margin in an event staged at stroke play since 1958 -- he seemed to have this game figured out. Then 2013 happened, and his winning form became as elusive as a feather in the wind.
McIlroy's World Ranking has fallen from No. 1 to No. 2, but in the first two rounds at the Shell, he wasn't even the second-best golfer in his group. Keegan Bradley and Dustin Johnson played much more self-assured games (and shot lower scores). Rory's right, left, right, left off the tee seemed like directions to the airport.
He shot four-under 284 and finished T-45. At the 11th hour he decided to skip a long-scheduled return trip to earthquake-ravaged Haiti on behalf of UNICEF -- which after his first visit in June 2011 McIlroy said changed him -- and committed to play in San Antonio, admitting that he was suffering from rust. Humble, Texas, indeed.
Before play began near Houston, McIlroy endured the often-tortured convention that has become mandatory for his station: the pre-tournament media conference. After some feeling out, the subject turned -- without being explicitly verbalized -- to the root of the issue: Has McIlroy got what it takes to be comfortable at No. 1, to sustain the position, to truly be Tiger Woods' successor? His answers were honest and for the most part reasonable, but to questions that for many were seemingly resolved when he came back from a mini-slump to blow away the field at the PGA, they lacked in edge or defiance. Instead, there was tacit acknowledgment of a burden.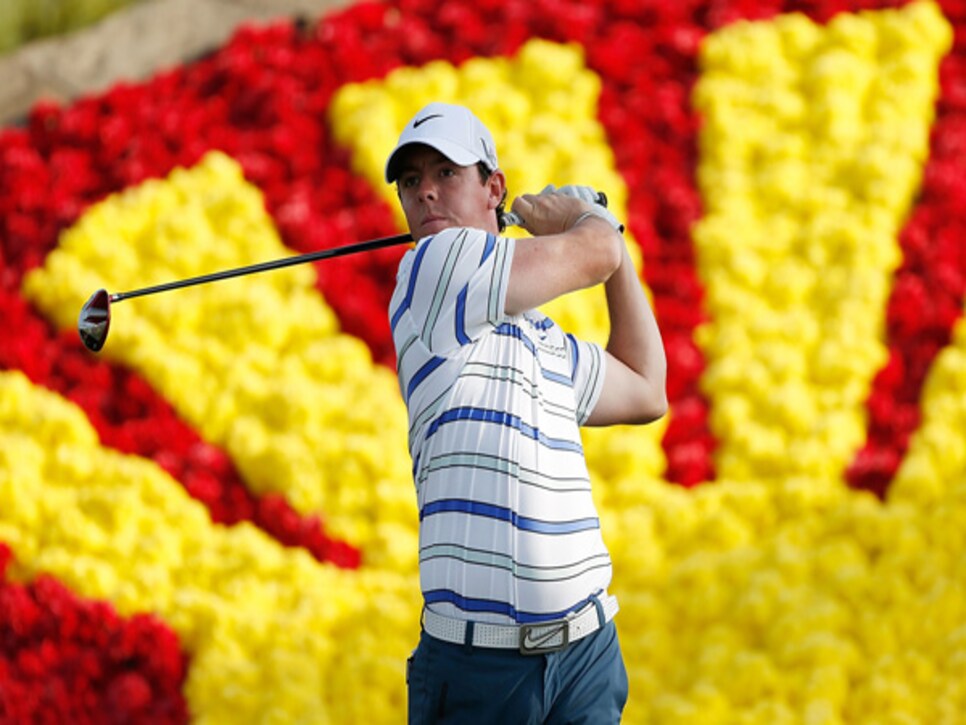 After making the cut on the number in Houston, McIlroy gave himself mixed grades after his eventual T-45. Photo: Scott Halleran/Getty Images
"I guess I have sort of got used to it over the past couple of years," he said. "It's OK. You go and just try to live your life as normally as you can. It's just the way of the world, social media and everything being so instant these days. ... We're not machines. We're humans. We go through highs and lows. It's just sport and golf."
The interview circled around to benign topics, until one reporter threw a fastball: "Is there a sense of relief not to be No. 1 at the moment?"
Knowing that he was revealing a lot, but perhaps relieved by the question itself, McIlroy carefully negotiated an answer. "I guess at the minute, yeah, with me trying to get my game back to where I think it can be," he said. "You know, it's nice to just go -- just go about my business and no one cares, but you go about it and not be, I guess, the most talked about person in golf. It's a nice thing."
In the largest sense, of course, McIlroy was right -- it is "just sport and golf." Things change, and adjustments need to be made to the physical game and the mental approach. He will turn 24 on May 4, a young man adjusting in full view, which makes the process that much harder. The other constant specter is Woods, not only his template of greatness that golf grew used to, but also his resurgence. And the Masters looms.
It's not an easy place to be. Though in retrospect, it is easy to see how McIlroy got there.
Rory was No. 1 when he arrived to defend his title at the Honda Classic. His only previous 2013 appearances had been Abu Dhabi in January, where he missed the cut, and the WGC-Accenture Match Play Championship, where he lost in the first round.
Attendant pressures were on display at Honda. During practice and pro-am rounds, the PGA Tour allows autograph collectors to form a corridor between greens and tees; at PGA National, a motley lot of memorabilia traders beseeched and cajoled McIlroy while reaching over and between each other with outthrust photographs, posters, hats, gloves, flags.
"No pushing!" shouted a security guard, but there was pushing.
McIlroy is known as a signer, as Tiger is not, sharpening the lust for a round loopy R-o-r-y executed in black Sharpie. "Rory, Rory, Rory," murmured the insistent chorus. "For my sister," said one man with a shopping bag full of stuff to sign; he tried "for my daughter" a couple of holes later. As the golfer worked his way slowly forward, the lines on either side of the nylon rope collapsed, as the signature seekers in the front frantically looped around for another shot. They looked like a marching band performing a difficult maneuver.
McIlroy owns an upbeat personality, but these were uniformly cold transactions with no eye contact and no conversation, and precious few of the kids and grandpas for whom most players prefer to sign. Perhaps the grasping signature collectors are the world in miniature for golf's capo di tutti capi. Woods, and before him, Hogan, reacted to the goldfish bowl with silence and withdrawal, while Arnold Palmer was their smiling, gladly signing antipode. Rory looks far more Arnie than Ben, but then again, Tiger's era might be more voracious.
The mop top from suburban Belfast arrived at each tee with seeming relief, then ritual took over: He handed the pen to caddie J.P. Fitzgerald, a Dubliner, who handed back a club and a wind report. "Off the left, a little in your face." McIlroy teed up his ball -- with the logos longwise and on the sides, so that they resembled apostrophes -- then threatened it with 440 cubic centimeters of red clubhead. Mild-mannered Michael Bannon, Rory's pro since the little phenom was 8 and now his full-time instructor, found a vantage point. McIlroy dug in, his body a bundle of pent-up kinetic energy -- seat belts, everyone -- then made the ferocious athletic swing. Its outline seemed to remain in the air, like the tracings of a sparkler at night.
Teacher and student huddled between shots, both pantomiming downswings and the hands at impact. Clearly, something was wrong. McIlroy going after a driver, as he did so flawlessly at Kiawah, is a full-blooded uppercut, a boxer going after a knockout. But now a glitch in his takeaway was leading to off-center hits in the wrong direction and worse, much worse, uncertainty.
How pervasively wrong things were in Rory's world became evident two days later, when he made the first public relations misstep of his charmed career. Seven over after eight holes, on No. 9 he declared that the throbbing pain from a lower-right wisdom tooth put him in such a "bad place mentally" that it was impossible to continue. He shook hands with fellow competitors Ernie Els and Mark Wilson and headed to the parking lot.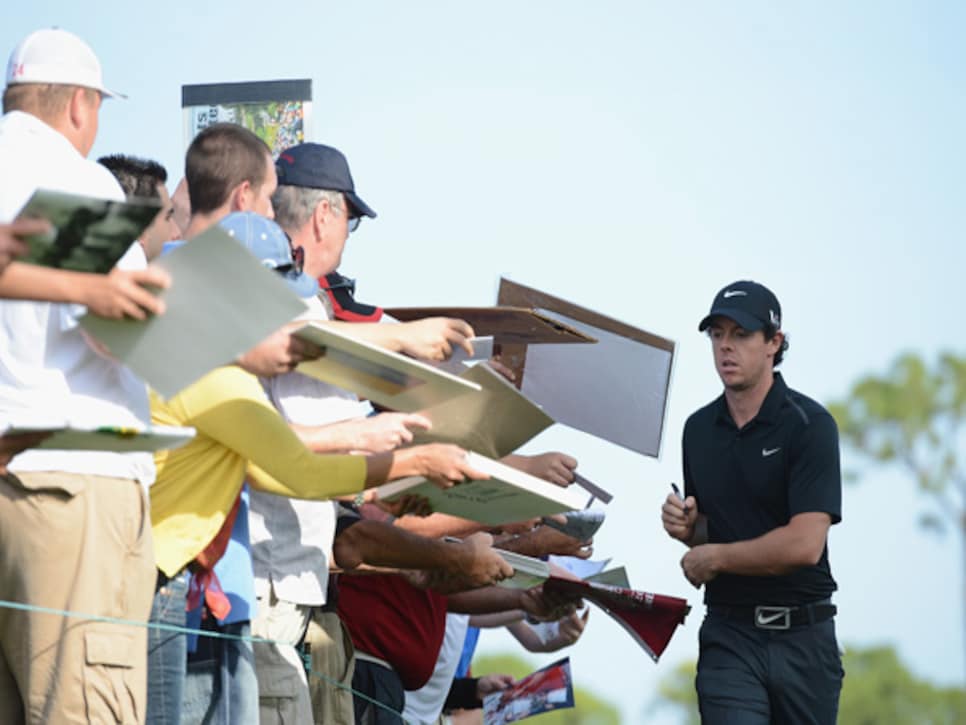 McIlroy offered more contrition and explanation the next week, in his pre-tournament presser at Doral. "It was a mistake … I regret what I did … It won't happen again." As everyone already knew, the sore tooth was only part of it: "I think it was a buildup of everything … high expectations … I sort of let it all get to me."
McIlroy's dominant trait -- unaffected charm -- obscures trouble. In the days before his immediately infamous interruptus, signals of unease could be detected. After all, the man has a lot on his plate. During the Accenture, at Dove Mountain near Tucson the week before the Honda, his ball-striking was off and his clubs were new and the fans were adhesive and his girlfriend was around the globe in Dubai dealing with her own set of pressures and the weather in the southern Arizona desert turned bizarrely arctic.
He recently had sold one home (in Northern Ireland) and was still trying to figure out the light switches on a new one, in Palm Beach Gardens, Fla., where the real estate ain't cheap. Lack of use had caused his game to oxidize, and the Golf World writer wouldn't leave him alone. He looked distracted more than once but not once appeared even a little churlish. Apparently, it's just not in him.
Nor did Rory resort to cliché or withering looks when addressing or being addressed by the media. In Tucson his pre-tournament news conference took much longer than anyone else's, not just because of the inevitably high interest in the No. 1 seed but because his answers tended to go on for a few paragraphs. "I just try to be honest," he had said in 2011, during the long dawn of Rorymania. "I always want to be that way. I don't want to be guarded and give meaningless answers."
The most frequent questions involved his adjustment to the clubs and balls supplied by Nike, since McIlroy had left the clubs and ball with which he had won the 2011 U.S. Open and the 2012 PGA Championship and used to be the leading money winner on both the PGA and European tours in 2012. In his one competitive outing with the new equipment, at Abu Dhabi, he had shot a couple of lackluster 75s.
Inquiring minds on deadline also wanted to know about performance-enhancing drugs in golf, the differences between stroke and match play, and what it feels like to be No. 1. "It's nice," McIlroy said. "It's a good position to be in. If the attention is growing, that means you're doing the right things. You're winning tournaments, and you're putting yourself up there. So I am definitely not complaining."
watched a Heat basketball game in Miami Dec. 15.
Photo: Alexander Hassenstein/AP Photo
Rory dreamed big and pursued the penthouse suite hard; he's not about to bitch about the view. As a boy, he played golf from "half seven until 10 at night," he recalled for a documentary film of his life. Only school and darkness could prevent his ceaseless trips up and down the cool green fairways of Holywood GC, where his dad tended bar part-time.
He would play 54 holes on those long summer days, frequently picturing himself winning majors. Rory even put his imaginary glory in writing -- sport psychologists say this is an excellent idea -- by filling out scorecards that had him shooting next to nothing in the final round to win at the Old Course or Augusta. Prophecy started to fulfill itself at the 2007 British Open. As the European Amateur champ, Rory, barely 18, qualified to play against his heroes at scary Carnoustie. He shot a first-round 68, tied for third place, holding the only card that day with no bogeys. The media surrounded him. He didn't mind. The kid from County Down took off his hat to reveal hair that looked like an unplayable lie and declaimed.
But McIlroy's embrace of the public life sometimes seems reckless, at least to some of us born before 1970. It's not that from a presumably extremely wide field of candidates he selected Danish tennis star Caroline Wozniacki as his girlfriend. Nor do we doubt that Roryniacki can work around their schedules and the self-centeredness required of professionals in individual sports. What seems nuts about what they do is tweet -- sometimes to each other.
Caroline, on Jan. 23: Let the road trip begin! Rory McIlroy driving! Mountains, snow here we come!!! (She likes exclamation points.)
Rory, on Jan. 24: Not a bad view to wake up to! Gonna have a few great days in the Alps with Caroline Wozniacki (The referenced photo shows the eave and deck railing of a chalet, a ski lift, snow-frosted evergreens, and, of course, Alps.)
Vicariousness rules the modern world, but using social media to communicate with your gal brings his 1,584,221 followers and her 478,005 (both as of April 1) into what used to be the most wonderfully private part of life. When you were 23, did you want your Mom and two million other people to know what you were doing with your girlfriend or boyfriend, and where?
Better, perhaps, to save the Twitter for moments like the one McIlroy had after his press conference.
Six Bags is the title of the first project of Rory's new foundation. In his first half-dozen events of the year, caddie Fitzgerald is lugging the boss' clubs in a bag festooned with the name of a local children's charity -- at the Match Play, it was the Boys & Girls Clubs of Tucson -- and at the end of the event the bag is auctioned off, with the proceeds going to the named charity.
The mutual admiration between the kids from Tucson and the boyish golf hero could not be faked. Photos and fist bumps, and then the kids -- all wearing "Thank You Rory!" T-shirts -- swarmed around the grinning golfer as if he were a Maypole. What do you like about him? I asked them in the afterglow. The children were sure what they admire about Rory, and they were equally certain they wanted their names in a national magazine.
"He's good! HE'S GREAT! He's amazing! He has a good heart. He can make all the holes. You can count on him to keep secrets. He's a nice guy. He's a respectful person. I like that he's so good at golf. He's a great speaker. He has sportsmanship," said Ahideali, Daniel, Jazmin, Malakai, Jacob, Goel, Jaya, Victoria, Miguel, Janice and Anyssa, who are ages 8 through 17, and among whom may be a future stand-up comedian or the governor of Arizona.
"What comes across is the authenticity," said Armando Rios, CEO of the Boys & Girls Club of Tucson. "I understand that there is a PR component in this for him, but his comments prove he is sincere and wants to help."
Getting late now, and cold, Rory retired to the practice tee. He twirled the club in his follow-through with the irons, like Tiger, and watched the flight of his shots while leaning back and bent sideways, like Tiger.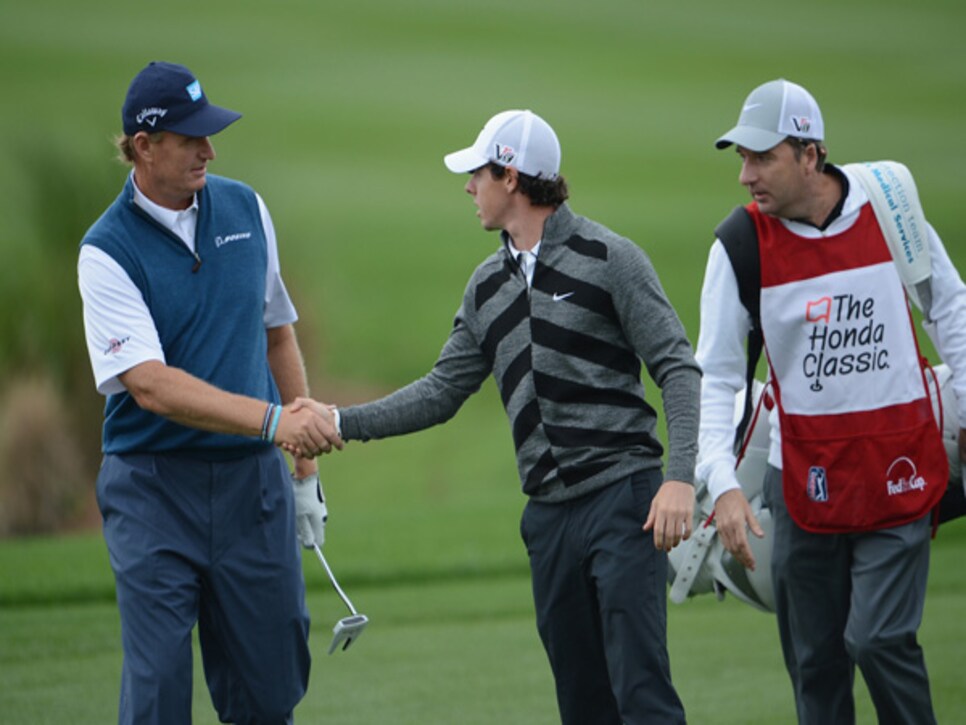 They are friends, with the post-scandal Tiger allowing Rory closer than any previous genuine threat to his supremacy. They've practiced together, and often text, with Woods responding to McIlroy's congratulations to regaining No. 1 with the kind of coarse line of encouragement that is reserved for a special few. They are inevitably compared. A big difference is that McIlroy is generous enough to concede that Woods has something he doesn't have, and if he is to be his successor, perhaps will need.
"I've always said he's one of the greatest fighters on a golf course," McIlroy said in Humble. "He just sticks in there. That's one of his biggest things. He can repeat day-in, day-out that attitude, and that, I guess, single-mindedness or that drive or motivation, whatever you want to call it, I think that's his most impressive aspect."
But McIlroy has something Woods doesn't have -- or doesn't allow himself to have -- with people. The question for McIlroy becomes, can he afford to keep it? At Tucson, when he was finished, he posed for photos and signed something or other for every kid in a roped-off kid zone. The colors of the distant mountains deepened from dark green to brown to dark blue. Ominous clouds sailed in like giant ships. The desert wind tried and failed to ruffle Rory's hair.
McIlory has engineered two big breakups. Before the split with Titleist, he gave the heave-ho to England-based agent Andrew (Chubby) Chandler, whose International Sports Management represented Rory since he eschewed a scholarship to play golf for East Tennessee State and turned pro. You've seen Chandler if you've seen the joyous aftermath of a win by Darren Clarke or Lee Westwood or any of the others in his stable (which includes major winners Charl Schwartzel and Louis Oosthuizen). A burly, bearded man with a head like a mortar shell, Chandler threw up his hands in horror and said "No!" when asked to talk about his former client. They broke up in October 2011.
When Rory sat for a conversation in a vast stone and timber room in the Dove Mountain clubhouse, the only other occupied table was occupied by Chandler. Awkward. "How you been, good? You got your clubs sorted out?" Chandler touched Rory's Swiss wristwatch, a pricey Audemars Piguet model. "I had dinner with them last night," he said. Monosyllables from Rory, stiff smiles from both. Rory dumped Chubby in part because he liked the blokes at Horizon, fellow Northern Irishman Graeme McDowell's Dublin-based agency. Some say he felt like third fiddle in Chandler's band, behind Clarke and Westwood. The point is, Rory does not lack assertiveness.
When seated out of hearing distance of his former agent, McIlroy was handed a book called The Masters, wittily inscribed by its author "Memorize this. Test in April." He nodded. "Yeah, it's always on my mind this time of year … If you don't have all your shots at Augusta, you'll be found out. Last year I was struggling to turn the ball right to left."
"Yeah. I hit 3-wood or 5-wood off that tee all last year. If I take the right line, I don't even need to hook it. The driver didn't work out the year before that." McIlroy laughed at his sly reference to the late sunny Sunday afternoon when he stood on the elevated 10th tee with a one-shot lead and nine holes to play. But he hit a quick hook lefter than left, the first sad step toward a triple bogey, an 80 and a T-15. Afterward, he faced the media manfully, almost cheerfully, winning a cadre of permanent fans. He won the U.S. Open two months later. Neither does the lad lack resilience.
Your new place in Florida: "It isn't full-time. I actually share an apartment with Caroline in Monaco. I prepare and practice [in Florida]."
About Ms. Woz: "No, I don't think we're too competitive. I'm only that way with things I'm good at. Cards or pool, I don't care, I'm OK win or lose. But Caroline's got to win. I could take a leaf from her book. She's stubborn. It's a good thing."
Your parents both worked hard to keep you in golf clubs and golf gloves: "When I was 10 or 11, I just thought it normal that Mum worked the night shift, that Dad made my breakfast and Mum made my dinner. I didn't understand their sacrifice. Or how much they were apart. Maybe that's why their marriage has lasted so long!"
Your country has such a violent history: "Northern Ireland is much better than it used to be. Now no one cares if you're Catholic or Protestant [the McIlroys are the former; the plurality of the country is the latter]. Years ago, even intermarriage was frowned on. And yeah, the Troubles affected us. My dad's uncle [Joseph McIlroy] was shot dead [in 1972, in East Belfast, apparently by the Ulster Volunteer Force, apparently for being Catholic in a Protestant neighborhood]."
Thin arching brows emphasize Rory's dark brown eyes. During our 15-minute chat, he flipped his new book over and over as if it were hot, but didn't look at his Audemars Piguet even once.
So, a week away from the Masters, where a victory would be his third leg of a career Grand Slam, where is McIlroy?
A durable theory among instructors -- including, apparently, Bannon -- is an exaggerated cure for any swing ill. Thus, the enduring image of McIlroy the last few weeks is of a great golfer executing an awful practice swing. On the range and between shots on the course, there was Rory throwing the club way outside on the downswing and pitching all his weight forward onto his left foot. We guess this means that he is hanging back a bit on full shots.
Short of a great performance in San Antonio, he seems to be limping into Augusta. On the other hand, his form and all the attention on whether Woods is back could play to his advantage. "I didn't think I could go into the Masters under the radar," McIlroy said. "I can sort of go in a little bit underneath him, so in a way it's not a bad thing."
There is a theatrical aspect to the Rory story now, with elements of conflict and disappointment rubbing up against his accomplishment and potential. Despite his uncharacteristic misstep at the Honda, people like McIlroy. And they want him to succeed. If he does so at the Masters, the resilience he showed in winning his previous two majors, as well as a true willingness to embrace the position commensurate to his talent, will be proved for good.