News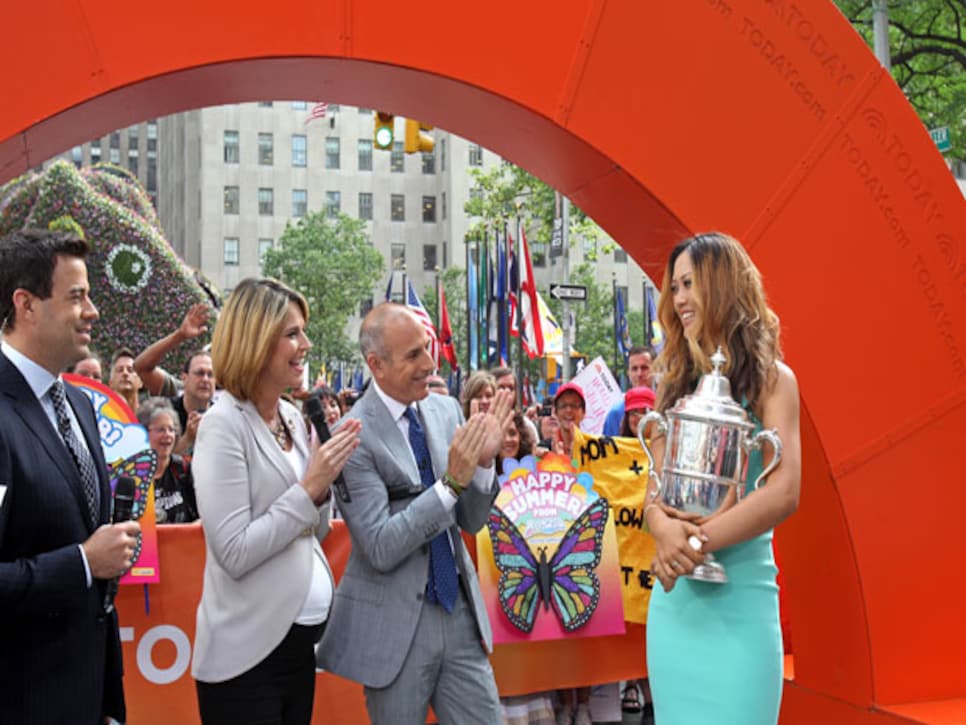 Wie's post-U.S. Open tour included a trip to the "Today Show."
SOUTHPORT, England -- The arc of time when discussing Michelle Wie is jarring. How can we talk about a 24-year-old in terms of decades? But it's been more than 10 years since she became a household name.
The first time Wie played the Ricoh Women's British Open was here at Royal Birkdale in 2005, finishing T-3 at 15. Her five top-five finishes in eight majors over those two years made it seem as if a Grand Slam title was only a matter of time.
No one would have guessed it would be nine more years until she got that first major.
But on Tuesday, when Wie was introduced at Royal Birkdale as "the reigning U.S. Women's Open champion," her broad smile could have melted away the dull clouds that shrouded Southport.
"It feels amazing," Wie said when asked how that intro made her feel. "I'm really proud of it. It doesn't mean I am going to win another; but I have one and they can never take my name off that trophy."
In 14 starts this year, Michelle has 10 top-10 finishes, including victories at the Lotte Championship in Hawaii and that historic U.S. Women's Open at Pinehurst No. 2.
And there is every reason to believe Wie won't be one-and-out when it comes to majors. While earning her degree at Stanford, Wie was able to step out of the spotlight and surround herself with friends, allowing a more mature, more well-rounded personality to emerge.
By creating a bit of space from her omnipresent parents -- they still live together in Florida, but she has developed a life of her own -- Michelle has become friends with other LPGA players.
"I've gotten to know Michelle through the Solheim Cup," said Stacy Lewis, who is No. 1 in the Rolex Rankings and plays a lot of recreational golf with Wie in Florida. "I think once she went to Stanford, she really kind of became a different person. Now she hangs out with players more instead of just sticking to her team all the time. That's kind of when it all changed."
LPGA players have also come to realize that a successful Michelle is good for all of them.
"The U.S. Open couldn't have been scripted any better," Lewis said about Wie's victory there. "We are on our biggest stage and our biggest star winning there, and she won't tell you that, but she is our biggest star and she moved the needle and her winning there was huge for us."
In fact, the LPGA rolls into the Ricoh on a roll of great winners, including Lewis three times this year. Lexi Thompson won the Kraft Nabisco Championship, the tour's first major, with Wie second and Lewis third. Then Wie won the U.S. Women's Open with Lewis second.
Lewis won the Ricoh last year at St. Andrews. And the last time the Women's British was at Birkdale, Yani Tseng was 11-under par in 2010 to win by one over Katherine Kirk, with Wie T-17 and Lewis T-31.
In 2005, Jeong Jang was 16 under, four better than Sophie Gustafson. Wie, then 15, was T-3.
The scores may not be that low this year. Birkdale will measure 6,458 yards from the tips and its ending could produce some fireworks since Nos. 17 and 18 are par-5s reachable by just about everyone in the field.
But there has been more rain than usual and Birkdale is not as bouncy as St. Andrews last year. Also, the rough is lush and thick and keeping the ball in the fairway will be huge.
"This is the toughest I've seen Birkdale play," Wie said. "Normally, you just hit it over the bunkers. This year, you have to keep it out of the rough. It's definitely longer than the last two times I was here."
The biggest improvements in Wie's game have been a highly reliable stinger 3-wood off the tee -- "It more likely will be my 2-hybrid here," she said -- and vast improvement in her lag putting.
While she still misses her fair share of five-footers, she leaves herself fewer of them and had no three-putts at Pinehurst.
"That's my goal," Michelle said when asked if she is playing the most consistent golf of her life.
Then she turns to the possibility of a Wie-Lewis rivalry developing.
"I feel very honored when people compare me to Stacy," she said about the friend she spent the Fourth of July with. "She's so consistent; deadly consistent; annoyingly consistent."
And in a magical year for the LPGA, wouldn't it be fitting if Sunday produced a Wie-Lewis shootout and the rivalry everyone wants emerges.
"I don't think you'll find a rivalry where we hate each other or anything," Wie said. "But we definitely want to beat each other."
Because of childhood scoliosis and pursuit of her degree in Accounting and Finance at Arkansas, Lewis got a late start with her career.
Stacy, 29, was 24 her rookie year; the age Michelle is right now. They have traveled very different paths to get here, but maybe now those paths are merging into something that can be very special for women's golf.
Maybe Sunday, two friends will be trying to beat each other.