News
The Jeremy Lin Story Is Amazing, But Golf Fans Have Seen It Before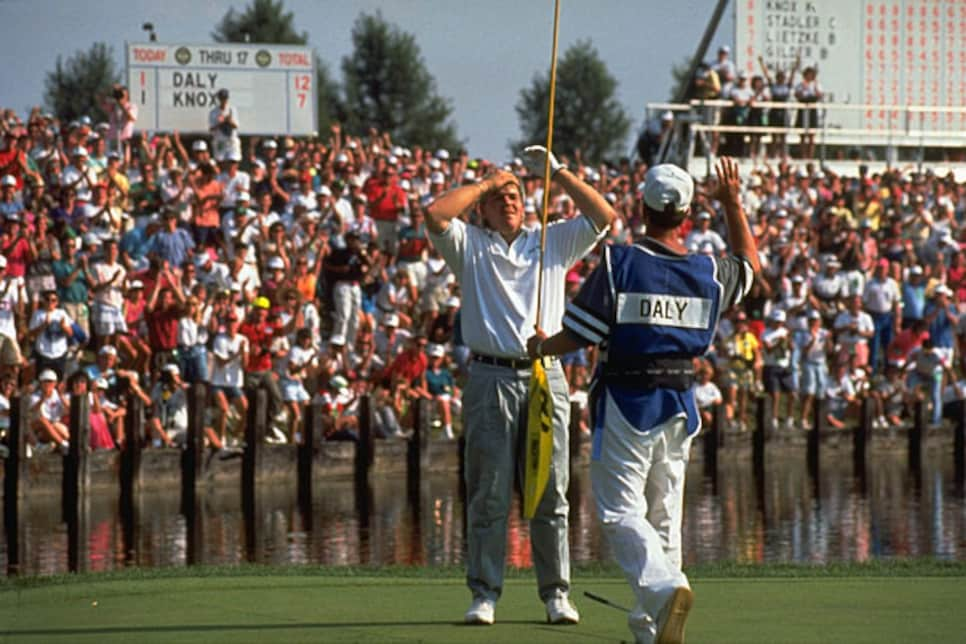 John Daly after sinking his putt on No. 18 at Crooked Stick GC, winning the 1991 PGA Championship.
On Jan. 20, 2012, Jeremy Lin was in Portland, Maine, as the starting point guard for the Erie BayHawks in an NBA Development League game. Lin scored 28 points that night and led the BayHawks to a 122-113 victory over the Maine Red Claws in a game watched by 3,045 in the Portland Expo Building.
Three weeks later Lin was in Madison Square Garden playing in front of 19,763 roaring fans, not to mention millions more watching on TV around the country. Before the night was over he had outdueled Kobe Bryant, outscoring him 38 to 34, and led the suddenly resurgent New York Knicks to a 92-85 victory over the Los Angeles Lakers.
In the blink of an eye, Lin had become a bigger celebrity than Eli Manning, who five days earlier had quarterbacked the New York Giants to his second Super Bowl win. Linsanity became a part of the lexicon. People who wouldn't know Tiger Woods from Phil Mickelson knew who Jeremy Lin was and wanted to know more.
Has there ever been a sports story quite like this one? Absolutely.
Lin's sudden rise to hyper-fame conjures memories of Mark Fidrych, Fernando Valenzuela and Buddy Biancalana in baseball; Mike Eruzione in Olympic hockey; Kurt Warner in football; and Boris Becker in tennis. All were athletes who no one except friends and family had heard of one day--and then names on millions of lips a few weeks later.
Some hung around a lot longer than 15 minutes (Warner, Valenzuela, Becker). Others did not (Fidrych, Biancalana).
Then there's golf. Has there ever been an answer to Jeremy Lin? Sure.
No, it's not Keegan Bradley. As stunning as his victory at last year's PGA Championship was--coming from five shots behind on the final three holes to win the first major he had ever played--Bradley was already having a superb rookie year on tour, having already won a tournament and established himself as a rising star.
Perhaps if Jack Fleck had lived in something approaching today's computer-driven world, he might have been a sudden superstar. His victory over Ben Hogan in a playoff at the Olympic Club in the 1955 U.S. Open is still considered one of golf's most shocking upsets. Francis Ouimet's U.S. Open victory in 1913 has been the subject of books and movies. There are others to be sure: Shaun Micheel had never won on tour prior to the 2003 PGA, and hasn't won since, but he produced one of the most remarkable shots in major championship history on the 18th at Oak Hill when he hit a 7-iron to two inches to clinch victory. Orville Moody was notable in the golf world only because he was an ex-Army sergeant when he won the U.S. Open in 1969. Like Micheel, he never won again on the PGA Tour.
But no one in golf history was more Jeremy Lin than John Daly at the 1991 PGA at Crooked Stick. All golf fans know the story: Daly got into the field as the ninth alternate when Nick Price dropped out a day before because his wife was about to give birth. Without a practice round, Daly won the championship by three shots over Bruce Lietzke.
It was more than that, though. Daly was clearly not your typical, polished, say-all-the-right-things golfer. He looked like he had just stepped out of a bar with his mullet hair cut, cigarette hanging from his mouth and his less-than-slender frame because it was entirely possible that he had just stepped out of a bar. He had a swing that looked like it would snap his back but let him hit the ball miles and miles.
Daly became a cult figure and a walking soap opera. He was in and out of marriages and in and out of rehab almost as often as most people go in and out of gas stations. He won a second major at the 1995 British Open--when he had dropped out of the top 100 on the World Ranking--but nothing has ever been easy for him.
More than 20 years after Crooked Stick he remains one of the five most popular players in golf, even though he no longer has exempt status on the PGA Tour and has worn out his welcome with many sponsors in spite of his popularity.
Will Jeremy Lin be Kurt Warner, who went from bagging groceries to playing in Super Bowls? Or Mike Eruzione, who never played hockey again after his game-winning goal against the Soviets keyed the Miracle on Ice in Lake Placid?
Only time will tell. One thing though is certain: He will not be John Daly. Daly was the first--and last--of a kind.