News
By Addressing His Weaknesses, McIlroy Strengthened His Game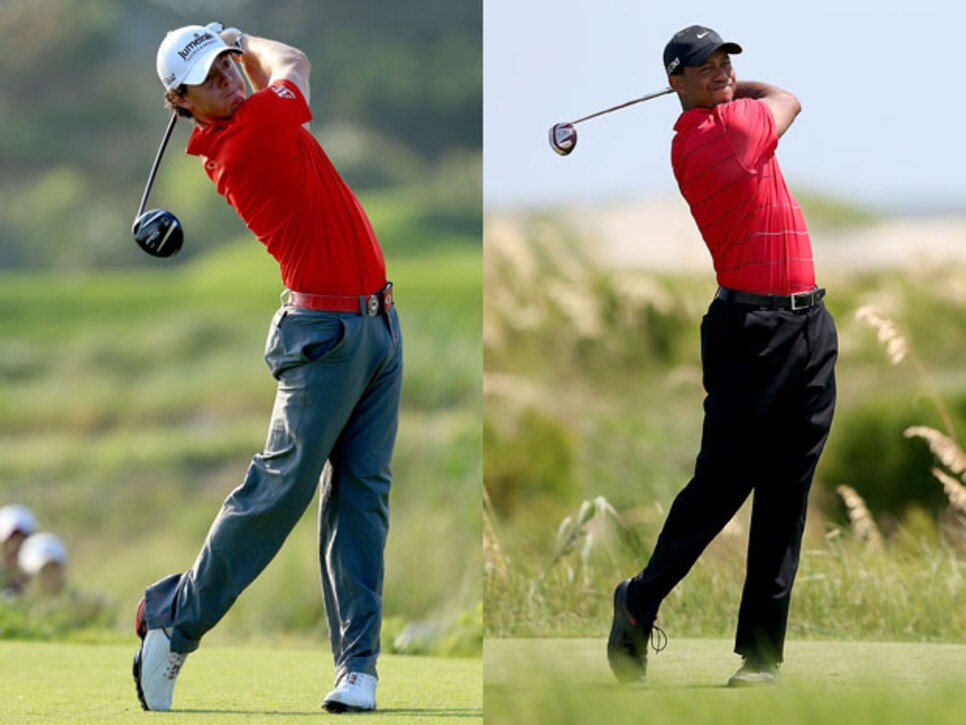 Men In Red: For the first time, somebody else's good golf is better than Tiger's good golf. His current game is built on the premise that conservative golf that minimizes mistakes will be enough. McIlroy refutes that.
Has Rory McIlroy's victory brought about a change of the guard?
After what happened Sunday at Kiawah, it's tempting to say so. But golf analysis is usually given to overreaction, whether to an impressive victory or a wobbly loss. It keeps underestimating the game's fickleness, and how the difference between good and bad is so often what Gary Player calls "fractions." It's why the game has so much redemption, and why its commentators -- this one included -- are wrong at a higher rate than those in other sports. Golf is just too hard and too various to ever figure out.
But even if it wasn't the guard, something changed at Kiawah. And it comes down to this: It wasn't what Tiger Woods didn't do -- it was what Rory McIlroy did.
It's inviting to say Woods, who hasn't won a major since 2008, is greatly diminished. But as shockingly bad as Woods' recent record on major championship weekends looks, he is still only slightly off. Not fully comfortable with his physical game, still on the rebound mentally. But continuing to progress, and there is still plenty of time for greatness.
But what was significant at Kiawah is that, even if Tiger gets back to putting it together in majors, McIlroy showed a gear that even Woods doesn't have.
True, the setup at Kiawah, similarly to Congressional last year, worked for McIlroy. It was wide off the tee, fairly soft, the wind didn't blow, and the relatively flat and super-smooth Paspalum greens gave him confidence. It allowed him to unleash his best club -- his driver -- in a way that can make even the hardest courses play easy.
But McIlroy did more than drive the ball well at Kiawah. What he really proved is that he is more than he once appeared. Skeptics have seen him as a soft kid, uncomfortable with expectation, shaky on short putts, on the lazy side, and predisposed to choosing the good life over his work.
Turns out the kid is an improver. That's Woods' favorite word, the best word for anyone who aspires to greatness.
Instead, McIlroy has been diligently dealing with his weaknesses -- gaining wisdom about putting and competitive body language from Dave Stockton, getting advice about how to deal with pressure and expectation ("welcome it") from Jack Nicklaus, and gleaning an exercise ethic from the world of professional tennis in which his girlfriend, Caroline Wozniacki, reigns.
At Kiawah he made the big par-saving putts, never looked uncertain with the lead and carried himself and swung with more strength and athleticism than he showed in his previous eight-stroke victory at the 2011 U.S. Open.
He also exhibited a little feistiness, tweaking the critics who questioned his commitment and relationship with Wozniacki. It was far from Woodsian score-settling, but it indicated more of the classic champion's temperament.
In other words, McIlroy is catching up to Woods in the intangibles. He's not there yet. Tiger's average golf, and especially his bad golf, are both better than McIlroy's. They probably always will be, given Woods' affinity for demonstrating toughness and stoic professionalism. McIlroy has missed nine cuts in the last three years, Woods has missed nine in 15 years as a professional.
But as McIlroy fills in his gaps, the advantages in his physical game -- highlighted by his skill and freedom with the driver -- will swing the balance in his favor. Paul Azinger believes the starkest difference between the two players at Kiawah was McIlroy's ability to ride a right-to-left wind with monster draws, while Woods hit defensive cuts and generally played around his driver. "Rory releases the club like a man without a care in the world," said Azinger. "Tiger gives you the feeling he's playing golf with his last ball."
As a result, for perhaps the first time (although Phil Mickelson fans might argue) -- somebody else's good golf is better than Tiger's good golf. His current game under Sean Foley is built on the premise that because he is simply better than everyone else, conservative golf that minimizes mistakes will be enough. McIlroy refutes that hypothesis.
Whether Woods chooses to adjust will depend on several factors -- including his health, his technique, his preferred strategy and perhaps most of all, his confidence. But all things being equal, it would be exciting if he went back to the style that recalled himself at 23. Now, after Kiawah, whether the guard changes or not will depend on what Tiger does.