News
The Kid Has A Real K.O. Punch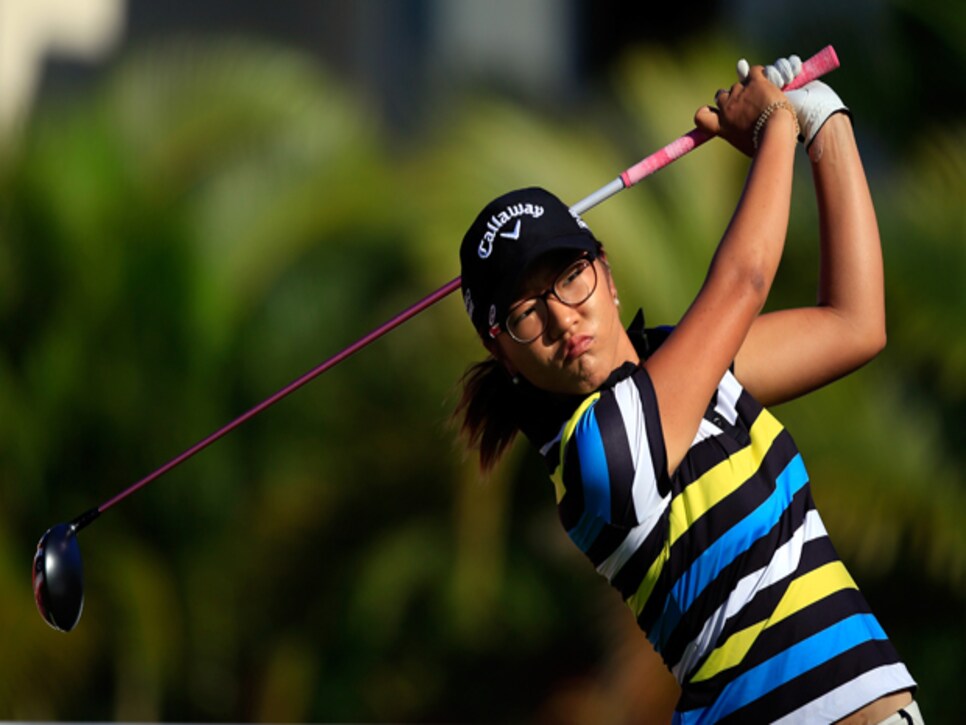 Sure thing. Can't miss. Has it all. Such dangerous terms to use in sports, particularly about golf prodigies. So much lies ahead, there are so many variables, and the hype doesn't help. But sometimes -- even though it's golf -- it just feels right. There was inevitability about Tiger Woods as a teen. And especially after the artistry she displayed Sunday in San Francisco, it feels much the same with Lydia Ko.
At the risk of being loud wrong, I'm convinced that Ko, who just turned 17, will become a truly dominant player who compiles a historically great record. Having won six professional tournaments, she is already very special. Women athletic prodigies -- whose flame tends to burn faster -- carry an extra caveat. But there is something tangible about Ko that is all golfer, built to not only excel, but to last.
The main elements are her poised presence, the fluid repetition of her simple swing, her innate sense of imaginative shotmaking, and the way she remains calmly self-contained yet intensely competitive. Ko has so many shots, never sprays the ball, and has no real weaknesses. At 5-foot-5, she doesn't possess seductive length, but we've learned length can be a false indicator. In every sense she's a player with a gift for the game. On Sunday she flat outplayed the talented and tenacious Stacy Lewis. Her birdies on three of the last six holes proved her last name also serves as an appropriate acronym.
Although Michelle Wie was probably a better 13-year-old, Ko is the most impressive female prodigy ever. Both Wie and Lexi Thompson are bigger and hit the ball farther, but they lack Ko's class around and on the green. At the same time, length has traditionally been a prerequisite for LPGA domination, and there's a history of shorter-hitting prodigies -- Paula Creamer and Morgan Pressel among them -- who won early as professionals but couldn't keep up the pace. Ko is sneaky long, and through natural maturation and training, will undoubtedly get longer. In San Francisco, she ranked 31st in driving distance.
She's demonstrated she has what a prolific tournament winner most needs, the ability to hole important putts. It's odd how so many women superstars -- including Mickey Wright, Annika Sorenstam and Yani Tseng -- have ranked somewhere between streaky and average on the greens. Ko, meanwhile, rolls the ball like the best-ever putter among LPGA greats: Nancy Lopez. World No. 1 Inbee Park has proved she's currently the best with the flat stick. Ko, who is now No. 2, will overtake Park because she has a bigger and better game tee to green.
Some of Ko's recent moves have given pause. She has already had four caddies since turning professional last October. Suddenly jettisoning Guy Wilson, the New Zealand teaching pro who had worked with her since she was 5, in January in favor of David Leadbetter and Sean Hogan in Ko's new home base of Orlando, seemed an ill-considered and precarious decision.
Ko has said that despite Wilson's offer to periodically travel to the U.S., having a teacher halfway around the world was impractical. There was also an element of the kind of cold self-interest that can serve a champion well. But the caddie and instructor firings were really carried out by Ko's father, G.H., who would do well to defer on future golf decisions.
Leadbetter admits he had some trepidation taking Ko on. He has had prodigies who haven't thrived later on. Ty Tryon and David Gossett flamed out. Even PGA Tour veteran Charles Howell and yes, Wie, despite her improved form, have underperformed. In each case, dealing with parents has been delicate. There was the added factor of Ko having already been so successful. "It was going to be a no-win for us," says Leadbetter. "Any struggling she did would be our fault."
But Leadbetter believes Ko has already improved in a few short months. He and Hogan have installed only subtle changes -- getting Ko to stand slightly closer to the ball, strengthening her grip and getting the club less closed at the top. The result has been Ko's increased ability to hit a draw, which has increased her distance and shotmaking versatility.
"She picks things up very, very easily," Leadbetter says. "What has amazed us is that she incorporated these changes and not only played well, but played well under the gun, when most players revert to old habits.
"She's so gifted, it would be so easy to get carried away, but she hasn't. She somehow even knows that despite how easy she makes the game seem, golf is hard and in some ways it will get harder the better she gets. With Lydia, nothing is missing."