News
Bubba As The Great Liberator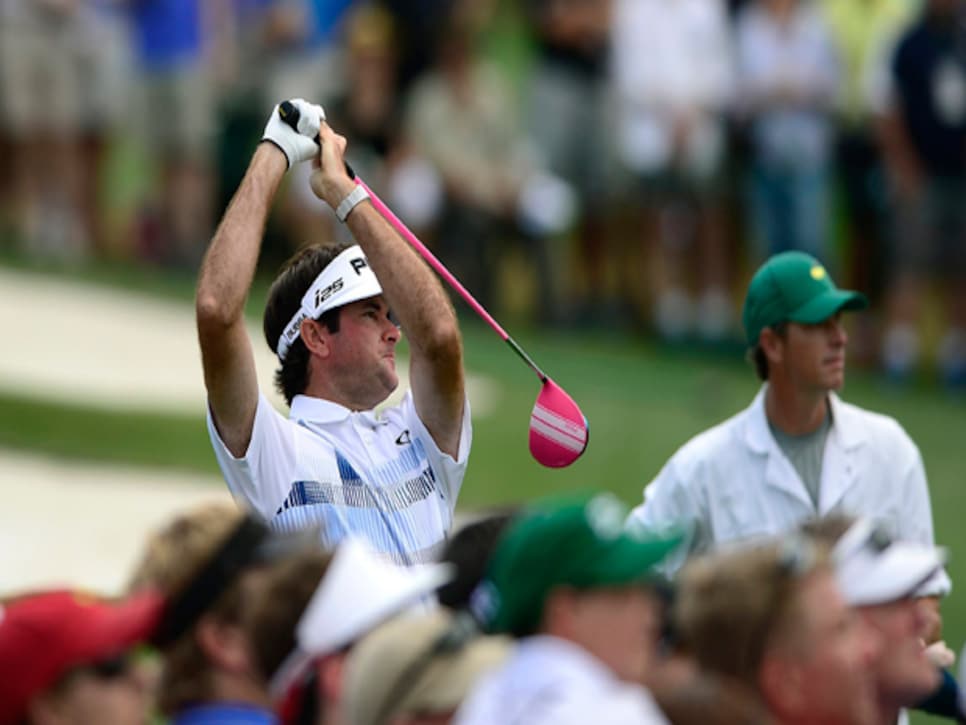 A prediction: Bubba Watson is going to become a very important figure in golf.
For more than being a multiple-major winner who looks capable of adding some significant depth to that designation. And for more than representing populism as the game's biggest kid -- as well as by simply being named Bubba -- at a time when golf is desperately trying to increase participation.
Watson will be a pivotal figure because of the way he learned, thinks about and plays the game. Bubba Golf will become a growing phenomenon built on the principle of personal trial-and-error that Watson set the template for in his childhood front yard in Bagdad, Fla. It will result in more fun, an improved and less dogmatic dynamic between teaching professionals and students, and a breakout of the most important word to the future of the game -- improvement.
Watson will emerge as an overdue and heavyweight counter to the over-mechanized way of learning that has frustrated too many recreational players, driven a good number away, and even stunted the development of some of the game's very best.
That might seem an overly broad and even silly statement when more touring pros than ever work closely with an instructor, and probably study video and TrackMan numbers at an increasing rate. The model was founded on the success of the partnership of Nick Faldo and David Leadbetter in the 1980s, reinforced by Greg Norman with Butch Harmon, and ingrained even more by Tiger Woods' work with Harmon, Hank Haney and Sean Foley.
But it's telling that Faldo now believes in a much less rigid and complicated approach to learning, Harmon is most often praised for doing minimal reconstruction, and there's a gathering argument that Woods may have allowed an obsession with perceived perfection to cost him the sublime flow of his natural swing.
That's why the self-taught Watson's pyrotechnical ball flights and incredible power on display in his dominating Masters victory will offer an antidote -- more potent than any before -- to the over-teaching and under-learning of golf.
Actually, the need has never existed to the current extent. Swing gurus hadn't gotten a foothold when another autodidact -- Lee Trevino -- first appeared on the scene in the late '60s. He was obviously incredibly good but also looked really funny, and the cognoscenti shook their collective head -- "can't last." Instead, Trevino not only held up, but he is now widely considered with Ben Hogan the greatest ball-striker ever. Along the way, Trevino revealed that he revered another guy who never took a lesson, Moe Norman.
John Daly also developed his immense and highly individual "grip it and rip it" talents pretty much alone. His self-destructiveness undermined his credibility and influence, although arguably any method that could produce two majors in spite of Daly's personal excesses is one that should have been seriously respected.
The point is, a pattern emerged that shouldn't have been ignored. In a recent issue of this magazine, PGA of America master instructor Michael Hebron asserted that in his experience, expert players when they start out nearly all adapt so-called fundamentals in ways that are often unorthodox, and moreover, were early on allowed to follow instinct, intuition and observation and then fell in love with the game.
Watson, with his eccentric setup and genius action, is the modern epitome of that player. In his post-round Masters interviews, he spoke repeatedly of his love for the game, and echoed Arnold Palmer's "swing your swing" commercial. "You know, I do everything my way," he said on Sunday. "I learned the game my way. I figured it out my way."
Bubba has always followed this mantra, but it's likely that he hasn't believed it gave him an actual advantage until recently. What we also learned last week is that a big part of his "hangover" after the 2012 Masters was a fear that the artistic nature of Bubba Golf might prove fragile under the scrutiny and pressure that comes with true stardom.
But finally at the end of last year, Watson got fed up with underachieving and decided to truly test his gift at the highest level. He started practicing more efficiently, in particular addressing his biggest weakness -- short putting -- by softening his arms and hands as he does in his full swing. That resulted in a remarkable streak of 296 straight holes without a three-putt until the sixth hole on Masters Saturday. That's improvement.
Bubba Golf withstood the highest heat, and Watson finally knows how good he is. This time around he will be hungry to get even better, and golf will have its next important figure.