News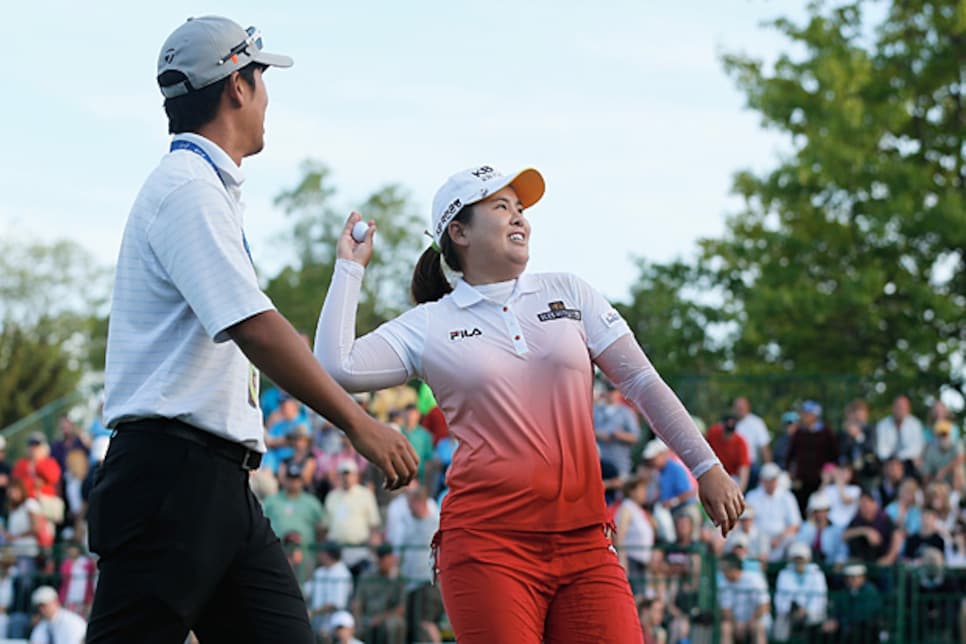 Park celebrates after her recent victory at the Wegman's LPGA Championship.
SOUTHAMPTON, N.Y. -- The last time someone tried to win the first three majors in an LPGA season, Annika Sorenstam finished T-23 at the 2005 U.S. Women's Open at Cherry Hills Country Club in Colorado.
The time before that, Pat Bradley was fifth at the 1986 U.S. Women's Open at NCR Country Club in Ohio, although Bradley did go on to win the du Maurier Championship for her third major of the year.
Only the legendary Babe Zaharias was able to win the first three majors of the season, and she did it in 1950, the first year of the LPGA, when there were only three majors.
And the only ones to win three majors in a season are Zaharias, Bradley and Mickey Wright, who some say is the great ever to play the women's game, in 1961.
So how is it that Inbee Park has thrust herself into a conversation that includes some of the greatest names in the history of the women's game this week at Sebonack Golf Club on Long Island?
How is it that the storyline of this week has become "Inbee and the Babe?"
If there is a one-word answer to that question the word would be "balance." Physically and emotionally, the 24-year-old South Korean is rarely out of balance, in a way reminiscent of Sorenstam.
That balance will get its most-severe test this week in the tournament that took down both Bradley and Sorenstam when they tried for the major triple.
But Park has already proven she can handle a USGA set-up, winning the 2002 U.S. Girls Junior as well as the 2008 U.S. Women's Open at the age of 19, the youngest-ever winner of that event.
Now, after flying under the radar during a tear that began with a top-10 finish at last year's Wegmans LPGA Championship, we will find out if Park can handle the attention she is now receiving. She's thought of that.
"I have a mental coach in Korea, and I talk to her every week before the tournament, during the tournament and try to talk to her and try to get a little bit of the pressure off," Park said at Sebonack.
"She's been helping me a lot," says Inbee. "Other than that, I think there is no way that you won't feel the pressure, because you will always feel the pressure, but it's just the more you experience it you just feel it a little less and less over the time."
Park comes to Long Island not just having won the Kraft Nabisco Championship and the Wegmans LPGA Championship, but also two in a row, five this year and seven of her last 23 LPGA starts.
"I've played very good golf the last two or three months," Park says. "Yeah, everything's been going the right way. I'm hitting the ball and striking it great and putting it very well."
Hot seems like an inadequate word to describe Inbee right now. Also at a loss is an explanation for how she is doing all this -- or rather the reason is so simple we all pass over it.
There is quite simply nothing special about the way Park plays the game with a swing that is hardly textbook -- except that she is the best putter on tour and has found a personal happiness that provides a strong foundation for her balance.
Inbee is a shortish No. 84 on tour in drive distance at 247.6 yards per pop. Her accuracy is middling at No. 55, which on the ever-accurate LPGA still means she hits 72 percent of the fairways, which leads to hitting 72 percent of the greens in regulation, No. 17 among her peers.
But here is the key: Park is No. 1 in putters per GIR and No. 2 in total putts per round, which leads to her being No. 1 in scoring average (69.6). Last year, when this hot streak started with her victory in July at the Evian Masters, Inbee led the LPGA in all three of those categories.
And if there are words that should strike fear in the hearts of her LPGA competitors, they are these: "My ball-striking has gotten a lot better," she said.
The improvement of that ball-striking has come under the tutelage of Gi Hyeob Nam, a former KPGA Tour player who has been her swing coach since mid-2011 and also happens to be her fiancé.
Perhaps the smartest thing Nam has done is not mess with a move that is anything but orthodox, but rather merely work with Park on making that move repeat, especially under pressure. The early returns have been overwhelming.
And there is a lot about Sebonack that fits well with Park's game. The severely contoured greens are going to put a premium on putting, at which she excels.
And if the wind starts to blow off the Great Peconic Bay, as it often does, that physical balance will serve Inbee well. While her lack of length will be a detriment in windy conditions, her discipline to swing easy when it's breezy will serve her well.
The fact that Park has sprinted to the head of the pack in women's golf should not blur the fact that a lot of others are playing well, just not as well as Inbee.
Stacy Lewis has won twice this year and fell from No. 1 in the Rolex Rankings to No. 2 in April not because she has gone backward, but because Park is pedaling so fast. She just sprinted by everyone.
Suzann Pettersen has a victory this year and six top-10 finishes and defending champion Na Yeon Choi, one of Park's best friends, had five top-10s this year and seven career wins.
Karrie Webb, a seven-time major champion, won earlier this year, showing she still has it, and Paula Creamer, the last American to win this tournament when she took the 2010 U.S. Women's Open at Oakmont, can win if she gets some putts to fall.
The best American of her generation is Cristie Kerr, who has 16 career victories and two majors, including the 2007 U.S. Women's Open. When she gets the putter going and starts quick-walking the ball into the hole, look out.
And let's not forget Yani Tseng, who had 15 LPGA wins and five majors by the age of 22, but has now gone nearly a year and a half without a victory. She can overpower any course when she is on her game.
A year ago, no one would have dared make Inbee Park the favorite going into the U.S. Women's Open. Now it seems absurd not to. This week, Inbee has a chance to make history -- and the way she is playing, you have to like her chances.