News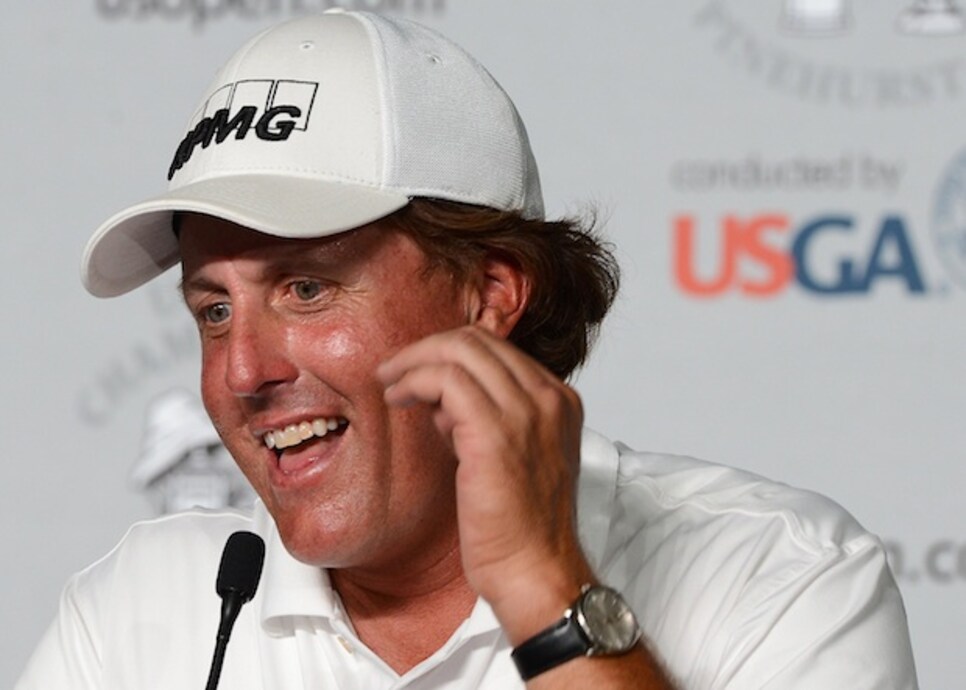 PINEHURST, N. C. -- Do we root for Phil Mickelson this week?
Be like rooting for Bill Gates to win the lottery.
Still. Those six seconds in the U.S. Open, the last just last year. That brain-lock mess on the 72d to lose at Winged Foot in '06. There's the age thing, too. He's 43 and time's not only running out, it's gaining speed. This keeps up, he'll be an immortal who won everything except the Open. Move over, Sam Snead.
So it'd be nice. Mickelson has won the other three majors and needs the Open to become the sixth player to win the modern Grand Slam, there with Jack Nicklaus, Tiger Woods, Ben Hogan, Gary Player, and Gene Sarazen.
Mickelson has dared say it out loud, even Tuesday at a press conference.
"It's a career goal of mine to win all four majors. I feel like the five players that have done that have separated themselves from the other players throughout all time."
He comes to Pinehurst in the middle of a nothing season, only his third in two decades without a PGA Tour victory preceding the Open. Phil being Phil, though, he sees the darkness as just the right kind of happy light.
"I haven't had the form this year to get too excited," he said after a day's work at Pinehurst. "Although I feel it coming around. I felt it last week (in Memphis). I saw it in glimpses and I felt it again today."
He'd have won in Memphis "by eight shots if I putted worth . . . " Here Mr. Sunny paused while the assembled scribes filled in the scatological blank. Then he amended the thought and with a smile said, ". ..decent." (He was T-11, four shots behind the winner.)
There's also all that baggage of sentiment and, not to put too fine a point on it, stupidity. How he lost to Payne Stewart in the '99 Open here, playing head-to-head even as he carried a beeper that, he insisted, would take him off the golf course and onto a plane home where his wife, Amy, was about to deliver a baby. And how silly it was to try that hero shot at Winged Foot through an opening high in a tree that only he saw, that after bouncing his why-a-driver? tee shot off a tent, all of it creating a 72nd hole double-bogey-lose-by-one calamity that conjured memories of Snead's most famous train wreck. (Sam made a last-hole triple in '39 when par would have won.)
But through it all, and even now, Mickelson has not been heard to whine.
A Tuesday question: "I wonder, what's in your makeup that allows you to just sort of take some of these tough losses and still say, 'I'm back for more'?"
Mickelson: "The biggest thing is, I look at those close calls as a positive sign for having given myself so many opportunities in our national championship and I believe that I'll have more opportunities. When I do, hopefully the experience that I've had in the past will allow me to handle it better in the future."
What's not to like about the guy?
But if rooting for a guy meant he'd win, hell, Ben Crenshaw would have won a dozen Masters by now.
The only time I rooted was 1990 and I wasn't so much rooting for Curtis Strange as I was -- typical of scribblers -- rooting for my story. I'd done a few thousand words on Strange's try to be only the second player to win three straight Opens. The first was Willie Anderson in 1903, '04 and '05.
What I said about Willie, I have no idea, but Strange may have read some of it.
He's still the last player to win back-to-back Opens, a feat sometimes better remembered for his giddy words on the green after winning the second time. "Move over, Ben," he said, an impulsive allusion to Ben Hogan, who'd won back-to-back in '50-'51. And then, in 1990, Strange went to Medinah in Chicago looking for a third. As if the Open is not pressure enough in itself, there were people invoking the heroes of ancient history. "I learned more about Willie Anderson than I ever wanted to know," he said this week.
Strange was two shots off the lead going to Sunday in '90, but a 75 left him at T-21, six shots behind the winner.
No one has won back-to-back since Strange, though he says in self-deprecation, "Then they thought if I could do it, it can be done a bunch in the future."
Nope. Justin Rose, last year's winner at Merion, is the man on the bubble this time. Strange was honest enough to say, "Do I want to see somebody do it? Not particularly." Then, quickly, "But I'm not rooting against somebody."
Rose wasn't talking about his back-to-back chances, though he may well have been when he mentioned the problems with placing shots on Pinehurst's diabolically-designed greens. "And then," he said, "you are a little bit in that 'luck of the golfing gods.'"
Luck of the gods, it is. No one wins a major championship because he wants to win. Everyone with demonstrated talent wants to win. How many players in this field of 156 can win? I'd say 50 of them, maybe more, because the lurkers always include a Corey Pavin or Scott Simpson, a Steve Jones and a Lucas Glover.
Mickelson knows all that. The Payne Stewart story. The year waiting for another chance. Playing poorly this season. "And how much of a great story it would be . . . makes it more difficult as well," he said. Yet he turned even those burdens into hopes, remembering his improbable victory in the British Open last summer a month after the Open disappointment. He came to Sunday there five shots down, put up a 34-32--66, and won by three. "I tend to do something, play better ... when nobody really expects it and I just kind of come out of nowhere ..."
Mickelson rooters, then, might root for maintenance rounds, say 71, 71, 71, that set the stage for a Sunday 65.
But I'm picking Jason Day