News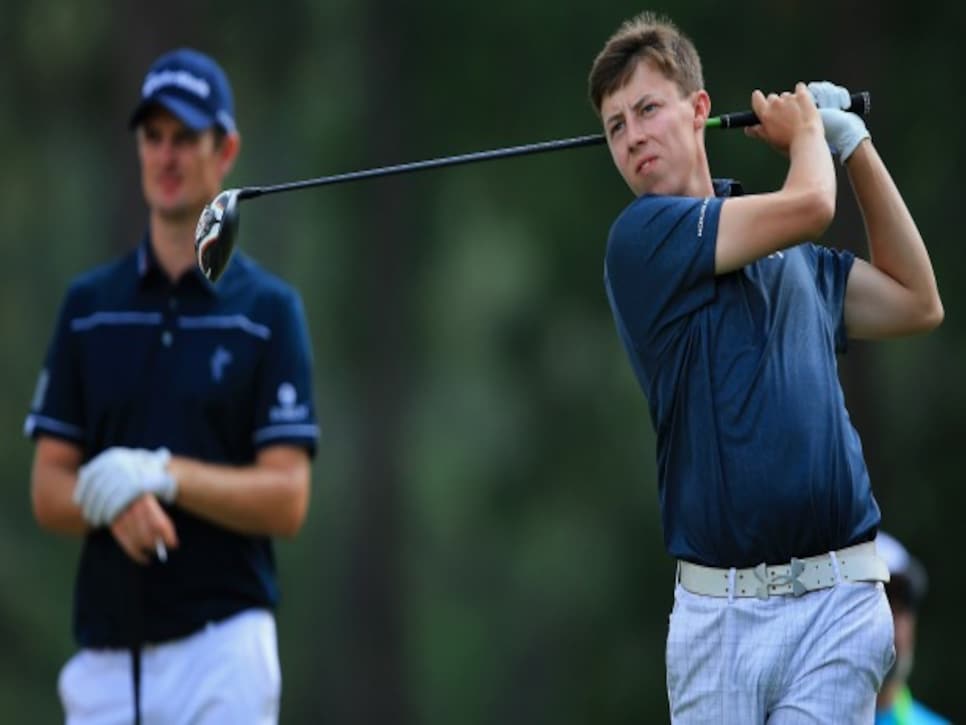 Matthew Fitzpatrick did none of that.
He's the latest of those prodigies who remind us what klutzes we are. Last summer the small, rosy-cheeked, toothy teenager from Sheffield, England, became the first Englishman in 102 years to win the U.S. Amateur.
That earned him a spot in this week's U.S. Open. Traditionally, the Amateur champ is paired the first two rounds with the defender, who, in a case of pleasing symmetry, is the first Englishman in 42 years to win our Open, himself once a prodigy, Justin Rose. To make the group even more attractive to spectators, if perhaps more foreboding to young Fitzpatrick, the USGA added America's favorite son, Phil Mickelson, a five-time major champion here in further pursuit of his first Open victory.
In the gray chill of a Carolina morning that would become an afternoon on the sun's surface, the threesome started from the10th tee at 7:51 a.m.
Here's how nervous the kid was.
In the first three holes of his U.S. Open life, he made only two birdies. He played the forever-long par-5 10th with a drive, a layup and wedge to 6 feet. The 12th, 484 yards, he put a 5-wood second to 12 feet.
"To get under par really was quite nice," he said later, "and it would have been nice to just steady out the rest of the day."
As if a first-ever round of one-over-par 71 wasn't to die for. They are, after all, playing Pinehurst No. 2, a Donald Ross architectural classic of diabolicality, to make up a word. By week's end, with Ross' eternal help, with flagsticks moved to cliff's edges, with the fairways running fast to the wastelands, with the greens turning harder than a harlot's heart, the U.S. Golf Association will have again demonstrated its belief that even-par is the standard of championship excellence.
Mickelson started well with 70, Rose rallied for 72. So the kid more than held his own. "Matt hit a lot of quality shots," Rose said.  "He's a wonderful putter, too, and probably left one or two out on the green. . . . He played really well today."
He played so well that he could say, with a smile, that he was "pleased and disappointed at the same time." To be under par and walking alongside an immortal also under par -- ah, a teenager's dream. "But it was up and down . . .  I made back-to-back bogeys twice. So that was a bit annoying."
He followed the first of those successive bogeys with sensational work at the 528-yard par-4 16th -- yes, you read that correctly, the 528-yard par-4 16th. There, again off a short drive, he put a 5-wood second on 25 feet from the flagstick. That gave him a chance at the kind of round-reviving birdie that old hands rely on and that prodigies must learn to make. Make it he did.
Fitzpatrick is, of course, an amateur only semantically. Prodigies come with professional skills. He entered Northwestern University, but has already withdrawn and announced he will turn pro next week at the Irish Open. Small wonder, then, that he moved easily with Mickelson and Rose, who were gracious in their praise.
"They were both positive with me and about me," Fitzpatrick said. "If I hit a good shot, they made sure I heard them say, 'Good shot.' And it was nice to have that support from two fantastic players." Here, a quick disclaimer from a bright young man: "I'm not saying that I could compete with them just yet, because I don't feel like I can. Obviously, they're fully-grown men. They've been on the tour for years, and they know what they're doing. I think it's sort of getting to that stage of just developing my game to try to be as good as theirs."
An example of that truth, from the 5th hole, a par-5, 576 yards . . . Fitzpatrick's drive, 50 yards behind Mickelson's, left him no choice but to lay up.
Mickelson waited for the green to clear.
It is not nearly enough to say Mickelson then hit a great shot.
"A low 4-iron," his caddie, Jim Mackay, called it, from maybe 240 yards.
I've heard golf shots hit purely. They come with a heavenly CLICK so pure as to be felt, to quote one golf philosopher, "in a man's nether regions."
This was like that. Only better.
Mickelson's 4-iron touched only the ball. No divot, no sand dancing into the air, not a piece of grass disturbed.
The low 4-iron rocket screamed across a valley and skipped up a hill to the green, 45 feet from the flagstick.
Then the immortal and the kid had a nice little moment. Before Mickelson tried his eagle putt, Fitzpatrick finally arrived on the green with a chip that left him a six-footer for par. Mickelson's long putt then rolled over Fitzpatrick's ball marker.
"It stopped and was right in front of my marker," Fitzpatrick said. "And he came over and said, 'Is that all right right there?'"
Well. Not really. No stymies these days. So the kid, in his first-ever Open, didn't much think before saying, "I'm going to need that moved."
Mickelson smiled and said, "Don't worry, I'm only joking. Hitting your marker probably saved me about two feet."
Mickelson then made his putt, Fitzpatrick missed his.
"I guess, if he does win," the kid said later, laughing, "I've contributed to it a little bit."