News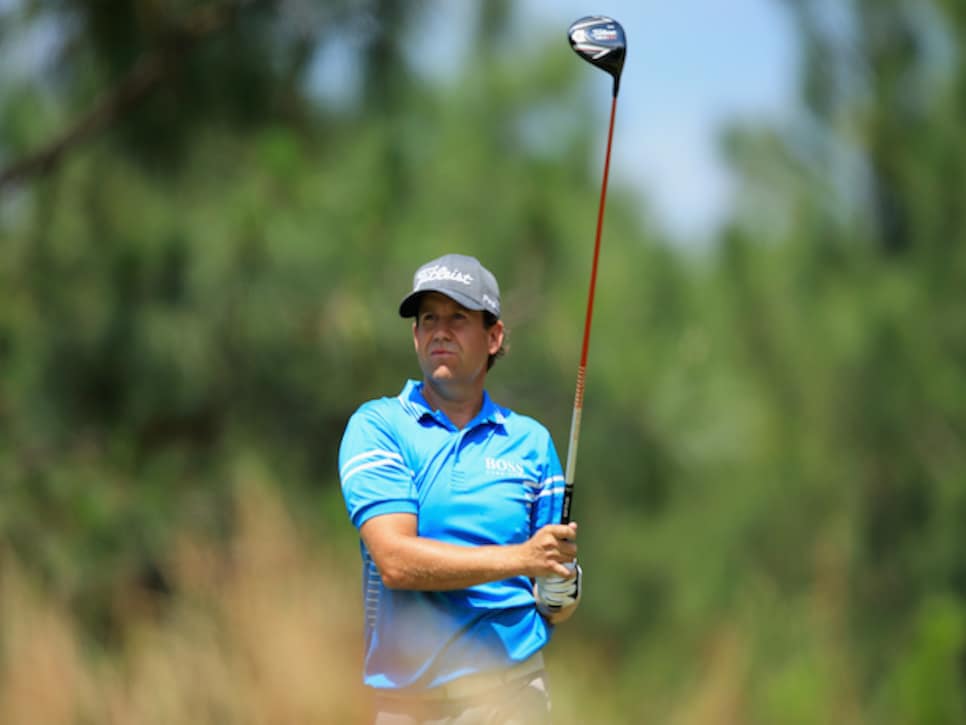 "I'd been flying under the radar," he said, "and I was laughing at my caddie because I heard some guys cheering my name."
On the game's biggest stage, Compton had become Somebody Who Could Win This Thing.
With a 67 Saturday, three shots under par on a Pinehurst No. 2 course set up devilishly, Compton gained five shots on the leader, Kaymer, and goes into Sunday's final round of the U.S. Open five shots down. Five shots are all, and five shots can disappear in a gasp, and wouldn't it be something, Erik Compton standing on the 18th tee Sunday with a chance to win?
Could you, in that case, breathe? Might you need help sticking the peg in the ground and setting a ball on it? Could you then draw back the driver knowing a silversmith is ready to etch your name into that great old trophy alongside those of Nicklaus and Hogan, Palmer and Woods, Watson and Jones?
Maybe you could if you stood on that tee just happy to be alive.
"I've been through a lot in my life," Compton said. "A lot more adrenaline pressure situations than hitting a tee shot on 18."
You know the story. Two heart transplants. The first was done at age 12. He had been diagnosed with viral cardiomyopathy, an inflammation of the heart tissue that robs the muscle of strength. The second, in 2008, came after a heart attack. He drove himself to the hospital during that cardiac event, running a toll booth (the moving-violation ticket showed up in the mail later) while making cell phone calls to 1) let the hospital know he'd be there shortly, and 2) tell friends goodbye, just in case.
An accomplished amateur -- at 18 the No. 1 ranked junior in the U.S., at 21 an All-American at the University of Georgia -- Compton earned obscure successes on mini-tours and the Canadian Tour. He has been a factor on the PGA Tour only in the last three years. In that time, earning more than $2 million, he has seven top-10 finishes.
He played his way into this Open through a qualifier in Columbus, Ohio, the day after the Memorial at Jack Nicklaus's Muirfield Golf Club. Compton left there with more than a ticket to Pinehurst. He had Nicklaus' voice in his head. Over lunch with the great man himself, Compton said Nicklaus "kind of winked at me, and said, 'Your game will suit Pinehurst.'"
Put the ball in the fairway. Yes. Drop 'em in the middle of greens. Yes. Take a half-club off here and there, move the ball flight both ways. Roll it as if you're out there by yourself. All that, Compton can do. Better yet, has done it this week -- beginning with a pre-tournament money game with Ernie Els, Charl Schwartzel, and Louis Oosthuizen.
"I felt comfortable with them," Compton said. "Those guys are all major champions, and I joked around with them -- told them I was the Mexican Open champion. (Web.com Tour, 2011.)" The point is, he has been places and has played well for a long time, perhaps perpetually under the radar, maybe in Canada, in Mexico, even in France. "So, for me, it's the same guys, and when I get on the tee, you don't really pay attention to what's going on, you're just trying to hit the golf ball."
This is Compton's second Open. In 2010, at Pebble Beach, he missed the cut on rounds of 77 and 81. Reminded of that Saturday, Compton smiled and delivered a line that came so smoothly as to have been polished by repeated use.
"Give me a break," he said, "I just had a new heart."
Here, for those of us who have never had a new heart, is how that goes. I quote two paragraphs from a Golf World story written in September of 2008 by Jim Moriarty. You should read the whole thing, but these extraordinary paragraphs are suggestive of the thrilling, harrowing journey that has carried Erik Compton to this place . . . Moriarty wrote:
"One thing that can be said without fear of contradiction: Heart-transplant surgery is not non-invasive. It's about as invasive as it gets. The rib spreader operates like a stainless-steel window crank. Electrocautery seals bleeders in the chest cavity, filling the nostrils with an odor of burning flesh that lingers like a sour memory. The ailing heart is removed and placed in a pan, sometimes before the new heart is even in the room. It arrives in an Igloo cooler filled with ice. The heart is in a Lock & Lock container, the kind that advertises itself as absolutely air tight, floating in an icy saline solution. The nurses check the paperwork quickly. Even a heart leaves a paper trail.
The operation has three distinct stages. The first is a flurry of activity. Surgeons prepare the chest cavity, removing implanted pumps or other devices. The anesthesiologists take sets of blood tests and monitor a rack festooned with hanging medicine bags, tubes and syringes, too many to count. Someone runs the heart-and-lung bypass machine. Somebody else makes certain the patient's body temperature, lowered for the operation, remains constant. Nurses set out instruments and keep track of how far away the donor heart is. If you wanted to pick a time when bad cell-phone reception is its most aggravating, this would be it. If you wonder if the surgeon worries how long the donor heart has been outside the body, the answer is, only every second."
Before he left a press conference Saturday, Compton said that if all went wonderfully for him Sunday, if he somehow could win the Open, "It would be extremely special, not only for me, but for my family and . . .  for those who have been through some tough times."
Then he laughed. "I might just sail off and never play golf again."