News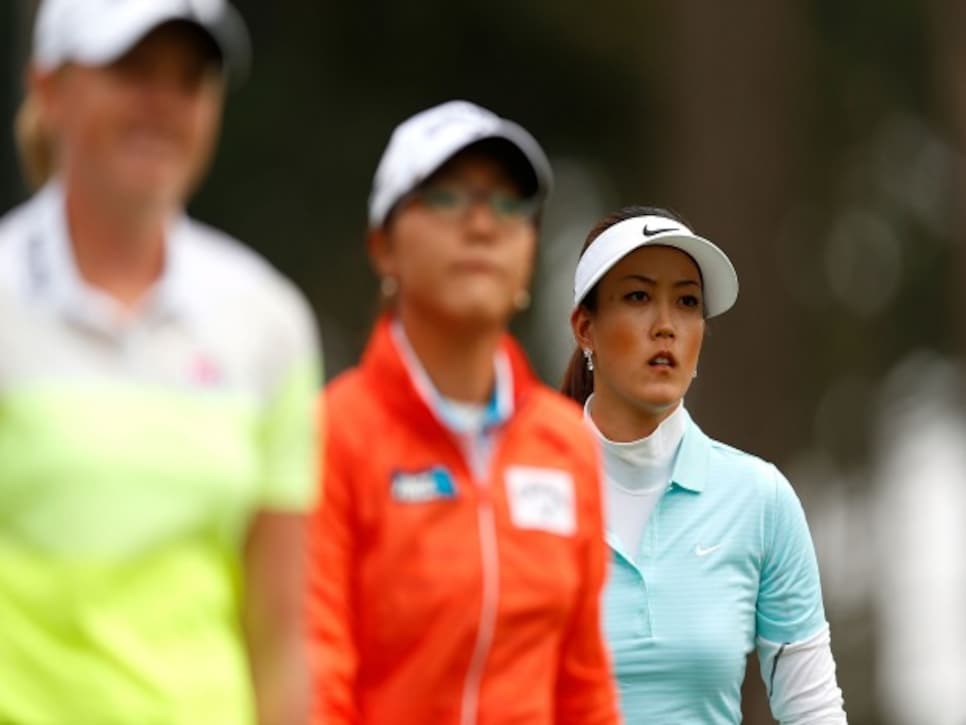 If recent weeks are any indication, Michelle Wie, Lydia Ko and Lexi Thompson could form one of golf's great rivalries.
A staple of many sports, rivalries are golf's largely unrequited love, something that is imagined more than realized no matter the time or the tour. They're so coveted, yet so rare, that we seize on what we can and accept the hype that is invariably greater than the reality thanks to golf's inherent nature.
Consider Tiger Woods and Phil Mickelson, the supernovas of their era with 79 and 42 PGA Tour victories, respectively, and how infrequently they've had head-to-head battles. Contrasted with Roger Federer and Rafael Nadal, tennis' 21st-century twin titans, Tiger v. Phil is merely a slogan.
Federer and Nadal have played each other 33 times, 20 times in tournament finals -- eight of those in Grand Slam events. Six of the pair's major match-ups occurred in a three-year period (2006-08) when they were in the finals of the French Open and Wimbledon each year. Going back a generation, Bjorn Borg and John McEnroe met in four Grand Slam finals even though Borg retired at 26.
In golf, the calendar doesn't always foster rivalries even when you think it should.
Bobby Jones and Gene Sarazen were born within a month of each other in the winter of 1902. But because Jones competed as an amateur and Sarazen turned pro at 18, a rivalry couldn't blossom fully. (The same for Jones and Walter Hagen.)
In the case of Ben Hogan, Byron Nelson and Sam Snead, the great American triumvirate born in 1912, being the same age didn't enable as much sharing of a common stage as one might think. Hogan won only one of his nine majors (1946 PGA Championship) before Nelson retired to be a rancher at 34 and was runner-up to Lord Byron just once in a major (1942 PGA). Snead finished second a single time in Hogan's nine major wins, a distant six strokes back at the 1953 U.S. Open. Of Snead's seven majors, Hogan came closest at the 1954 Masters, losing a memorable playoff that essentially ended an era.
We know full well most golf rivalries are written in erasable -- if not disappearing -- ink. That doesn't, however, quell the hope for an indelible equation in which it's the best against the best, at their best, more regularly.
When Lydia Ko and Stacy Lewis dueled to the 72nd hole of the Swinging Skirts LPGA Classic outside San Francisco last Sunday, continuing a compelling spring for the LPGA Tour, it was not only a good show as the precocious 17-year-old came up clutch to defeat her more seasoned opponent (all of 29) but a tease for what might be ahead. On the heels of Lexi Thompson beating Michelle Wie in a marquee final-round pairing at last month's Kraft Nabisco Championship and Wie bouncing back to win the Lotte Championship for her first title since 2010, the confluence of young stars has created the potential for rivalries that really appeal.
The best indicator is that Thompson, 19, and Wie, 24, went head-to-head at Mission Hills. For rivalries to be full in scope, they have to include showdowns at majors because that's where everyone gathers. (Thompson wasn't in the field at the Swinging Skirts, and Ko isn't playing at this week's North Texas LPGA Shootout, where Thompson and Wie will appear.)
Golf will never be tennis, but it is most appealing when it is tennis-like in terms of familiar faces in winning form when it matters most. Ten years apart in age, Jack Nicklaus and Tom Watson fascinated because they clashed at majors in a concentrated span. Watson won four of his eight majors over six years with Nicklaus as runner-up (1977 Masters; 1977 British Open; 1981 Masters, where Jack was T-2 with Johnny Miller; 1982 U.S. Open).
When someone is directly displacing a king to get to the throne, it does wonders for his competitive constitution. But it is what Watson craved, his comment to Nicklaus during the "Duel in the Sun" at Turnberry about "this being what it's all about," that speaks to the joyful essence of a rivalry played out right. When it happens, don't think the golfers aren't enjoying it more than everybody watching.
Lexi v. Michelle in California was far from being Tom v. Jack in Scotland, but it was a start -- a dynamic duo that could be quite habit-forming as the main stage in women's golf. It is astounding to think that Ko is a three-time winner on the tour at just 17 and to ponder what she might accomplish. No doubt too Lewis is itching to turn the tables the next time a tournament is in the balance between them.
Golf is due some fully formed rivalries, as precious as they are. If these pan out, it will be fun to watch.