News
The Move From 'Good' To 'Great' Remains An Alluring Challenge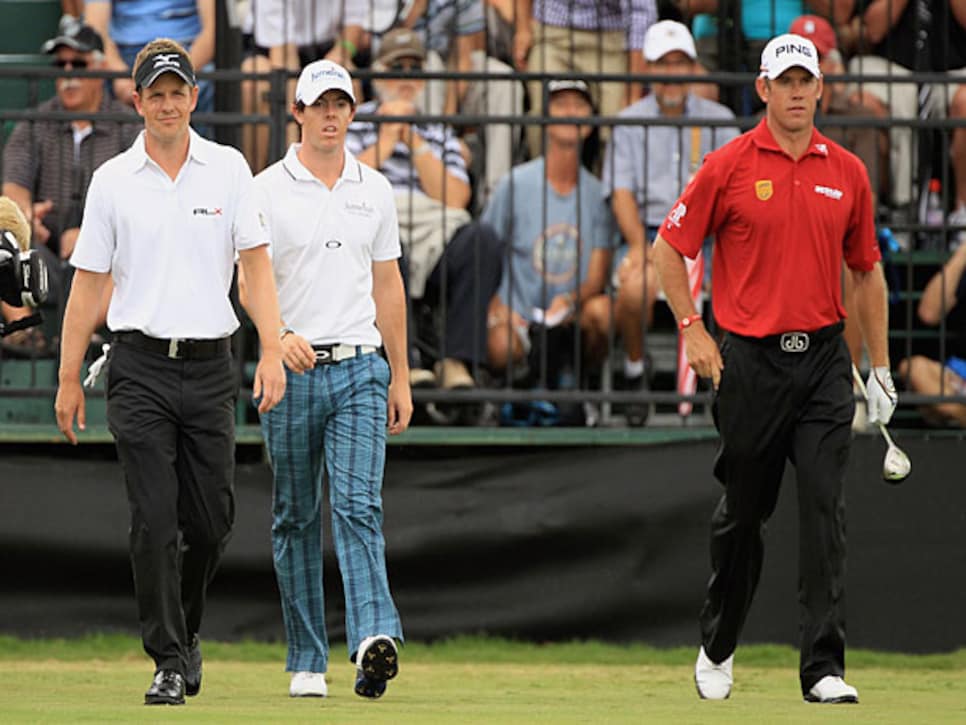 Luke Donald, Rory McIlroy, and Lee Westwood after teeing off during the first round of the WGC Cadillac Championship.
These are interesting times for the Official World Golf Ranking. It's as if the permutations that decide who's No. 1 are drawn on shifting sands rather than calculated by a computer program. No sooner than Rory McIlroy is crowned king for the first time after winning the Honda Classic, Luke Donald re-captures the throne with an impressive playoff victory at the Transitions Championship just two weeks later. Botched coups have had longer reigns.
As personified by McIlroy and Donald lately, and Lee Westwood and Martin Kaymer not so far back, the winds of change in the rare air of the sport are fun to experience. This is especially so coming in the wake of Tiger Woods' record stint as de jure and de facto No. 1, which seemed as if it was going to last as long as "Gunsmoke." But a ranking, even one seasoned for 25 years and now largely accepted as legitimate in most quarters, doesn't tell all.
In the 21st century, as during the previous one and even the infancy of golf competition prior to that, greatness can be signaled by statistics but isn't defined by them. With Woods having vacated his perch and others trying to figure out a way to inhabit it for an extended stay, the notion of greatness--what it is, how do you get there and who has it--is as compelling as ever.
"Every golfer must define greatness in personal terms," Dr. Bob Rotella writes in his new book The Unstoppable Golfer: Trusting Your Mind & Your Short Game to Achieve Greatness, noting the relative goals set by champions and club golfers. For today's elite golfers, just how do we judge their greatness relative to those who came before?
Around the globe golf is played in more places by more people who have access to sound instruction for body and mind unfathomable to what existed only a couple of generations ago. The result is more competitive depth. Tournament courses, thanks to agronomic advances, are groomed to a degree that yesteryear's heroes could have only dreamed about. Only a quarter of PGA Tour pros wore metal spikes last year. Fifteen years ago three-fourths of them did. Less than a decade before that, all wore them. Today on tour, bumpy greens are as rare as Vitalis.
Those factors are talent equalizers even before considering current equipment technology, which enables many golfers to be very good but makes it more difficult for the very best to migrate above the rest. Does anybody seriously doubt that the most truly talented golfers, the Top Gun aviators of their field, wouldn't separate themselves from the pack more easily if drivers were wooden and maxed out at 165ccs in size, wedges stopped at 56 degrees and the ball was more vulnerable in a breeze? Just ask golfers of a certain age who have been there, done that and have the furrowed brows to prove it.
That said, today's finest can only beat the players of their time, not the ghosts of Hagen, Jones or Hogan. And despite the advantages of modern equipment, it may carry an anti-greatness component: encouraging a bomb-and-gouge style that can pay off spectacularly at times but comes with dry spells. (Donald, who happily bucks the trend all the way to the bank, is a notable exception.)
Donald knows he requires a major title to get to great, and only a fool would bet against him climbing to the next rung. Both Donald and the young man he displaced as World No. 1 have shown plenty of good stuff lately--Donald the exquisite 7-iron to set up at playoff--winning birdie at Innisbrook and McIlroy the do-what-he-had-to scrambling over the last few holes at PGA National after Woods had put hammer down.
"My life has been about studying the psychology of greatness, of being extraordinary," Rotella writes in The Unstoppable Golfer. "I am enthralled with the challenge of showing people how they can separate themselves as performers--not as human beings, but as performers--from all the other people on Earth who play this wonderful game."
Whether by innate wisdom, with an assist from a mental coach or a bit of both, great golfers get it done now as ever. The key elements remain timeless. They make the right decisions when the time is ripe to make wrong ones. They don't let ego overrule intelligence. They keep their tempo when others are losing theirs. They might pretend Sunday is Thursday, but deep down they know, and relish, the difference. They are, as Byron Nelson said, a different breed of cat.