News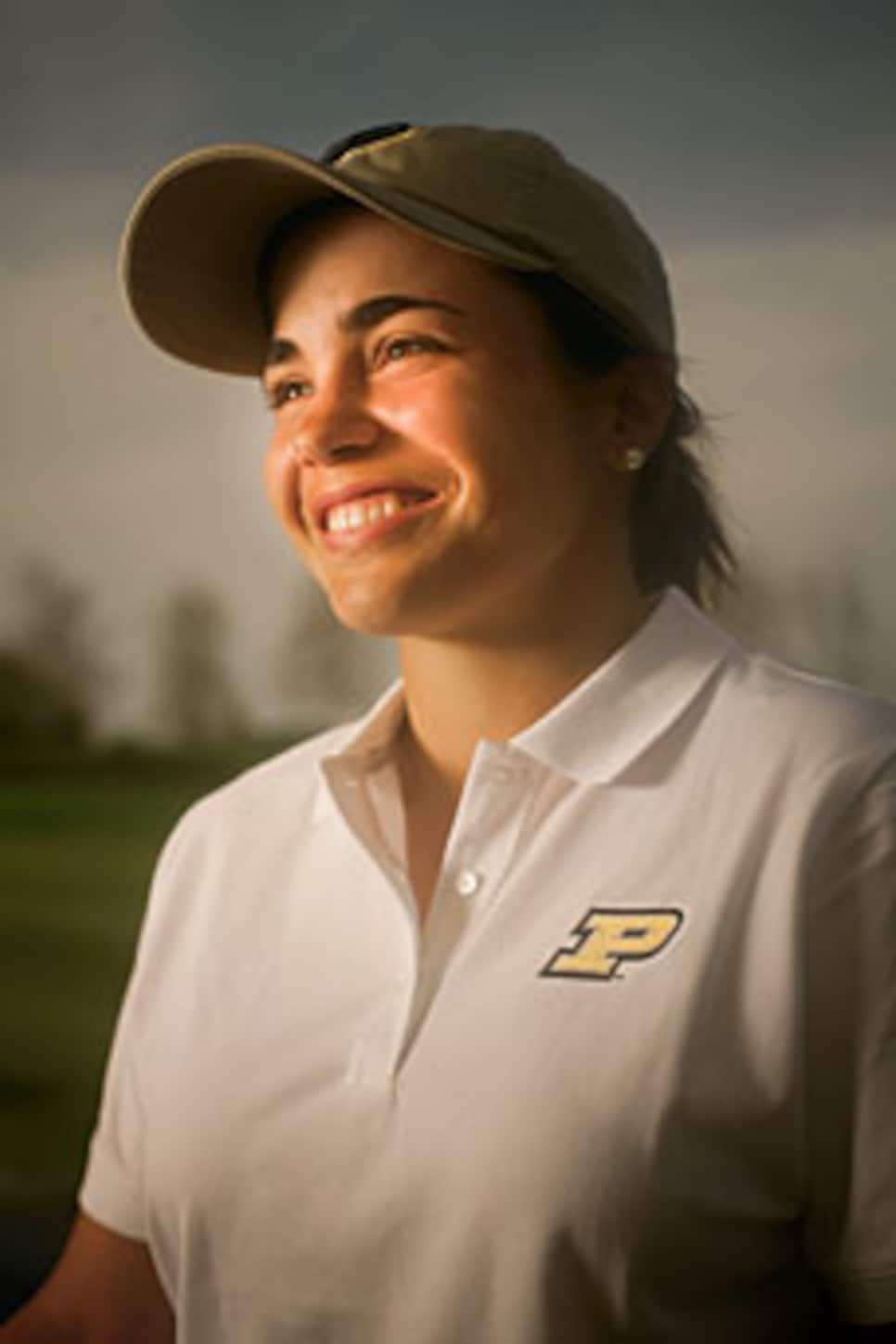 fast study: Hernandez arrived at Purdue with little English and unable to hit a fade. Today she is a well-rounded player with a 3.5 GPA.
It was a mild afternoon late last month on the Purdue University campus, one of the first in which the thermometer finally agreed with the calendar that spring had arrived in West Lafayette, Ind. That Maria Hernandez then had made her way to the school's palatial practice center, the Birck Boilermaker Golf Complex, hardly should come as a surprise. On the contrary, it's the rare afternoon when the best female golfer in school history doesn't make an appearance that would give anyone cause to pause.
"There are times," says Boilermaker coach Devon Brouse, attempting to convey the work ethic that the 23-year-old from Pamplona, Spain, has showcased since coming to school in fall 2005, "where I've literally had to pull her off the range and say 'Maria, you're hitting too many balls. We've got a tournament in a few days, and I don't want you overworking yourself.' "
On this day, however, Hernandez isn't in her usual post on the driving range, or wearing out a part of the putting green. Instead, she is indulging in a guilty pleasure: watching soccer. Having helped the Boilermakers win the Big Ten title for the second time in three years the previous weekend, the three-time conference player of the year figured a few minutes in front of a TV to see a Champions League match featuring her beloved FC Barcelona club wouldn't hurt her.
"I played soccer a lot as a kid," says Hernandez who, except for her hometown's annual running of the bulls, competed in any sport her parents would let her growing up. "I still love it. I'm passionate about it really."
Spend any time with Hernandez and you come to appreciate that "passionate" is the best way to describe how the 5-foot-5 bundle of energy approaches life. By month's end she will proudly have a degree in business management, achieving nearly a 3.5 GPA despite barely speaking English upon her arrival on campus. At the same time she will leave town having established herself as one of the Big Ten's all-time premier golfers.
As some lament the sense of entitlement becoming more prevalent among elite amateurs, the genuine joy Hernandez gets from doing nothing more than hitting a golf ball seems oddly old-fashioned. It also explains how she doesn't mind being the most successful collegian (22 top-five finishes in 47 starts) most people have never heard of.
With 12 career wins, Hernandez has the same number as three-time college player of the year Amanda Blumenherst of Duke and 10 more than two-time U.S. Public Links champ Tiffany Joh of UCLA, the most recognizable names among the Class of 2009. Moreover, she has 11 more victories than fellow Spaniard Azahara Munoz, a senior at Arizona State, yet remains overshadowed by her good friend (the two lived together in high school, along with USC standout Belen Mozo) thanks to Munoz's lone title coming in college golf's biggest event, the NCAA Championship.
"I never thought I was going to win anything," Hernandez says. "All that was in my mind was just to try to practice and improve day by day. That's all that's mattered to me."
With five titles during the 2008-09 season, it's Hernandez, though, who is the contender for the national player-of-the-year award, an honor that would end her anonymity. As she closes out her college career next week at the NCAA Division I Women's Championship at Caves Valley GC near Baltimore, she also can tidy up the only unsightly part of her résumé. In three previous trips to nationals, Hernandez has stumbled to two T-21s and a T-41, accounting for three of the seven starts she hasn't finished in the top 20.
Predicting Hernandez's success, contends Brouse, would have been difficult, even after she won the European Amateur at just 19. Still, the veteran coach of 31 years had enough of a hunch that the youngest of Julian and Victorina Hernandez's three children was something special to keep recruiting her even as it seemed hopeless.
"She wouldn't answer my letters and e-mails," recalls Brouse of his early correspondence. Indeed, Hernandez appeared to be headed to USC, her instructor in Spain being a former Trojan. During the spring of 2005, however, she got cold feet, foregoing her verbal commitment while considering going to school in Spain or turning pro.
Sensing an opening, Brouse again began to woo Hernandez, finally getting her to discuss a "just-in-case" trip to Purdue. "She said, 'Well I can't really make a visit because I'm busy with tournaments. What if I came on June 17 and went home on June 18? Then maybe it will work,' " Brouse recalls. "And I said, 'Perfect.' "
"I thought he would say no, that it wasn't enough time," Hernandez says, acknowledging that Brouse had called her bluff. However reluctant she was to fly over, upon arriving she became smitten with the school. Two months later, she had matriculated into the freshman class.
Hernandez admits her grasp of the language was spotty, making her acclimation to Purdue a challenge. "For two or three months I pretty much didn't open my mouth," she says, although her golf game didn't appear to suffer. Hernandez played every tournament her first season and finished with a win and five top-fives.
While there was no doubt Hernandez was a talented ball-striker—her skills the likely result of the fact that her home course, Gorraiz GC, had only a driving range its first few years of existence—she struggled to hit anything other than a draw from tee to green. So it was that Brouse worked with her to straighten out her ball flight, as well as learn how to play a fade.
"She's not only the most committed player I've ever coached, but she's the most coachable player," says Brouse. "She will do and try everything that I ask her. She and I laugh all the time, if I give her two aspirins for a swing correction, she'll try to take three or four."
Last fall at the Duramed Futures Tour Qualifying School, Hernandez earned the card she'll begin using when she turns pro after nationals. She is still deciding whether to enter LPGA Q school in the fall before doing the same on the Ladies European Tour. Wherever she plays, she must continue to improve her short game, as well as keep her passion for golf channeled the right way. "She's very Spanish in that she's an emotional player, an emotional person," Brouse says. "She sometimes is her own worst enemy."
It's also, however, what makes Hernandez unique. "Whatever I put into my game will be what I get out of it. It's all up to me," Hernandez says with complete sincerity.
With that, she gets up off the couch, turns off the TV and heads out toward the range. There is more work to be done, and, perhaps more importantly, more fun to be had.