News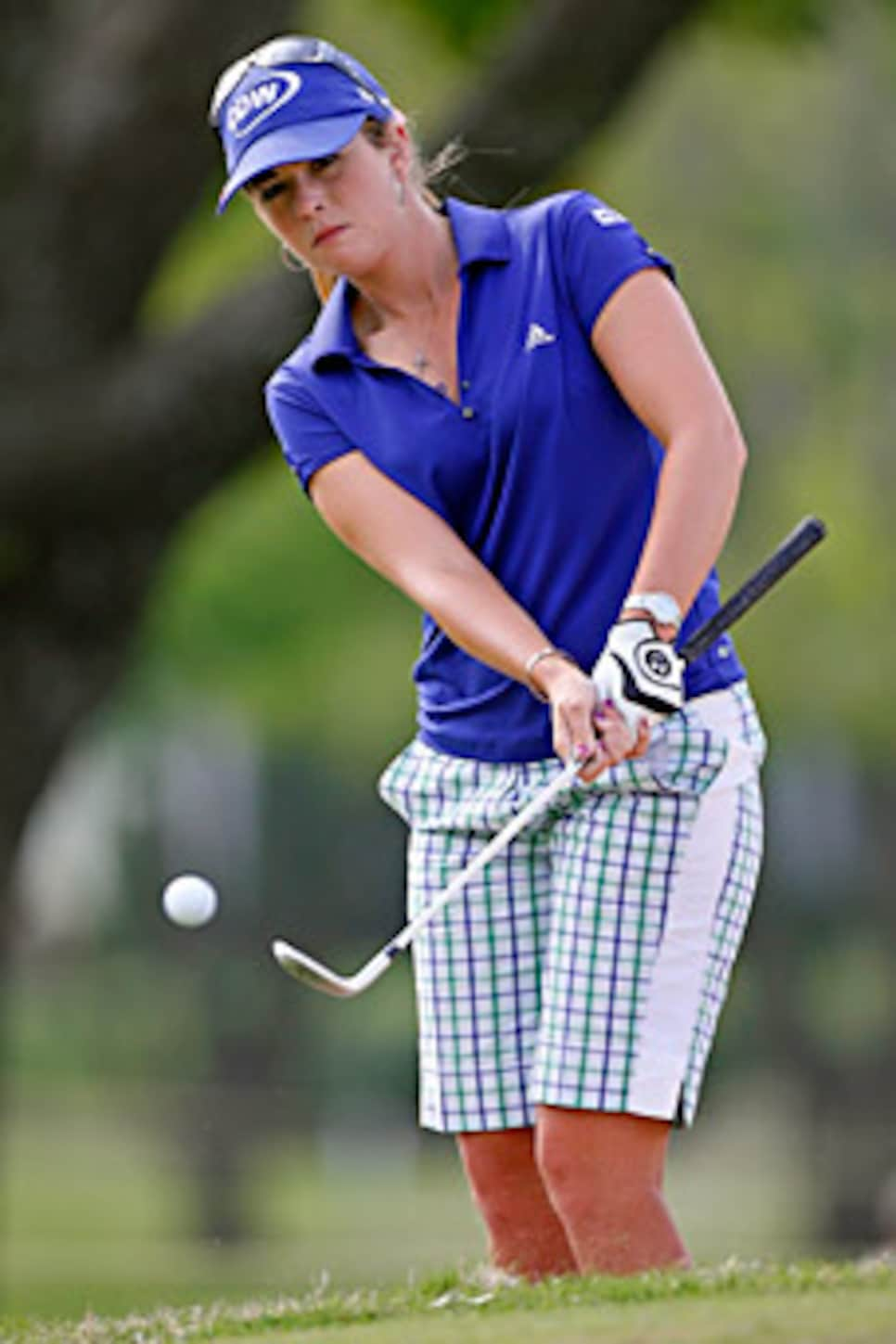 From the first round on a difficult course, Creamer was resolute in her desire to win.
When Paula Creamer asked her caddie to hold her head on the fourth tee in Sunday's round, it wasn't because she was suddenly feeling nauseous about the possibility of letting another tournament slip away. That feeling probably came later, at the 72nd hole, when her 12-foot attempt for par burned the edge and she found herself heading into a second playoff in as many weeks. No, in this instance, "Hold my head" was the call for caddie Colin Cann to anchor the butt of a club like a fulcrum on the brim of her pink cap, then stand back while she made practice swings, a drill that prevents her from straightening her right leg.
"It's one of my tendencies I go back to under pressure ... [the drill] helps me keep my chest high and my head high so I can have better width in my golf swing," Creamer explained later, sitting contentedly next to the glass SemGroup Championship Trophy she secured by marching down the second playoff hole and making birdie against Juli Inkster's par.
From that fourth tee all the way to the clubhouse, Creamer kept asking Cann to hold her head, which he obliged. Despite a slew of terrific approach shots on the back nine and the charged atmosphere of a large final-pairing gallery, the duo just kept plodding, keeping tireless attention to mechanics. And if that illustrated anything, it was that Paula Creamer tried hard, so hard, to win.
"I grinded out there all day long," Creamer said, her cheeks flushed from four days of work in the Oklahoma wind and sun. "I was not going to lose this week. ... I had one goal in mind this week and that was to win this golf tournament."
The tenacious 21-year-old not only captured her sixth career victory and her second of the season but also halted Lorena Ochoa's consecutive win streak at four. If Creamer came into this week with a little fire in her belly from the nervy playoff slip to Annika Sorenstam at the Stanford International Pro-Am, Ochoa had the opposite mindset. All Ochoa had to do was keep doing what she was doing, keep riding the wave. Typically, the most mid-round analysis you will ever catch from Ochoa is a casual wave of her left wrist as she walks, as if releasing a club.
In bullfighting, and also in flamenco music, there is a term known as duende. It resists definition, rather being simply recognized in performers who appear to possess it, however fleetingly. It has been described as something akin to a mysterious power, and when a performer is able to summon duende, he or she can pull off the most impossible tasks effortlessly, almost mindlessly, as if in a trance. Looked at another way, duende is the ability to get out of one's own way, or to self-forget.
Considering the psychological gauntlet they go through each week, professional golfers would seem perfect applicants to join toreros and singers as recipients of the term. And given Ochoa's heritage, it feels even more appropriate that it be used to shed light on the magic of the winning streak that commenced at the Safeway International the last week of March. But duende, like all streaks in all things, eventually comes to an end.
If you're a realist who doesn't cotton to such fanciful words, and are simply looking for a physical reality to explain Ochoa's loss, look no further than the wind. As one Tulsan said as he watched a spectator chase down the miniature Mexican flag that had ripped free from her hat, "It always blows like heck here in Oklahoma."
The wind buffeted the course from different directions during the first three days, making any big movements up the leader board virtually unthinkable. For the fans who came expecting to watch history be matched (Nancy Lopez won five in a row in 1978, and Annika Sorenstam matched the feat in late 2004-early 2005), they never saw the world's No. 1 woman play herself into the tournament -- but never really saw her play herself out of it either. Like a baseball player on a hit streak, each round felt like an at-bat for Ochoa. She never got a hit.
Ochoa did not make a birdie Friday, which was the first such round for her in more than two years, the last coming at the third round of the 2006 Ginn Open.
"I guess it's not very easy coming back from a week off and having these conditions," Ochoa said of the wind following Friday's 74, her worst round of the tournament, which at the time left her trailing leader Creamer by six shots. "It's frustrating. I know I need to make birdies to catch up, but at the same time it's impossible. I'm hitting my driver good, but it's hard to put the ball close."
Early on the back nine Saturday, when it seemed the streak's life-support plug was about to be pulled (ironically by three consecutive pushed iron shots), Ochoa held back disaster each time to cling to contention. She made clutch bogey-saves at the 11th and 12th, and then rolled in a 14-footer for a sand-save par at the 13th. The wind continued to howl, and Ochoa was doing everything she could to hold ground, let alone gain it, including talking to her ball in both Spanish and English. "Sometimes the wind slides your body and you hit a bad shot. It happens to everybody," she said.
Despite Mother Nature's challenges, Ochoa's confidence never wavered. "I'm still positive," she said heading into Sunday, then trailing by an eight-shot margin. "Yes, I can still win. I don't know what I'm going to do, but hey, you never know. Annika won before coming behind from 10 shots. It could happen."
With 18 holes left to play, Inkster, who at one under was separated from Creamer by two shots and set to play with her in the final group, remarked of Ochoa's chances, "I wouldn't put it past her."
Brittany Lang, who ultimately ended up T-5 alongside Ochoa and Dorothy Delasin, said at the same point in the tournament, "The fans are into it. The streak has elevated all our games because we know we have to play that much better when she's around. [Lorena] still has a chance tomorrow, especially if it's calm and she shoots mid-60s."
Ochoa maintained that no time during the final round, which she closed with a birdie to shoot 69, did it dawn on her that the streak was over. What is amazing is that when she says this, you genuinely believe her. Such is her rare breed of on-course calm and focus, her duende, that it is possible the tournament talk of the town was actually clear of her mind.
The cut came at 10-over 152, which was the highest on the LPGA Tour since the 2003 Kraft Nabisco Championship. Creamer won by shooting over par in the final round (72) and just two-under 282 overall. It was occurrences such as these that had people discussing Cedar Ridge CC as a viable venue for another U.S. Women's Open (it held the 1983 championship, won by Jan Stephenson). Cristie Kerr shot a 61 here in 2006, and Inkster said that even if there was little to no wind on that particular day, Kerr's was still a better score than Sorenstam's famous 59 at Moon Valley.
It should be noted that the course could have played even harder. Players saw an altered version when they stuck their tees in the ground and looked down the fairways this year. Remember the ice storm that was a running saga on CNN last December, shutting down power in some parts of Oklahoma for as long as a week? Well, the 1½-inch coat of ice felled 170 trees on the course and forced the superintendent and his staff to trim the branches of 1,260 others. The unfortunate visual result was a macabre landscape of Dali-esque amputees lining several of the holes. Many players commented that it opened up spots on the course for recovery shots, especially lower punch shots. Cedar Ridge general manager Cleve Stubblefield said 79 new trees have been planted, and major restoration plans are set to take place now that the SemGroup has been completed.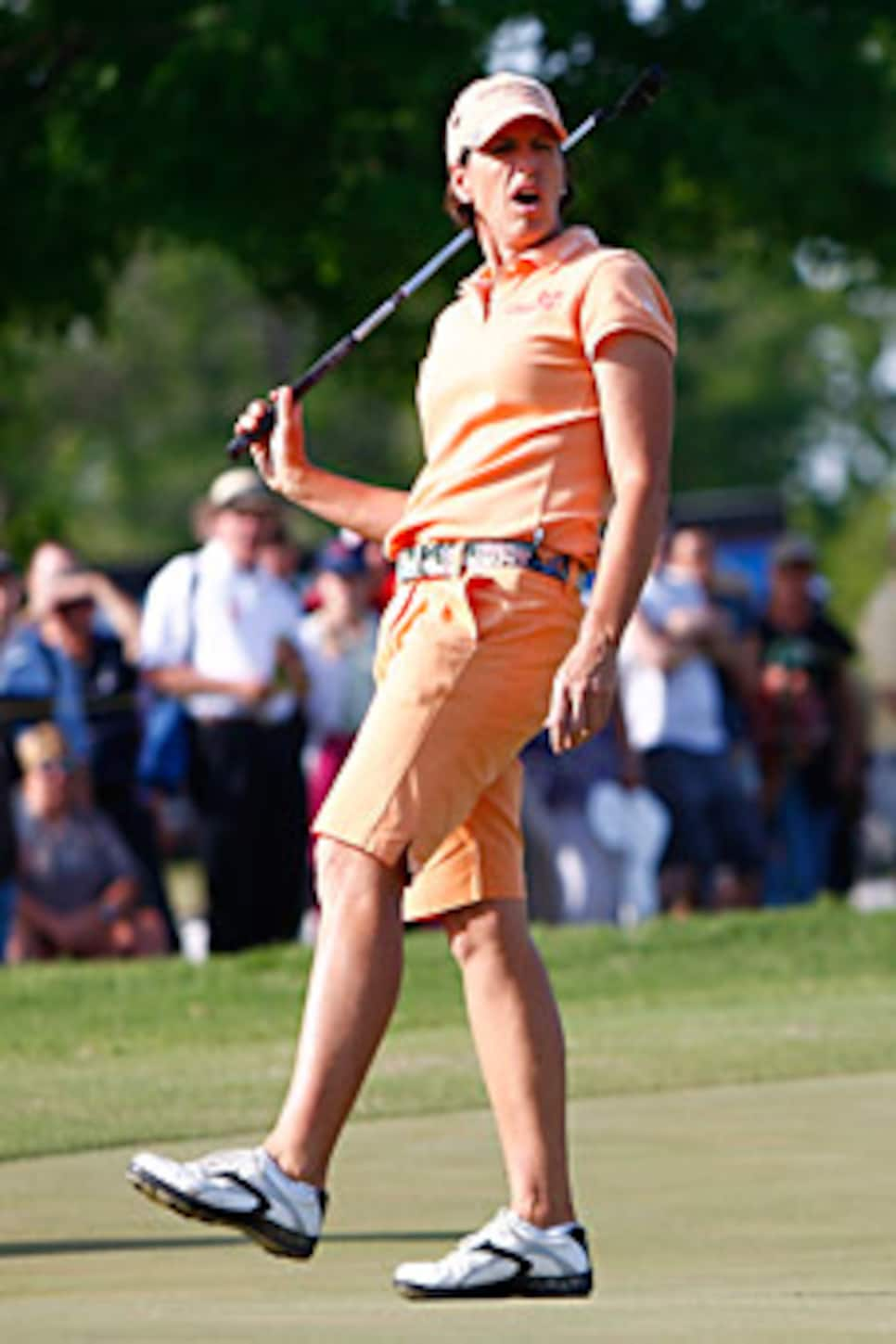 As heroic an effort as Ochoa put forth to extend the streak, the true thanks are owed to Inkster, who coming in hadn't recorded a top-10 finish all season, for making it a golf tournament. Even with the wind dying Sunday, seemingly clearing the path for someone, somebody, to go low, nobody near enough to the top to matter did. Inkster's Sunday included well-timed birdies at the seventh, and most importantly at the 18th, which produced a tie with Creamer at two under when the latter made bogey on the home hole.
Inkster's birdies were the most dramatic shifts of the tournament in regulation play, and they put her in a position to become, at 47, the oldest player to win an LPGA event. Going into the playoff, Creamer knew she wasn't the only person seeking to avenge recent history. "Last year [same tournament] Jules was in the playoff so she was probably thinking this year's her turn," Creamer noted, but perhaps her own wounds, 51 weeks fresher, were easier to cull inspiration from. "Knowing the emotions I'm going to have on the putting green, knowing the emotions I'll have on the first tee. I just felt very in control, I guess is the biggest thing, because of what happened last week."
Everyone and everything moves on. Just as the tree branches at Cedar Ridge will regenerate, the only thing Ochoa can do going forward is start another win streak. Of course, her more important quest to hold all four majors at once, her trunk if you will, is still intact with two rings already grown.