News
The Angry Golfer: Accept Responsibility Big John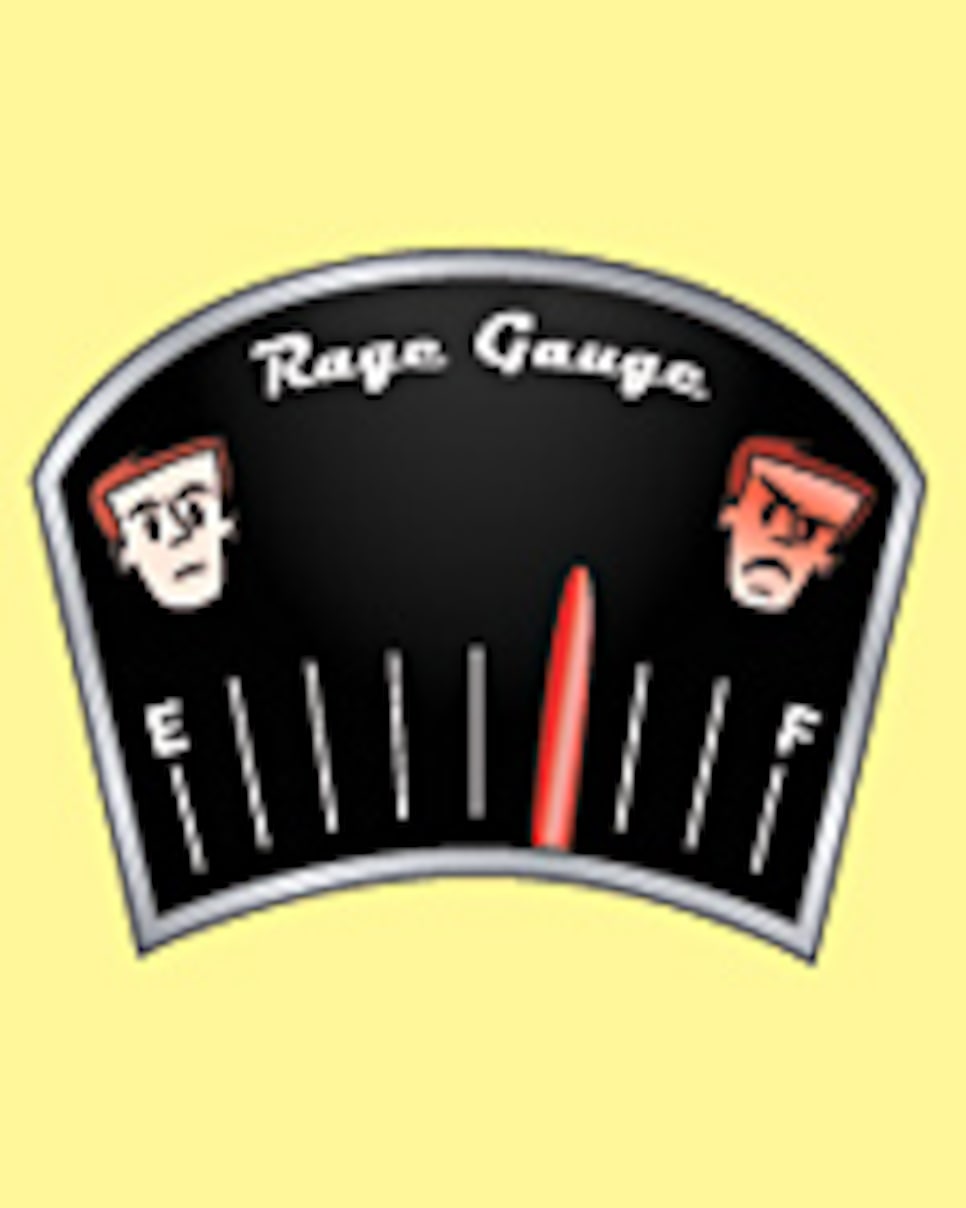 Britney Spears has nothing on John Daly, whose legendary appetite for self-destruction is compounded by a stark inability to accept accountability. After missing a three-footer to lose a playoff against Tiger Woods at the 2005 WGC-American Express Championship, for instance, Daly dumped part of the blame on his equipment company, claiming five Dunlop putterheads had come loose or fallen off during tournaments that season.
Many who are reckless aren't quite so feckless. They understand that risk yields reward but also dishes hard reality, and Big John, much like your average truthaholic, has struggled to cope with the downside of that premise. His flaws are one reason he is so popular, however, because fans are fond of wrapping their arms around anyone who isn't some emotionally automated tour pro.
You can't hit a golf ball 320 yards. Long John Surrender can't help himself. In life, that makes the match all square.
One month into 2008, Daly has been making the worst kind of noise, whining about the PGA Tour's new cut policy, then threatening to sue the Honda Classic because some woman snapped a photo in his backswing last March, then withdrawing for the seventh time in 21 starts at the Bob Hope Chrysler Classic. If not for the sad death of caddie Steve Duplantis last week, Daly's out-of-control behavior at a Hope post-round party might have generated a lot more buzz on the Torrey Pines practice green.
Daly would like you to think all this stuff is related. If the lady doesn't take his picture, he doesn't get hurt, which is why he keeps pulling out of tournaments or playing poorly, which is why he is grumbling about the cut rule. It's the type of rationale on which lawsuits are built, except that Daly entered 18 events in 2007 after the snapshot, making it to the weekend six times to go with five WDs.
"I separated my shoulder and fractured a rib," he recently told Reuters. "I tried to play through it all last year and had to withdraw [on numerous occasions] because it kept popping out." The camera was not arrested for assault and battery, and though I'm no Perry Mason, I'm thinking the insurance company that underwrites the Honda Classic might want to see some detailed medical documentation on those injuries.
My favorite part of this 300-pound saga is that Daly, who was playing on a sponsor's exemption when the shutterbug attacked him, has asked Honda tournament director Ken Kennerly for yet another invite. There is something rather perverse about this request, as if Long John (You Can't Be) Serious thinks his box-office value transcends every last ounce of moral rectitude in those who might be involved in a legal procedure.
No exempt status, no equipment contract, no clue. At some point, the people who used to laugh with him start to laugh at him.
I called several tournament heads last week to get a read on whether Daly's ability to sell tickets is worth the headache he has become. Kennerly didn't return my phone call, but others were quick to reply, and there remains little doubt that Long John Seismograph moves the needle more than a hundred John Sendens. "It's a pretty easy decision for us," says Clair Peterson, who runs the John Deere Classic and already has extended Daly an offer to join the field in July.
"He's like Randy Moss," says another. "He's a freak, he can be a huge burden, but in terms of what he brings you, it's a very unique dynamic. The NASCAR crowd, whatever you want to call it, is why 80 to 90 percent of the events will give him an exemption if he's anywhere near the top 100."
Or 531st, which is where Daly currently resides in the World Ranking, as if the NASCAR gang really gives a Hooters how well their man has been playing or whether he'll ever contend again on the weekend. The recent face-saving contest between PGA Tour brass and Westchester CC reminds us that every sputtering, non-Tiger event is a possible endangered species. Perhaps 15 to 18 tournaments are in excellent health; the rest lack significance or sound economics.
Ten years ago, who possibly could have seen the demise of the International? For the Hondas and John Deeres in pro golf's perilously stratified universe, Daly makes a difference no matter how many poisonous peccadilloes hang from his past. He is the accidental marketing genius, the only multiple major champion with a grease monkey's sensibilities and countless fragilities.
The guy hasn't had a top-10 finish since he missed that little one in the Amex playoff almost 2½ years ago. Those putterheads may not have fallen off, but the wheels surely have, which hardly means the voyage is over. At this point, the further Long John Shipwreck sinks, the more valuable his presence might actually become.