News
USGA's New Faces See Green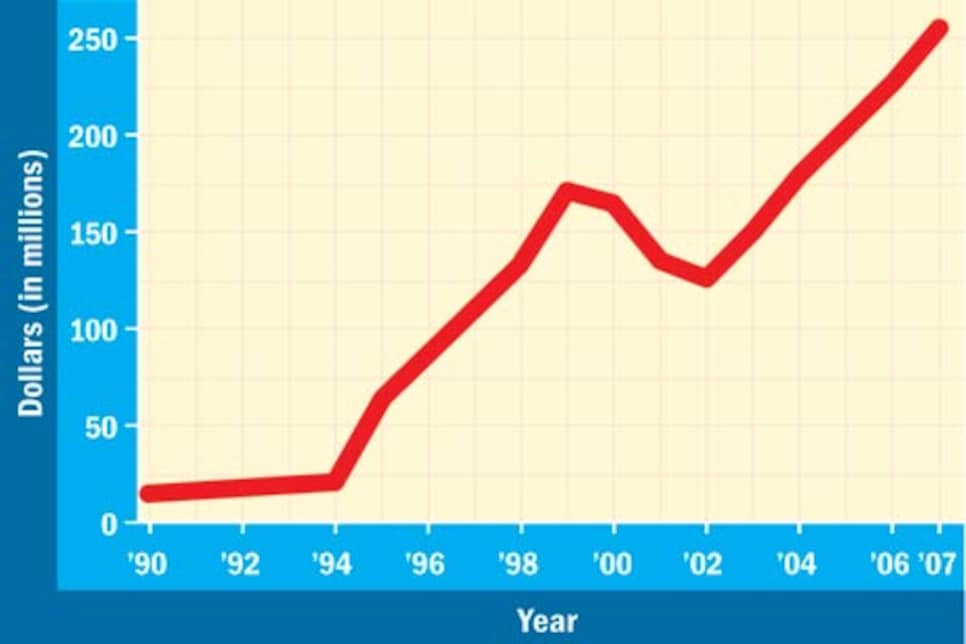 Drive to a quarter billion: Thanks to new corporate deals, the USGA's year-end asset value topped $250 million.
A name tag never will be considered the most fashionable accent for the well-dressed individual. Yet as Executive Committee members, staff and volunteers gather in Houston for next week's USGA Annual Meeting, it stands to be the most popular -- if not important -- accessory on anyone's blue blazer. Not in recent memory have there been so many new faces (or familiar ones with new responsibilities) within the governing body, starting with Jim Vernon, set for election as the association's 60th president Feb. 9. Back at USGA headquarters in Far Hills, N.J., the hirings of Chris Wightman and Alex Withers to oversee the communications and new-media departments, along with the expanded role Kevin O'Connor will play running the regional and state association programs, round out a management team set to push the association forward in 2008 and beyond.
"We've created a more fluid, efficient structure," says Pete Bevacqua, six months on the job in the newly created post of chief business officer, reporting directly to executive director David Fay. Responsible for all commercial endeavors -- broadcasting, marketing, members, new media and communications, among others -- Bevacqua says his charge is to make sure the various departments do a better job of working congruently. "My goal is to allow us to make more informed decisions because we'll have a better idea how [initiatives are] going to affect the various departments, and perhaps quicker decisions."
Indeed, a common refrain among USGA brass on both the volunteer and staff sides is the need to work at an "accelerated rate of business," a perceived weakness (not to mention an example of MBA-speak heard now within the association). "This is all very energizing, stimulating and exciting," says Fay of the new people/organization in place, noting his own commitment remains strong. "It will be rewarding for the USGA."
Privately, though, some staffers are cool about the future, citing the recent departures of longtime employees, including the December retirement of Tony Zirpoli, a respected USGA veteran who ran the regional affairs and amateur status departments and held vast institutional knowledge. Among his contributions was a key role in the 1986 U.S. Open at Shinnecock Hills, largely organized by staff at a club with seasonal membership. That championship convinced the USGA it could play a greater role in preparing its own Open, a precursor to the recent business changes.
Another potential point of contention is a plan to offer online a revised version of the USGA members newsletter, one tangible benefit given to individuals who financially support the USGA. Bevacqua said no final decision has been made, but the association reportedly could stop printing the newsletter this spring. Still, there are reasons to believe the USGA is moving in a positive direction. In the annual report to be released in Houston, the association will report net income in fiscal 2007 of $1.21 million on revenues of nearly $137 million, a noteworthy improvement from a $6.13 million deficit in 2006.
According to Bevacqua, priorities for 2008 include:
• Signing two more corporate partners. Barry Hyde, USGA chief marketing officer, says announcements will be made by the spring, although he wouldn't reveal the firms being considered. Sources familiar with the situation, however, tell Golf World that RBS may be the third in place, as soon as next month, and that IBM is the likely fourth partner.
• Improving websites. Encouraged by 2.4 million users at USOpen.com during June 2007, the association created a separate new-media department last July. A revamped USOpen.com will be unveiled after the Masters. Among its features, says Withers, who previously worked at ESPN.com and the Financial Times, will be enhanced live-scoring capabilities and more video webcast elements.
• Opening the renovated museum and new Arnold Palmer Center for Golf History. The 19-month project will result in a 33,000-square-foot building scheduled to debut in June. A dedicated website will promote the facility and its exhibits.
Regarding corporate partners, Hyde says concerns among traditionalists in and out of the USGA have begun to ease after seeing how the initial two, American Express and Lexus, were incorporated in 2007, particularly at the U.S. Open at Oakmont.
"There's always been a fear that if we let companies partner with the USGA, somehow they would have an influence over every championship, maybe even the way the rules are implemented," Hyde says. "I think even the most skeptical people walked away with a better understanding that really isn't the case."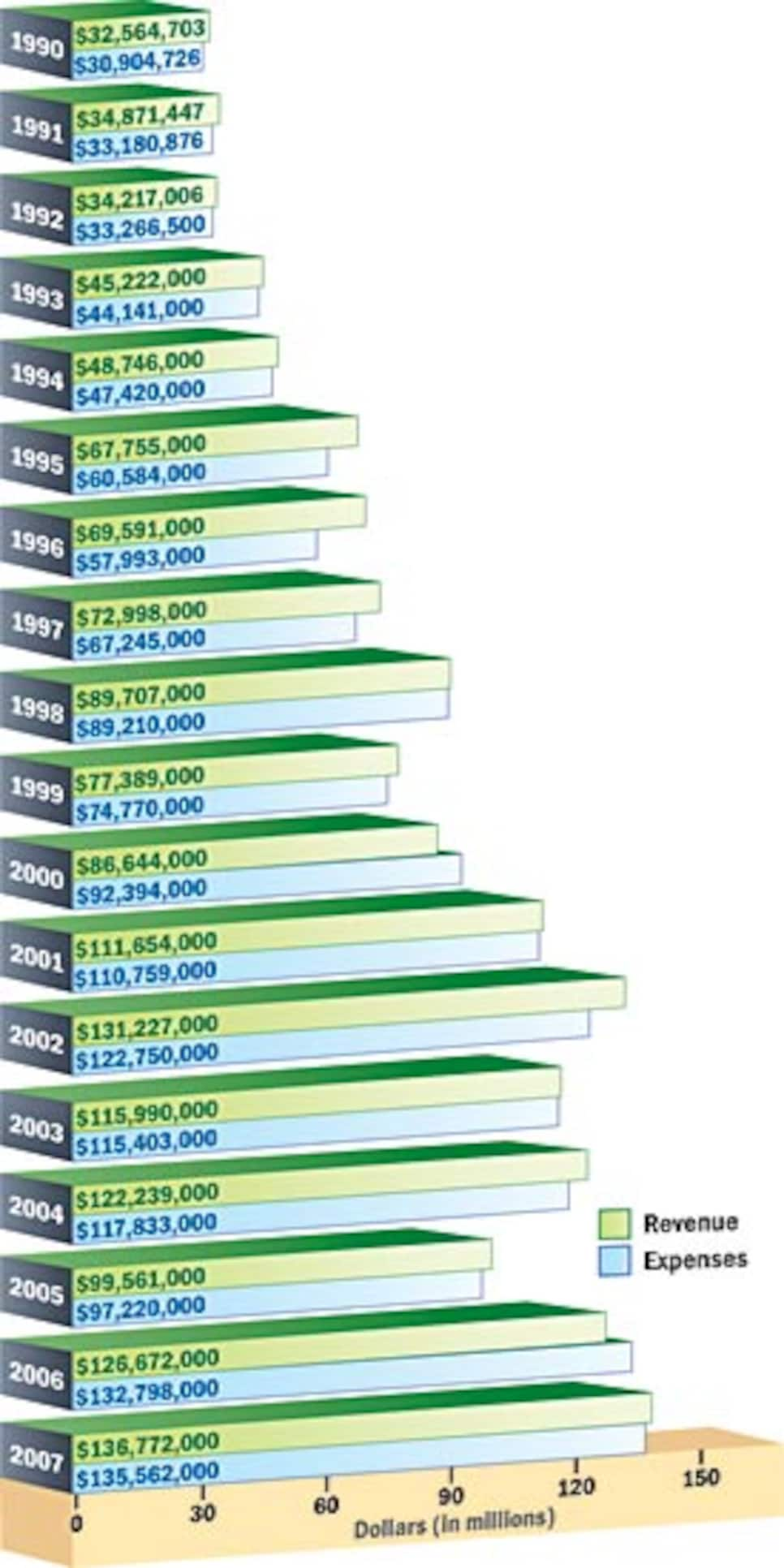 Bevacqua, meanwhile, points to negotiations with potential corporate partners as an example of improved efficiencies; staffers in various departments have been involved in the process early, allowing for a better understanding of what companies can offer before a deal is finalized.
Interest in new media also increased substantially as the benefits of an expanded Internet presence became apparent. In addition to focusing on USOpen.com, Withers says improving USGA.org so golfers have a better grasp of everything the USGA is involved with (rules, equipment, etc.) is high on the agenda.
"The key is for these new departments to become part of the overall fabric of the USGA," Fay says. "The No. 1 priority is to take these new individuals, these new areas, and to weave them into the USGA in a way that's going to be beneficial."
Brought aboard in December, Wightman, who spent five years as publisher of Golf magazine, will present a communications plan to the Executive Committee next week, one that details ways to enhance and improve the USGA brand and de-mystify the association. It's an endeavor Fay and Bevacqua contend will be key to future growth.
"We need to do a better job of explaining who we are," Bevacqua says. "I don't think we've been as effective in that critical pursuit. We have this great name, and there is a core group of golfers who understand who we are, but going beyond that and explaining to the rest of the golfing public who we are and what we do."
In other words, the association itself might need to start wearing a name tag in the foreseeable future.