News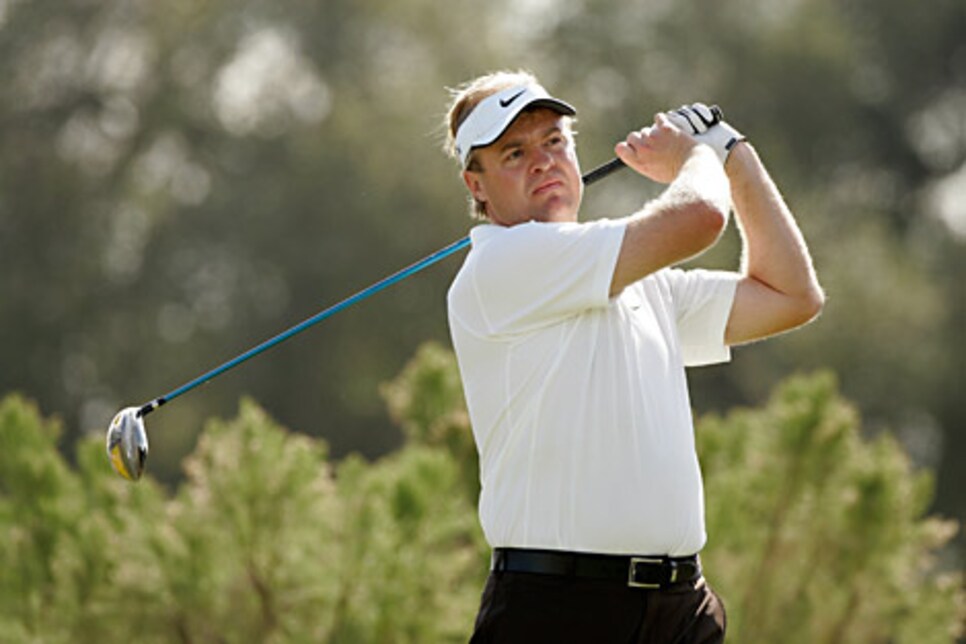 His PGA Tour card already locked up, Johnson freewheeled his way to victory.
Jimmy Walker was like a kid in a lightning storm. All he wanted to do was hide his head under the pillow.
In a seventh-floor hotel room that overlooked Barona Creek GC in the hills of suburban San Diego, he had been surrounded by the people he would want to hold tight during a crisis. Gathered around a television tuned to the Nationwide Tour Championship, the waning moments of the season's final round being played out on the course below them, were Walker's mom and dad, his in-laws, his wife, Erin, and a friend, Andy Sanders, who had committed to be his caddie for next season.
For more than two hours they had been a collective nervous wreck, waiting to see if Walker would get back to the PGA Tour after a neck injury ruined his first go-round in 2005-06. On this Sunday he had shot a so-so one-under 70 on a pristine course that had given up record numbers all week, and his overall standing was precarious, to say the least. He was on the bubble. Then out. Then in. Then out again. At one point, he was projected to earn the 25th and last automatic tour card by $47.
Worst of all: The golfer with the best chance to keep him from his dream was a good pal, B.J. Staten, who also happens to be his new caddie's roommate.
It all became too much for Walker, too excruciating. "Terrifying" is how he later would describe it.
So he bolted for the elevator, for his own room a couple floors below. Alone, he all but turned out the light and hid under the covers. Walker swears he didn't watch TV.
Not until the storm was over, when Walker returned to the room of his loved ones and their tearful, joyous hugs. Staten watched in disbelief as birdie putts of 15 feet on the 17th and 18th holes slid a few blades to the side of the cup, and the misses allowed Walker to secure the last available card over Skip Kendall by the margin of $1,094 on earnings of $196,896. Staten ended 28th in money.
"You don't want to root against your buddies," Erin Walker said, torn emotions twisting the features on her face. "But at the same time, we were hoping B.J. would just par in. You hate to say that, but we've been through a lot these past couple of years. If anybody deserves it, Jimmy does."
Like the PGA Tour's Qualifying School, there were more subplots in this thing than an English stage farce, and the enormous double achievement of Welshman Richard Johnson was just one of the sideshows.
Johnson, who had made a big move in the money standings with his first Nationwide victory in seven years at the Mark Christopher Classic early last month, overcame a quadruple bogey on the 11th hole during the middle of the third round and, after seeing a five-shot lead whittled to one late Sunday, he managed to win by one shot over University of New Mexico-product Michael Letzig.
Johnson's scores of 66-64-67-67 on the par-71 layout gave him a tournament-record total of 20-under 264. By cashing the tour's record check, $139,500, he vaulted from sixth in the money standings to No. 1 with $445,421, unseating Roland Thatcher, who held the top spot for 12 consecutive weeks after winning the Cox Classic in late-July.
"I had my card secured, so I've been freewheeling it for a couple of months," Johnson said. "This is the icing on the cake. It's cool."
Thatcher, showing the strain of defending his position for so long, managed only a tie for 29th in the tournament, despite posting a 64 in the second round.
"I had the lead for four months. Richard had it one night," said a disappointed Thatcher. "Give Richard credit. He played great down the stretch and earned every bit of it."
Johnson, 35, graduated from Augusta State in 1995 and was still in Augusta managing a Waffle House on Washington Road the week of Tiger Woods' watershed Masters victory in 1997. Johnson's biggest thrill that week: "Seeing David Duval eat at my restaurant."
Some wealthy English friends offered financial support so he could ditch the waffle iron for a bag of irons, but after some rough times playing in Europe, he considered quitting again. "I wanted to be a golf coach but nobody would hire me, so I figured I'd play," he said.
Looking forward to the PGA Tour season opening in Hawaii in January, Johnson said with a wry smile, "I've got to get my body in shape. I'm too old for this."
The pressure will age you. Brenden Pappas has a smoothly shaven head; otherwise, he would have torn his hair out during the last month. For the fourth straight week, despite 12 straight cuts made, Pappas entered the Tour Championship in the bubble position at No. 25.
"To maintain your focus ... it's been physically draining," Pappas, 37, said. "Mentally, I've been a basket case."
The South African had good-naturedly given himself the tag of "Bubble Boy," though he may have rued the gesture. And when he tied for fifth at Barona to get his card at No. 22, he ceremoniously scribbled out his last "Bubble Boy" signature on a golf ball.
"The bubble has burst," he deadpanned. "I plan to turn my back to the bubble in perpetuity." More seriously, he said of his 17-under performance, "Considering the ramifications, it was a walk in the park. I was about as solid as an individual can be this week."
In warm and calm conditions, on greens the players said were as smooth as any they had seen, the tournament was a sprint to birdies. The scoring average for the field of 68.42 was the lowest in Nationwide Tour history. Letzig set the tone with an 11-under 60 that beat the course record by three, and he was cruising until suffering a four-putt triple bogey on the last hole of the third round to hand a two-stroke lead to Johnson.
"Nothing seems to go easy for me. I put so much pressure on myself and sometimes that gets in the way," said Letzig, who began the tournament 26th in money.
Letzig took his frustration out in the gym and came to the course Sunday with the aching muscles to prove it. He popped some Advil, shot 66 in the final round and earned his first tour card at No. 12.
Veteran Tom Scherrer, winner of the 2000 Kemper Open, tied Martin Laird for third and joined Letzig as the two to leap into the top 25. That pushed out two: David McKenzie, who fell from 23rd to 27th, and Kendall, the 12-year PGA Tour veteran, who went from 22nd to 26th. Kendall missed getting back to the big tour by a little less than players get for a last-place finish on one weekend.
"You know," Kendall said amiably, "it was in my hands."
The lament of so many at season's end.