News
The Youth Movement Awakens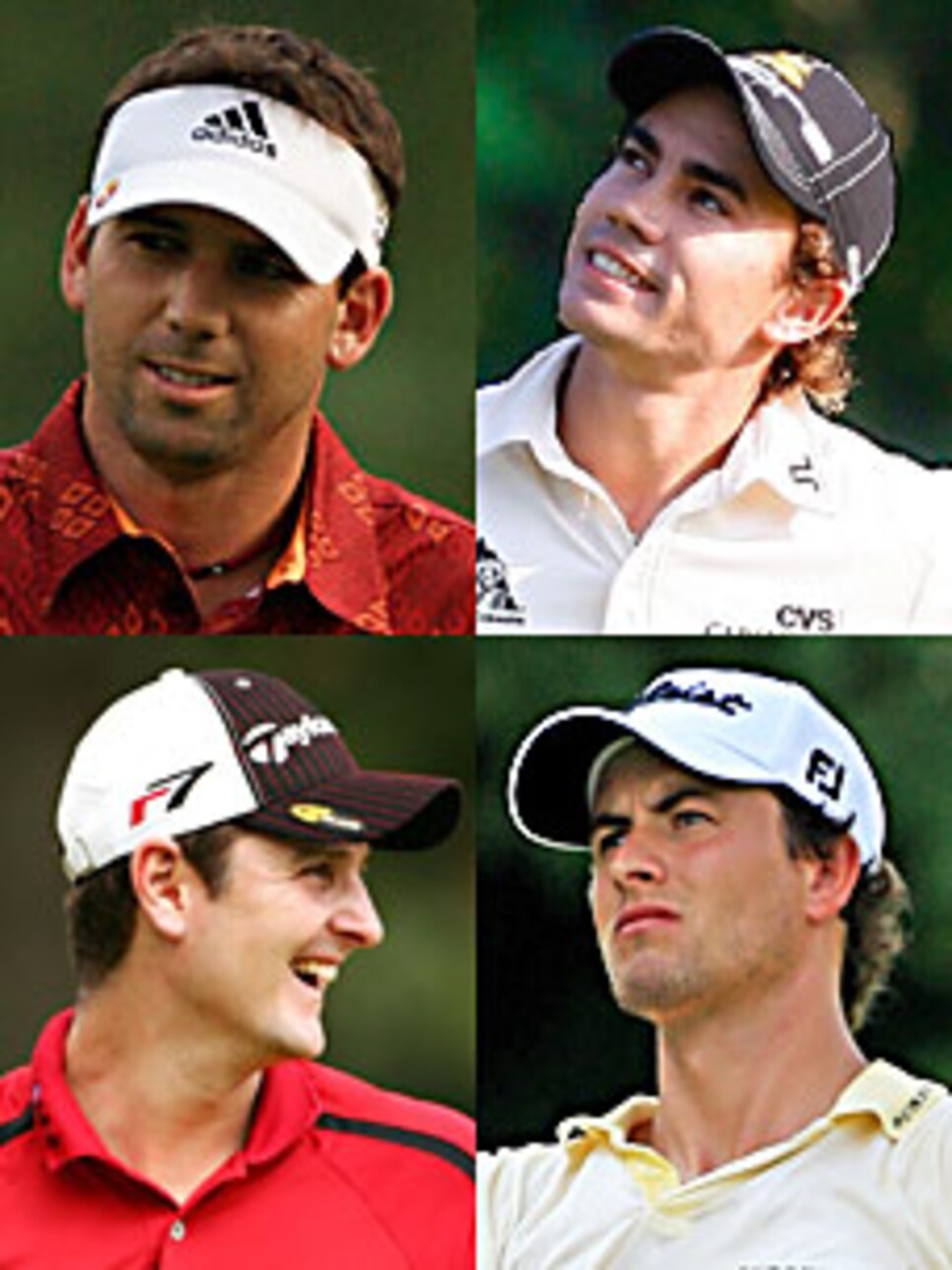 Sergio Garcia, Camilo Villegas, Adam Scott & Justin Rose (top left, clockwise)
Tiger Woods' competitive dictatorship has overshadowed the steady progress made by many of the game's top young players in 2007. Nine guys younger than 30 qualified for this week's Tour Championship, and in three of the year's four majors, a former phenom featured prominently in the Sunday hunt. U.S. Presidents Cup skipper Jack Nicklaus wisely bucked the urge to use his captain's picks on fading veterans. Instead, he added Lucas Glover, 27, and Hunter Mahan, 25, to the roster.
After waiting for what seemed like an eternity for the post-Woods crop to emerge, the landscape has changed, and the results are beginning to approach the potential. Irony aside, Sergio Garcia's playoff loss at the British Open, childish reaction and all, was a fitting sign of growth in the young guns' awkward maturation. This ranking of the game's best players under 30 is based on my odds of who will become the first among their peers to win a major title -- even money says one of these seven will get it done in 2008.
Garcia: Still the obvious favorite, although the woe-is-me act at Carnoustie didn't offer strong emotional testimony on behalf of the most talented golfer born in the 1980s. Sergio's rant included his lamenting the notion that he might not get a second chance to claim his first major, which is ludicrous (he is still just 27). Nobody on earth drives it better, and for what it's worth, his putting has improved dramatically -- from 158th last year to 17th in '07. The guy knocks on more doors than a UPS driver. Odds: 4-1.
Aaron Baddeley: The more I see, the more I like. Baddeley's stats have improved in almost every category -- which isn't saying much because his ball-striking numbers were so poor -- but in a year that featured his second PGA Tour victory, the final-round meltdown alongside Tiger Woods at the U.S. Open, 11 top-20s and just three missed cuts in 21 starts, Badds, 26, is the fastest-rising young gun of the bunch. A human billboard for the Stack-and-Tilt swing, his putter and composure set him apart in his age group.Odds: 5-1.
Adam Scott: Anyone expecting big strides from this guy will have to suffice with baby steps in '07. Scott, 27, will always pile up lots of high finishes -- you can't help but cash six-figure checks when you're 13th in driving distance and second in birdie-conversion percentage. For all his physical gifts, however, the kid still has an untidy short game, and he rarely makes any noise at the majors. To call Scott an enigma would be a stretch, but that 50-gallon drum of potential remains at least half full.Odds: 10-1.
Justin Rose: Real nice guy, real good player, but there's something missing. Still without a victory despite 23 top-10s in 111 U.S. starts, Rose, 27, has shown an uncanny knack for bungling chances down the stretch. He rarely misses a cut and seems allergic to high scores, but Rose's inability to close the deal has gone on so long that one suspects a mental block exists. That double bogey on the 71st hole at this year's Masters, not Tiger's demise, helped make Zach Johnson the man he is today.Odds: 15-1.
Glover: To say he's abundantly talented would be an understatement, but with just three top-10s in 27 starts after nine top-10s in '06, Glover's career seems to be stuck in neutral. Captain Jack knows a player when he sees one, although Nicklaus played this youth card with a certain amount of risk. Maybe a spot on the President's Cup squad will spur Glover to a higher level of performance. Until then, he's just another long-hitting Yank with one tour victory, a bunch of tour dollars in the bank and a very bright future.Odds: 20-1.
Camilo Villegas: Just when it looked like there might be more style than substance, Spiderman started showing up on the leader board every week in the FedEx Cup playoffs. Villegas' golf swing is an effective collection of unorthodox moves, although there's no telling how it will hold up until he works his way into late-Sunday contention, which hasn't really happened. His spot in the World Ranking (73rd) seems mysteriously low, his putter a bit moody, but I can see Villegas, 25, winning a limited number of big tournaments more than a pile of second-tier events. Odds: 30-1.
Charles Howell III: Another great start, another sluggish finish for America's original young gun, 28. What looked like Howell's breakthrough year turned to dust even earlier than usual -- his last top-10 was in March. As much as I love this guy, as much as I believe in him, one gets the sense that CH3, a tireless worker, could use a couple of months away from the game to refresh his competitive browser. An extended vacation -- although Howell would probably show up on some exotic beach with a sand wedge and a bag of practice balls.Odds: 30-1.