News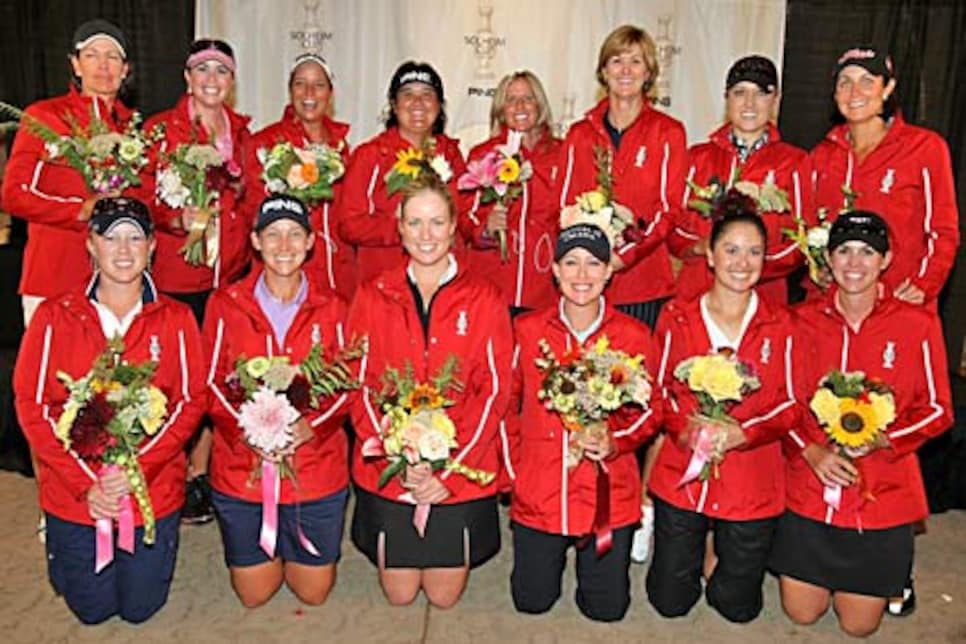 The United States 2007 Solheim Cup team
Time is not so much measured in minutes and hours as it is events. Ten minutes of root canal can seem like all day while an hour with your favorite book passes in a blink. And few things make time move more agonizingly slow than waiting to hit a golf shot, especially if that shot happens to be the opening salvo of the initial Solheim Cup. "We got to the first tee about eight minutes before they were due to tee off, judging by the clubhouse clock," says Mickey Walker, who was captain of the first four European teams in the biennial competition against the United States. "The clubhouse clock was actually fast so we had 12 minutes, and those 12 minutes seemed like an hour. I can remember that being an eternity."
As metaphors go, an untimely timepiece is rather appropriate for the debut Solheim Cup at Lake Nona in 1990. When Laura Davies hit that first drive in her alternate-shot match with Alison Nicholas against Pat Bradley and Nancy Lopez, there was no TV coverage, virtually no spectators, not even an LPGA commissioner. Ultimately, the competition was also absent of drama as the Americans easily dismissed the Europeans. Only one of the 16 matches made it to the 18th hole. None of that will be true when the 10th edition of the most intense three days in women's golf is played next week at Halmstad, Sweden.
While fewer than 3,000 people were on hand that week before Thanksgiving in Orlando, where the most spectacular occurrence was a shuttle launch at nearby Cape Canaveral on the eve of the competition, the turnout at Halmstad will likely challenge the record 103,000 flag-waving fans who created a college-football-like atmosphere at Crooked Stick CC near Indianapolis two years ago. Golf Channel will provide first-shot-to-deciding-putt coverage, and Carolyn Bivens, the first female to run the LPGA, will be passing a milestone of sorts since she officially took over as commissioner at the end of the 2005 Solheim Cup.
While the outcomes in 1990 and 2005 were similar in that the U.S. team won both, the road to the result was much different. An eight-woman U.S. team that included five future Hall of Famers destroyed Europe 11½-4½ at Lake Nona. At Crooked Stick the Americans sweated out a 15½-12½ victory to take a 6-3 lead in the series. In an astonishingly short period of time the Solheim Cup has become very intense.
All it took was some good old-fashioned competition -- with a few Dottie Pepper outbursts, some Catrin Nilsmark name-calling, a Pepper punching bag in the European team room and U.S. captain Pat Bradley making Annika Sorenstam re-chip after she holed a birdie but had hit out of turn. History happened in a hurry at the Solheim Cup. Then again, the entire Solheim Cup happened in a hurry.
Joe Flanagan, executive director of what was then the Women Professional Golfers' European Tour, pitched the idea of a team competition to then LPGA commissioner John Laupheimer in 1988, but Laupheimer said it would be too one-sided in favor of the Americans. When Laupheimer resigned and Bill Blue took over Dec. 1, 1988, Flanagan revisited the idea, and it was presented to Karsten and Louise Solheim, whose family makes Ping golf equipment, at the PGA Merchandise Show in Orlando in January 1990.
The players were brought into the loop at a meeting that March, and on June 7, the Solheims and their PR director Bob Cantin, who would become Solheim Cup project director, met with Blue in the Delta Crown Room at Phoenix's Sky Harbor Airport to sign the initial papers. John Solheim, Karsten's son, worked with LPGA business manager Greg Shimanski to tie down the final wording. All parties met at the JAL Big Apple Classic outside New York City in August and final papers were signed Sept. 19, less than a month after Blue was fired and less than two months before the event was to be played. Acting executive director Jim Webb signed for the LPGA. "We basically staged the event with 60 days of planning," says Cantin, who is now retired in Texas.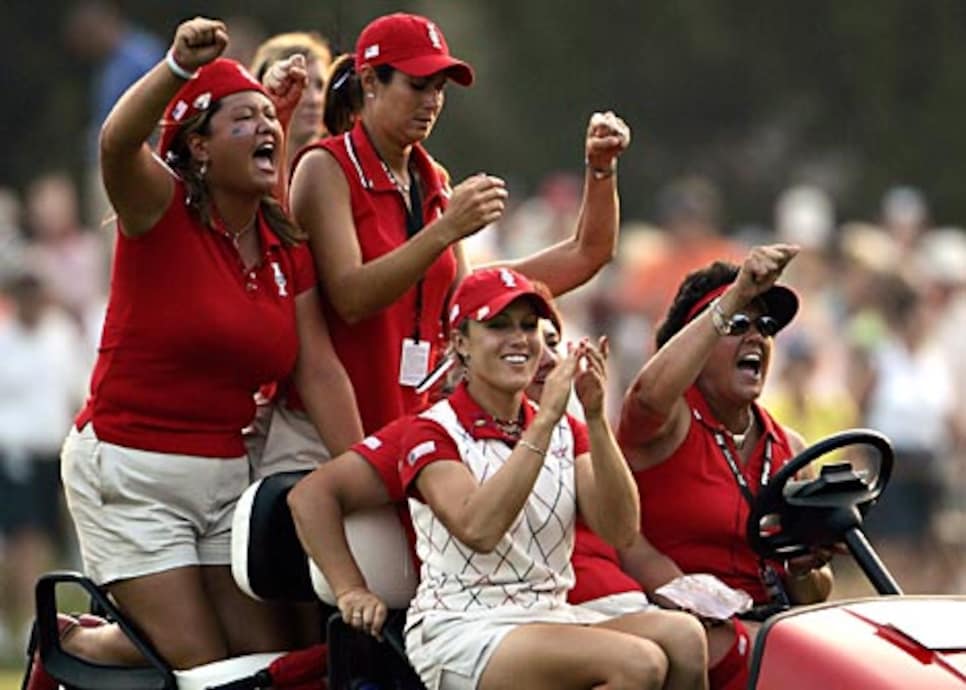 "They brought this to us, and it looked like a great thing that would give us exposure on both continents," remembers John Solheim, whose father died in February 2000. "They asked for a three-event commitment, and we said we wanted 10. We felt it would catch on, but we felt it would take time for that to happen."
As that 10-event contract expires with this year's Solheim Cup, the nature of the corporate involvement will change. While the name will remain the same, new corporate partners will come on board to give the event an added influx of capital. "That's what's needed for it to grow," Solheim says. "We are pretty close to an agreement, but the documents haven't been signed."
One thing that may change is the TV exposure. After four competitions on NBC, the Solheim Cup switched to Golf Channel in 2002, both to save money and to get more hours of the competition on the air. With more corporate partners and more money, it brings the networks back into play, which is increasingly important because Golf Channel's 15-year deal with the PGA Tour has reduced the LPGA's presence on the cable outlet.
The only TV exposure the Solheim Cup got back in 1990 was a half-hour highlight show. The galleries at Lake Nona were nothing special either. "There were about three sad souls who had been given a ticket and they had absolutely nothing to do," remembers Helen Alfredsson, who played in the first competition and will be the captain for Europe this year. "They missed the afternoon movies."
The competition came to a critical juncture almost immediately. So decisive was the American victory at Lake Nona that many feared the competition would be a joke, lending credence to Laupheimer's initial fears. There was already talk of adding players from other parts of the world to the European team. Even the British bookmakers had the Americans as 6-1 favorites at Dalmahoy Hotel G&CC in Edinburgh, Scotland, for the 1992 competition.
"Teams were expanded from eight to 10 players for the second Solheim Cup because there was a feeling that if the U.S. won all eight points the first two days they wanted to have more singles so Europe still had a chance to win the last day," recalls Betsy King, who was there and will be on hand again this year as captain of the U.S. team. "That's how one-sided people thought it was going to be. Europe's win changed that perception."
When asked the turning point of the Solheim Cup -- that moment when it came of age -- players unanimously point to Dalmahoy, not the Sorenstam re-chip (2000) or any of the Pepper incidents (1994, '96 and '98) or Nilsmark pointedly labeling Cristie Kerr "a small brat," Laura Diaz "cocky" or Michele Redman "talentless (2002)." Those were about the intensity of gamesmanship. Dalmahoy was about the integrity of competition.
"After we won at Dalmahoy people wanted to go to the Greenbrier to see the Americans win the Cup back," says Walker, who likened that showdown's impact to that of the 1983 Ryder Cup when Tony Jacklin's European team lost by a point after years of thrashings. "Suddenly, it was a competition instead of a one-sided event."
The U.S. team was shaken early in the week at Dalmahoy when Kathy Whitworth, who was captain for the first two competitions, returned to the United States because her mother died. "I'm not sure we would have won if I had been there," Whitworth says now, "but I dumped it all on [assistant captain] Alice Miller's lap. I do think we could have done better."
Europe clung to a one-point lead going into the 10 singles matches, which the Americans were expected to dominate. But the home team won the first three and swept seven of the 10 for an easy 11½-6½ victory.
"When we won the second one at Dalmahoy, that was when the Solheim Cup [became] an event. No one thought we could win it, but we did," says Laura Davies, who will be the only woman to compete in all 10 Solheim Cups and who started the Dalmahoy singles rout with a 4-and-2 victory over Brandie Burton. The Americans won at the Greenbrier in 1994 with relative ease, 13-7. It was there that Pepper, then playing as Dottie Mochrie, first earned her reputation as a hard-nosed competitor when she blurted out "Yeah" after Davies missed a birdie putt, then responded to European outrage by saying, "I really don't care." That passion carried over to the next competition, in 1996 at the Marriott St. Pierre Hotel & CC in Chepstow, Wales. The U.S. team trailed by two points going to singles but won 10 of the 12 points for a 17-11 victory, still the only triumph by either side on foreign soil.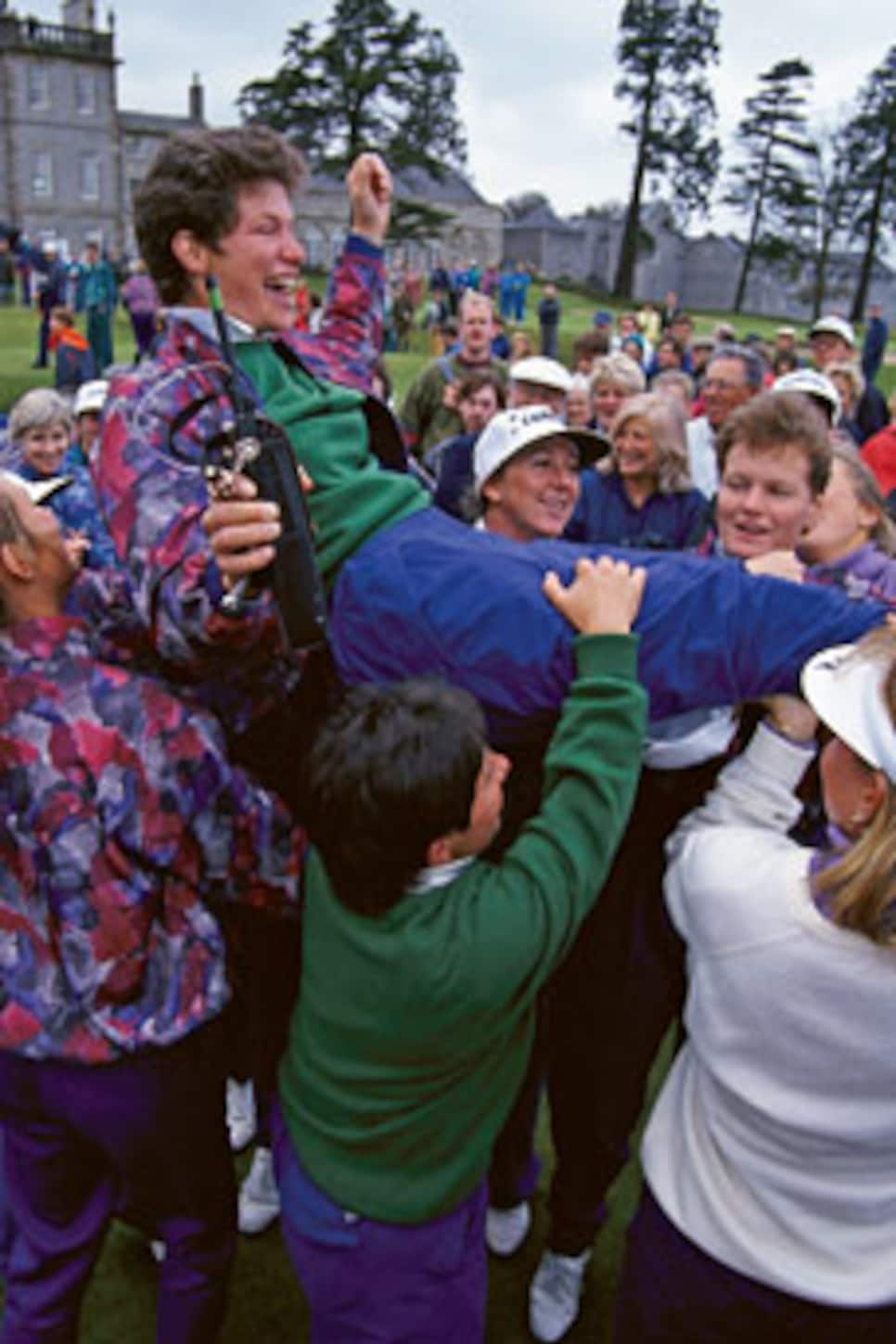 "The most intense I remember being was probably on Friday afternoon in '96 at St. Pierre paired with Betsy King," Pepper says now. "The U.S. was getting waxed that afternoon, and Betsy didn't seem to understand the importance of her match until the 14th hole when I told her we had to win our match. She proceeded to knock it onto the par-5 18th in two, two putts for the win, and we rallied in singles."
For those who have been there from the beginning, or almost the beginning, the Solheim Cup has created some of the most vivid memories of their playing careers. "The U.S. comeback in Wales was pretty intense," says Beth Daniel, who has played in eight of the nine competitions and is assistant captain this year.
"Meg [Mallon] and I were partners [Friday afternoon] and our match went to the 18th hole," Daniel says. "I had not putted very well that day, and I had an 18-foot putt that we really needed. It was virtually dark, and I made the putt. The American team went crazy, and then we went on to make our big comeback."
Asked if her players were nervous in the very first Solheim Cup, the words "Oh my God, yes!" came tumbling out of Whitworth's mouth. "You are playing for your country," she says. And when asked about her most vivid Solheim Cup memories, Sorenstam, who has played in seven and is the all-time leading point winner, said: "When I stood on the first tee of my very first one [in 1994], I couldn't catch my breath. Tammie Green asked me if I was going to be OK, and I said, 'I hope so.' "
The intensity, and the occasional gamesmanship, however, have not overshadowed the spirit of the event. There was Mallon's concession of an 18-foot putt to Sophie Gustafson to halve their match at Muirfield Village in 1998. And no matter how irritating Pepper could be, her opponents respected her competitive fire.
"Dottie Pepper, without doubt, has been the greatest Solheim Cup competitor," says Walker. "I remember at the Greenbrier looking at her face, and I had never seen such intensity. She said later that for two years she ate, slept and dreamt about being on the team and getting the cup back."
This year's competition at Halmstad will expose seven players to their first Solheim Cup pressure inferno -- Morgan Pressel, Stacy Prammanasudh, Brittany Lincicome and Nicole Castrale for the Americans and Bettina Hauert, Becky Brewerton and Linda Wessberg for Europe. This year they will begin to build their Solheim Cup memories.
What the Solheim Cup does, like the Ryder Cup, is bring the game back to its essence. "I think it is such a great reminder every two years of how much we love to compete," says Alfredsson. "There's no money, nothing except the fact that you are playing for the honor and you are trying to win." And if a Dottie Pepper punching bag or an Annika Sorenstam re-chip helps, so be it.