News
Two paths to multiple majors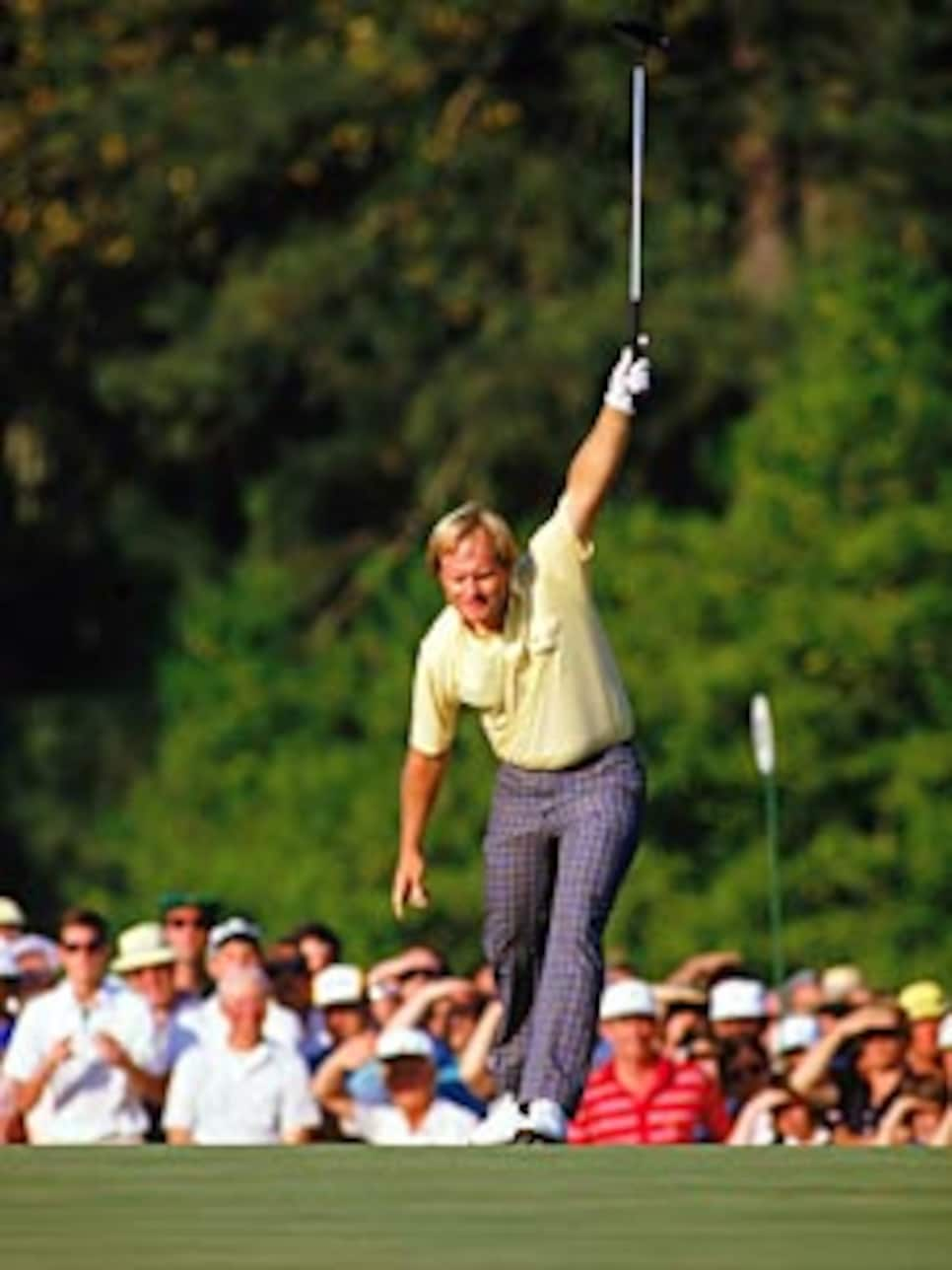 Nicklaus' four-stroke comeback in the 1986 Masters was the largest rebound of his major career.
Perhaps the greatest revelation upon looking at Jack Nicklaus' major statistics is not that he rebounded from a 54-hole deficit to win eight major championships, or that he failed to win only twice when he held or shared the 54-hole lead. No, the stat that best explains why Nicklaus was able to come back and win major championships with what seems like regularity when viewed some 35 years from his prime -- while Tiger Woods has been unable to do so in his 10-plus years as a pro -- is that Nicklaus, in about 100 majors as a viable contender, held the 54-hole lead just 12 times. In other words, Woods and Nicklaus held or shared the three-day lead at a major 12 times each with Woods winning all 12 of those times in his 42 majors since turning pro.
Put yet another way, Tiger hasn't come back to win majors because, for the most part, he hasn't had to. He wins from in front.
In fact, Woods' stranglehold on the majors when he sleeps on the lead, has led to a shift in how common final-round comebacks are in those championships. From 1950 through 1999 almost half of all majors (93 of 192, 48.4 percent, discounting the PGA Championship while it was a match-play proposition prior to 1958) were won with a final-round comeback. Since 2000, the number drops to 23.3 percent (seven of 30).
That figure is obviously attributable to Woods' failure to surrender a lead. At last year's PGA Championship, where he was tied with Luke Donald entering Sunday's final round, Woods explained he uses his preferable perch to monitor how the course is playing. "If the guys make a bunch of birdies," he said, "which you know they are going to do, you have the same opportunity to make birdies on those same holes."
The ability to hold off an opponent while challengers dream of ways to catch him is an advantage only Tiger can enjoy.
Nicklaus, however, worked magic from behind. He won three majors when he was one back after three rounds; three when he was two back; one when he was three back and one, the most famous of all, from four strokes behind. That rebound ("the battle is joined") at age 46 in the 1986 Masters defined his legend and the following quote about that day from his book Jack Nicklaus: My Story with Ken Bowden defines Nicklaus' thought process when coming from behind. "The natural tendency when trailing going into the final round of a tournament is to focus mostly or entirely on stroke deficit in evaluating one's chances and deciding strategy. I'd learned a long time ago that an equally important factor is the number of players needing to be overtaken. That evening, weighing how I was by now playing and putting against the number of golfers ahead of me [eight], I felt good about my chances."
He always did, and in his own way, so does Tiger.