News
Faldo Makes Senior Debut at Muirfield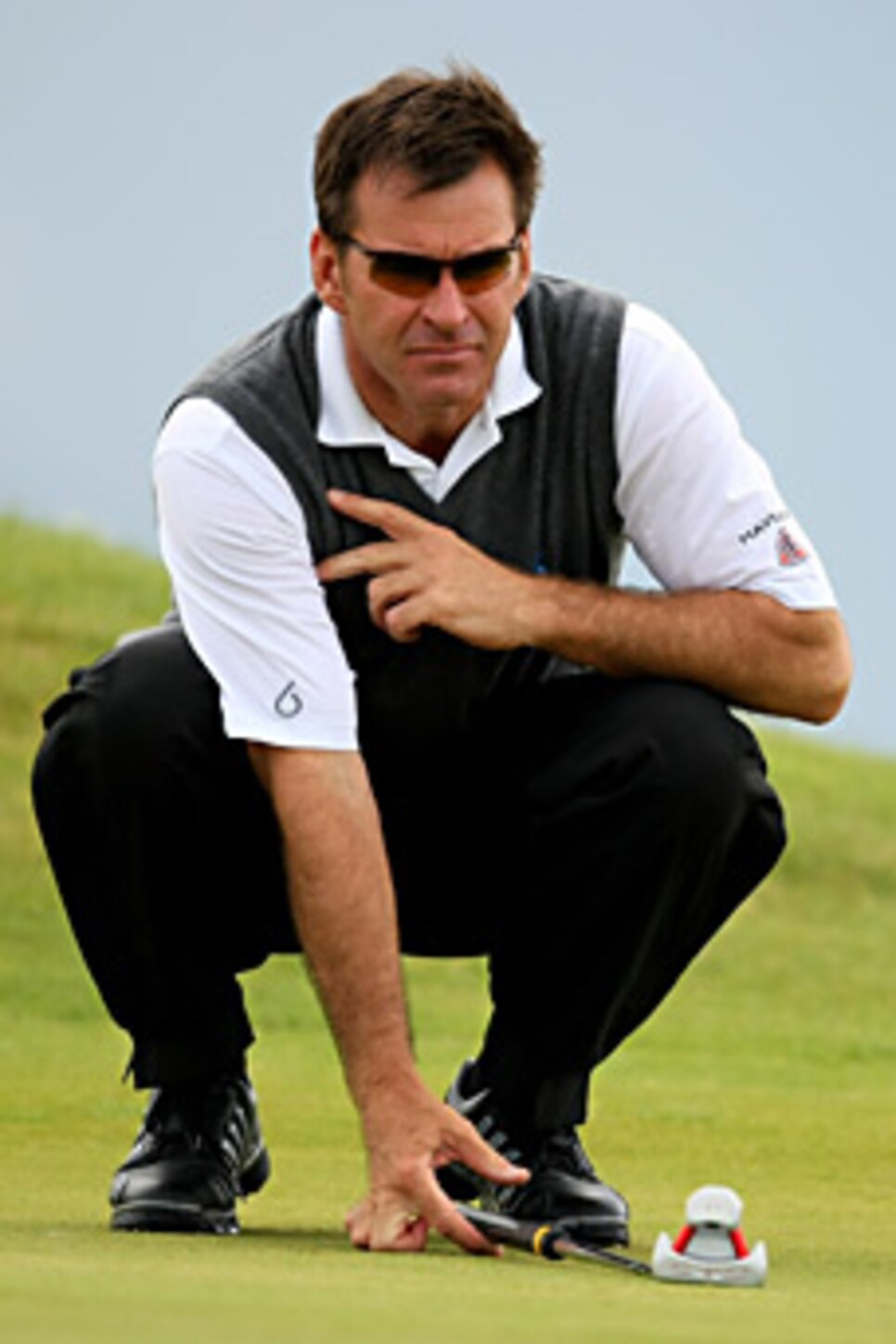 His putter led Faldo to 3-under 68. Photo: Richard Heathcote/Getty
GULLANE, Scotland (AP) - Nick Faldo shot a 3-under 68 Thursday to tie the clubhouse lead in his senior tour debut.
The six-time major champion made six birdies -- including a 3-foot putt at the last -- in the first round of the Senior British Open at Muirfield, where he won two of his three Opens, in 1987 and '92.
Joining Faldo at 3 under were 65-year-old Dave Stockton, a regular on the Champions Tour, Nick Job and Gordon J. Brand.
Faldo went out with Tom Watson (70) and Mark O'Meara (72), a trio with a combined 13 majors.
The 50-year-old Englishman made close-range putts for three birdies in a row from the third, but it was his birdie at the last that gave him the most satisfaction.
"I went for the shot. I thought, right, just squeeze one up close -- and I did," Faldo said. "That was very pleasing."
Faldo, who had his 18-year-old son Matthew carrying his clubs, was accurate from tee to green despite last week's British Open being the only tournament he had played in for several months. And he missed the cut at Carnoustie.
O'Meara is another newcomer to seniors golf this season. While Faldo's opening tee shot found the rough, O'Meara's ball landed in a fairway bunker. Both bogeyed the first hole while Watson made par.
But Faldo was quick to recover, his accuracy getting him close to the pins and enabling him to hole from 3 feet at the third, 5 feet at the fourth and 4 feet at the fifth.
Two more birdies at No. 7 and No. 9 meant he reached the turn in 4-under 32. Finding the fairways off the tee, Faldo parred the next four holes before bogeying the 14th after taking three to reach the green.
Faldo's accuracy deserted him at the 17th, hitting into the rough both right and left before leaving a 25-foot putt inches short to ultimately bogey.
"You bounce in and out of the emotions," Faldo said. "It was great. There were chances on this golf course the way it was playing, and I was very pleasantly surprised I was able to take advantage."
Jon Chaffee, an American who is yet to win a tournament on the Champions Tour, shot a 73 but that included an ace at the 191-yard 13th. Chaffee won a bottle of wine for each yard of the hole as a prize.