News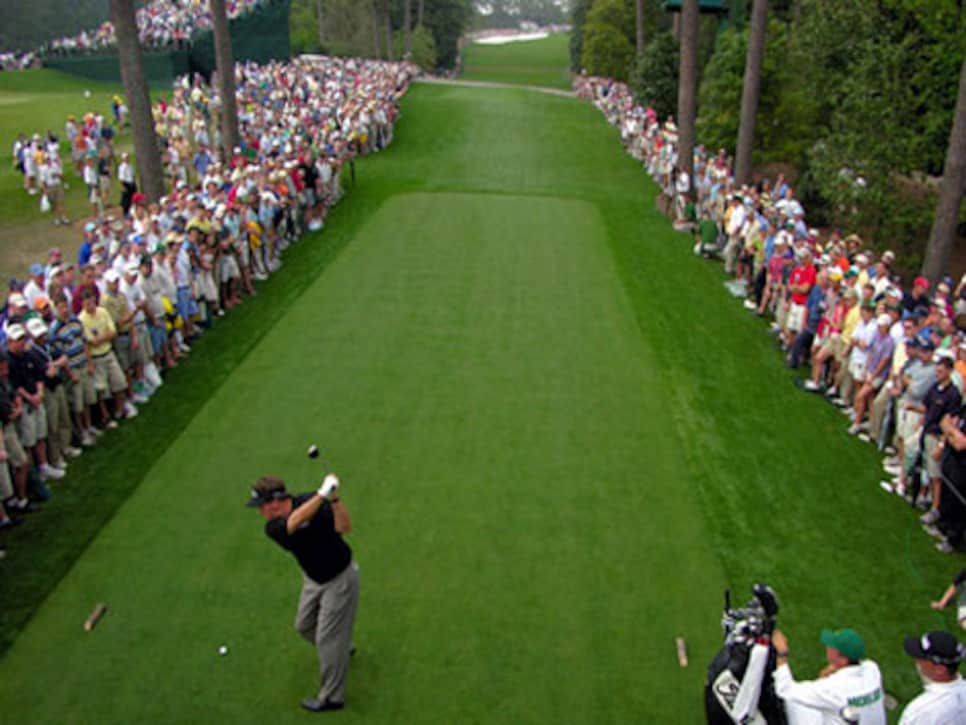 Mickelson's tee shot on No. 18: Mickelson's final-nine 31 was one of the most memorable in Masters history, but it was not the lowest final nine by a champion
In a purely historical context, the 2004 Masters probably doesn't rank with Jack Nicklaus' epic comeback in 1986 or Tiger Woods' 12-stroke rout in 1997 -- career milestones as defined by two of the greatest golfers ever. As a competitive docudrama, however, you must go deep into the mind's archive to find a tournament more compelling, a finish more exhilarating, a battle more brilliantly fought or an outcome with greater universal appeal.
Like the grand finale of a fireworks display on the Fourth of July, Phil Mickelson's first major title was a long time coming ... and worth the wait. With five birdies on the last seven holes, Mickelson wiped out a three-stroke deficit to Ernie Els, who played the final 12 holes in six under par but still lost.
Neither man made a bogey on Augusta National's treacherous back nine, exhibiting a toughness under intense pressure that had eluded both players in the past.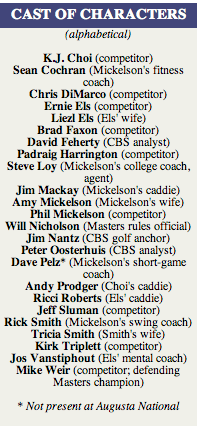 It was a memorable Masters from beginning to end. The death of Bruce Edwards -- Tom Watson's longtime caddie and a source of inspiration to many since being diagnosed with amyotrophic lateral sclerosis 16 months earlier -- cast an emotional pall over a gray, drizzly Thursday morning. The weather metaphor played to full effect again Friday afternoon when Arnold Palmer's 50th (and final) Masters appearance came to a climax in warm, golden twilight.
What follows is a comprehensive look at one of the most fascinating days in modern golf history: Sunday, April 11, 2004. More than two dozen principals (see accompanying list on right) were interviewed for this behind-the-scenes account of the final round, which focuses not only on the key shots, but the pre-round moods and post-tournament atmosphere that capped an unforgettable week.
__Amy Mickelson:__It's a huge day because it's Easter. We're big on holidays whether we're home or out of town, and I always overdo everything. We made a jellybean trail from the kids' rooms, which were upstairs in the house we rented, down the steps and onto the furniture, all the way out to their Easter baskets in the sunroom of this rental home. It was a lot of fun.
__Steve Loy:__For the last 13 years we've spent Masters Week in the same house, and every weekend we're in the hunt, it seems to replay itself like Groundhog Day. Everything feels good, everything looks right, and you're always wondering where the day will end up.
Amy Mickelson: Phil celebrated Easter with us and seemed very relaxed. He's good when it comes to leaving "work" at work--one of the best from what I hear from the other [tour wives]. He's good at starting fresh, but that morning definitely felt different. It was very calm.
Chris DiMarco: The hardest thing is the 2 o'clock tee time. I was up seven or eight hours before that with my baby [3-month-old Abigale] and a house full of people. They went to church and I stayed home, so I was alone to think instead of passing time with the kids or shooting the crap with my brothers. It's long. That's the hardest part.
Ernie Els: It's also right when the clocks change [to Daylight Saving time]. You're trying to keep your mind off things but still get pumped up for the day, and it's very difficult. I still have to find the trick to that.
Phil Mickelson: Instead of sleeping in and wasting the day, I get up early and do a light workout or a little stretching. I go to the course about four hours before I play and get a practice session in. In the past, I've struggled with [late] tee times because I didn't have a routine that worked best for me. I'd sleep in, stay home and show up 45 minutes before my time. I'd get so relaxed, then go to the course, and everything was rush, rush, rush. Now I practice, take a lunch break, then do a 30-minute warm-up before I play. It works for me.
Rick Smith: I remember pulling up to meet him that morning, and I remember thinking that everything we'd worked on to that point in the year had taken us to this day. It was a beautiful morning. The colors at Augusta National were as vivid as I've seen them, and there was a calmness to Phil I could literally sense. I could see it, feel it.
Jim Nantz: The oddity was that Phil was on campus so early. It became the format for him later [at the majors], but it was the first time I'd noticed it. At that point, all eyes were on every move he made. Everybody was focused on this albatross, wondering if he could rid himself of the label. You watch everything and scrutinize everything he did, whether it was right or wrong. Is this going to curse him, cross him or steer him to victory?
Loy: I went to the Waffle House that morning with some associates from Gaylord Sports Management. Nobody needs to say anything--we don't even talk about what could happen. They know I've been through this enough, that the emotions need to be numb. And that the time will come later in the day when all the fireworks begin.
Jim Mackay: I got to the course about a half-hour before I thought Phil would get there. Sure enough, he arrived at exactly 10 a.m., grabbed something to eat and was out there quickly. By 10:30 he was hitting balls. At Augusta National I get to do something I can't do at any other tournament--I stand out [on the range] where the ball lands during his practice session. I could tell he was very in tune with his golf swing and distance control. Every ball was either one-hopping into the shag bag or I'd catch it with my baseball mitt.
Rick Smith: It reminded me of the Hogan story I'd heard as a kid, how Hogan's caddie didn't have to move a step in either direction when he was shagging balls. I remember thinking Bones could get hit by every shot.
Mackay: The longest club he hit during that session was an 8-iron. He hit a lot of them, and as the day unfolded, it turned out to be quite ironic. He would hit an 8-iron into three of the last five holes.
__Rick Smith:__We were having lunch in that area by the locker room, and DiMarco shows up. Phil starts talking about space time-travel, and he's got this grin on his face. We order our junior-club sandwiches, and he gets two or three of them--you know how he can eat. I'm trying to nibble on something, and he's slamming down these junior clubs as if to say, "I can't wait for this day."
DiMarco: I probably got to the course around 1:15. For me, 30 minutes on the range and that's it.
Nantz: It's interesting to see how guys deal with all the extra time at major championships. You can only eat breakfast so many times. You can take only four or five laps around the block before you feel like it's time to come in.
Mackay: Phil also did the 100-putt thing. We knew a couple of thousand people would be standing around that green. I set up the circle for him to make his 100 putts. Some of these three-footers might break six inches, and you can hear people 50 feet away counting out loud. He's not going to stop until he does it.
__Rick Smith:__Second part of the practice session, the trajectory is still there, he's hitting full shots and not one of them is off-line. He hit some chips and pitches and walked through the far-left side of the clubhouse, looked at me and said, "It's time to get it done." There was a calmness, a real confident calmness.
If Mickelson's demeanor was a study in tranquility, Els' mindset was contrastingly turbulent. The previous afternoon, his drive at the par-4 11th sailed into the woods left of the fairway, necessitating a lengthy ruling--and creating controversy. Els was given a free drop from loose brush piled well out of play and escaped with a bogey, which only seemed to fuel the fire.
Ernie Els: We were in the bushes and people thought the ball moved [prior to his getting relief]. I was with [rules officials] John Paramour and Andy McFee--we were waiting for Will Nicholson and found out he was in the bathroom. That's why it took so long.
Will Nicholson: I'd been down there. I knew we'd had an ice storm [earlier in the year], knew there were broken limbs from off the 11th fairway. Some were freshly cut and still green because they were broken.
__Ernie Els:__I didn't sleep well that night. You can't help but watch ESPN and The Golf Channel, and they had on all this stuff. I called Nicholson that evening, but at midnight, you're not getting anyone. I was upset the next morning and went to the course early to speak with John Paramour and Nicholson. I said to them, "You have to tell me what's going on. Did you see the [TV reports]?" They said there was no penalty, but I didn't want this thing hanging over me.
__Liezl Els:__Nobody called him. There was all this stuff on television, but no one called to clarify. So you have to wonder if there was something that should have been called. That's what we were saying to one another.
__Ernie Els:__They told me they'd gone to review it in the television truck. Again, they said no penalty. I went into the locker room and was just sitting there. Nicholson came over and said, "Hey, don't worry about it. We've checked it and double-checked it. We were all there. No penalty." I felt better, but now I've got to go play golf.
Nicholson: I'll tell you exactly what I told him: "Ernie, I've been hearing the same things you have and don't think a thing about it." If anybody takes the heat, it's me, not him. I made the ruling, and if anybody wants to criticize, they should come criticize me.
Jos Vanstiphout: Tension is extra, the pressure from outside interference, and everything becomes bigger. But it's a golf tournament, not a matter of heaven and hell. The more you look at it that way, the better. It's almost like tricking yourself. Even if you don't believe it, pretend you do because the subconscious doesn't know the difference between fake and reality.
Ricci Roberts: We met before we went to the range, and he asked me if I'd had a walk [to look at the course]. I told him it was laid open for him to score. Some pins were in very easy positions--it was set up to go low as long as you hit the shots.
__Mackay:__I thought the hole positions were pretty tough on the front, but on the back they had three or four so-called birdie pins, and you knew birdies would be made. That was a great thing to know as we played the front nine.
Phil Mickelson: This was the first time I had the lead going into Sunday, which was a nice thing. I didn't have to play flawless golf to catch the leader. That was certainly a big help, whereas in the past, trying to make up ground, I've found it extremely tough.
Mickelson -6 (2 p.m.) | Langer -3 (1:50) DiMarco -6 (2 p.m.) | Els -3 (1:40) Casey -4 (1:50) | Choi -3 (1:40)
__Loy:__I watched them go and went inside [the clubhouse], knowing the crowd was unbelievably large. Besides, I was pretty wound up by then. The old coach kind of took over in me. I just wanted to be left alone.
David Feherty: Phil had that look about him--it was all different. I'm sitting up there like any other viewer--we're fans for most of that telecast--and I'm watching the fifth hole, where he left [his third shot] in the bunker. There was no slumping of the shoulders, no redness in the face. It was like Amy had sprinkled the pixie dust on him.
Dave Pelz: We'd spent a lot of time working on short bunker shots, and Phil had gotten much better. The first thing I asked him later was, "What happened on No. 5?" He said it completely fooled him. We'd been working in bunkers without a lot of sand, and there was a lot of sand in that one. There was nothing wrong with his swing.
Nantz: The fifth hole was where the viewer almost became resigned to the idea that he wasn't going to win again. He left the first one in the bunker [en route to bogey] and looked like he'd make a mess of it, like he would fall on his sword so early that it wouldn't be a long blood-letting. A quick, pain-free death, over by the turn.
Ernie Els: After the first couple of holes, again, I was a bit tense, trying too hard. I bogeyed the third and fifth and was one over for the round, then I birdied No. 7. A putt down the hill from 15 or 16 feet--I hadn't made much all week, but this one went in. And the drive I hit on No. 8 was probably the longest I've ever hit at Augusta. I had a 5-iron to the green. I was really feeling it.
Roberts: He hit two of most unbelievable shots you've ever seen on eight. That's when I started looking at leader boards.
Ernie Els: Of the 280 strokes I had that week, the biggest was the putt on the eighth. It's only five or six feet, but if you don't start it on line, you miss it. When I made it, I was like, "Whew!"
*3:30 p.m. Els -5 (8) | Garcia -3 (17) Mickelson -4 (7) | DiMarco -2 (7) Langer -3 (7) | Singh -2 (13) Casey -3 (6) *
Rick Smith: We were wondering if someone would make a move, and it was obviously Ernie. I like that for Phil. He likes taking on somebody he knows is going to be there, especially Ernie. If somebody else had gotten in front, I'm not sure what would have happened. That it was Ernie was extra motivation.
Loy: Phil was on the eighth hole when I finally figured the game was on, so I got out there to see how he was doing. Being with Phil for 20 years, I can tell a lot by the way he's walking, his look, his emotions. Even from outside the ropes, I could see a lot of calm.
DiMarco: Walking to the eighth tee, both of us were struggling. Phil says, "You know what? If you win, great. If I win, great. The last 14 champions in this tournament have come from the final group--let's make sure that happens again. Let's buckle down." That motivated me.
Phil Mickelson: I had [no club between] a 3-iron and 3-wood. That's a 45- to 50-yard gap, but none of the par 3s or par 5s were more than a 4-iron. Sunday, the wind was helping on eight. If I hit a driver, I'd be too close to hit a 3-wood [approach] and too far to cut a 3-iron, and I'd be between clubs. So I called Bones back for the 3-wood, which would leave me a nice 3-wood in.
Mackay: I was 280 yards away when he finally got my attention. Not being a world-class athlete, I huffed and puffed back there and took him the 3-wood. And he hit it exactly where he wanted, which gave him the chance to go for the green in two.
Ernie Els: I was very loose, very free, very intense. And very aggressive. I had 64 on my mind. I thought of Gary Player's win in 1978--I'll never forget sitting with my father and watching Gary make the putt on 18 to shoot 64 [Els was 8 years old]. I definitely thought of that coming off eight. I thought this was my day.
Pelz: It occurred to me that Ernie was playing the round of a lifetime. He's long and right of the green at the ninth, then hits a bump-and-run shot that bounces into the bank and dies, then rolls about 30 feet, turning left at precisely the right moment [for a tap-in par]. You give Ernie that shot 100 times and he won't get any of them inside three feet. It was one of the most fabulous shots I've ever seen.
Els' birdie-eagle-par finish on the front gave him sole possession of the lead at five under. Mickelson shot 38 but remained just one stroke behind, tied at four under with Bernhard Langer. Paul Casey and K.J. Choi, first-time Sunday contenders in a major, and DiMarco had fallen off the pace.
__Rick Smith:__I'm sure Phil got a little mad at himself walking to the 10th. Glancing at the scoreboard, I'm looking to see whether they set the course up goofy so you can't shoot a low score. I notice Sergio [Garcia] is lighting it up on the back side, which is great because I know there are a lot of birdies out there. I turned to Coach Loy and said, "This is going to be a magical back nine."
Mike Weir: I worked on my game [after missing the cut Friday] for a while because the leaders weren't teeing off until late, then had lunch inside as the round got going. When things got closer between Phil and Ernie, I made my way down to Butler Cabin to get ready for the [jacket] ceremony. No way I wasn't watching it.
Mackay: He drove it against a pine cone [on No. 10], and it was obvious he couldn't move it. Being an analytical guy, he seemed to have a good idea how the ball would react. Sure enough, it ended up cutting a little bit and stopping just short of the green. I thought the downhill eight-footer he made there [for par] was as big a putt as he made all day.
DiMarco: It was bigger than people realize, certainly a very overlooked putt. He's got two feet of break from above the hole, and if he doesn't make it, he's three over after 10, five strokes behind Ernie for the day.
The next two hours would produce some of the greatest shotmaking in Masters history. Among the final five pairings alone, there were aces in consecutive groups at the par-3 16th (by Padraig Harrington and Kirk Triplett) and a second-shot hole-out at the par-4 11th by Choi, whose eagle-par-birdie-birdie flurry would vault him back into the tournament.
Ernie Els: We'd just heard one hell of a roar walking to our balls on 11, then K.J. knocks his second shot in the hole. I mean, it never left the flag.
Andy Prodger: We had 217 yards; he thought it was a 4-iron. I told him no, your 5-iron pitches this distance and runs the rest, so he took a 5-iron and hit it right on the pin. Els was standing 15 yards ahead of us. While the ball was in the air, I heard him say, "That's going in." It was the loudest roar I've ever heard. We'd driven it in the trees to the right all week--I'd have been happy with a par on the hole, let alone a 2.
Ernie Els: To be honest with you. I felt like every hole was a birdie hole. At 12 my tee shot faded a little more than I wanted, but it was the perfect club, an 8-iron. From there [10 feet] I threw it away, missed the putt. And the 13th, you know what's happened to me there in the past. All these things come back to you, believe me. You're standing there thinking about it. You've got to shake it off.
In vigorous pursuit of Tiger Woods at the 2002 Masters, Els hooked his drive into the trees at the 13th, then chunked a high-risk recovery shot into Rae's Creek and dunked a second ball en route to a triple-bogey 8. This time, Els ripped his 206-yard approach to within eight feet of the flag--a superb opportunity for his second eagle in six holes and a three-stroke lead.
Ernie Els: Hit a perfect tee shot around the corner, then a 5-iron to my spot. Perfect. Again, all these things come back to you. K.J. is on top of the slope [50 feet away] in three, and if his ball misses the hole, he's in the creek. He makes it, and I'm thinking, "S---, this guy knocked it in on 11, now this. What the hell is going on?" It's a crazy place, anything can happen. And I hit the most perfect putt down the hill--it was very fast.
Roberts: When we walked off that green, he had to be feeling like it was finally going to be his.
Mackay: The shot on the 12th was the one he'd hit all morning on the range, a three-quarter 8-iron. It's a shot he'd worked on all year--he got over the ball and hit very quickly because he knew exactly what he wanted to do. Walking off the tee, we heard Ernie make his eagle putt on 13, and it was, "OK, we've really got to get going here." Phil was aware. You can see it on the broadcast--he's walking off the tee saying, "I have got to make this putt."
Phil Mickelson: I thought [the roar] was Ernie making an eagle, but it was K.J. making the 50-footer. Then I heard Ernie's roar walking over the bridge. I'm thinking that if I make my birdie putt on the 12th, Ernie and I are even teeing off at 13. It's just that he'd made eagle there, so if I go birdie-birdie, I'm one back with five to go. That doesn't seem nearly as insurmountable as a three-shot deficit.
Ernie Els: I know I'm leading, thinking maybe it's two.
__Phil Mickelson:__The weird thing about the 12th green is that the gallery is 180 yards away, so the crowd reaction is delayed. It's awkward when you make a putt there--several seconds pass before you hear anything. That's exactly how it was.
Amy Mickelson: The exciting part about the 12th was, you heard Ernie's eagle roar and Phil responded. He's always getting criticized for being too aggressive down the stretch, but I think it has won him more tournaments than it has lost him.
Sean Cochran: You'd hear a cheer up ahead and Phil'd answer every time. He knew he had to keep that going all the way to the 18th.
__Ernie Els:__I get to the 15th and start hearing stuff behind me. I'm hearing different roars, and I know Phil is a crowd favorite.
Feherty: With Ernie Els being one of the game's more popular players, the gentle giant, to hear basically the entire crowd screaming for Phil speaks volumes as to how badly they wanted him to win.
Vanstiphout: I'm 80 percent convinced Ernie is going to win. I know the way he's walking, the way he's keeping it together, but then Phil started playing like God. And you could hear the shouting. Phil is America's prodigal son.
Birdies at the 12th and 13th meant Mickelson's charge was going as planned. Els negotiated an exceptionally tough pitch from just behind the green at the par-5 15th, a birdie that moved him to eight under. Barely a minute later, Mickelson capitalized on the vulnerable pin at No. 14, stuffing his approach inside a foot. The gap was back to one.
Amy Mickelson: We were up by the green and saw the ball rolling, and I honestly thought it [the second shot] was going in.
Tricia Smith: At the 14th, [Amy's] tears came out a little bit. I was trying to keep her together.
Amy Mickelson: At that point, Phil's mom [Mary] is on her own--she can't even deal being with us. I mean, that's her baby. However big he gets, that's the little boy she drove to the practice range at 5 a.m. and took to every junior golf tournament. That's the boy who spent his childhood in her backyard, pretending to win the Masters.
Prodger: What Ernie did to keep that round going was get up and down. The ninth, 14th, 15th, then two-putting from the top [slope of the green] at the 16th--it's not the eagles and birdies that count around here. It's what you save.
Feherty: When Ernie hit it just off the back at 15 and got it up and in [for birdie], I distinctly remember making the comment that he had one arm in the green jacket and, as one of the great front-runners of all time, had this tournament by the scruff of the neck. You can't beat Ernie Els once he gets in front, yet there was a sense in the gallery that maybe they'd see a miracle.
Questions regarding divine intervention might have been answered at the par-3 16th, which was playing to 177 yards. In consecutive groups immediately prior to Els, Harrington and Triplett jarred their tee shots. The 16th had gone eight years without a hole-in-one and now there had been two in 10 minutes.
Padraig Harrington: I hadn't played well and was listening to all the roars around the golf course, hearing everything around us. So you ask, "Why isn't this happening to me?" It's a great place to hole out when the atmosphere is at its peak. It made my Masters.
Kirk Triplett: Harrington makes his, and the crowd is going nuts. I looked at my caddie and said, "Man, when are we going to get something like that?" We watched K.J. make the eagle on 11 and saw Ernie make his two eagles, then Harrington makes his. I butchered the [15th], made a 6 there, so I'm pretty dejected going to 16. It was almost a sense of relief, hitting a good shot, then it climbs the [slope on the back-right portion of the green], and the crowd starts making the same noise as when Harrington's ball went in the hole. I had a sensory overload and [fell] on my back.
Roberts: Walking to the 16th tee, [Els] said he thought it might be an 8-iron. I was thinking the same but said, "Let's go ahead and hit a little 7." You've got the backstop in the green. He tried to hit a little cut, but it was the wrong club, simple as that.
Ernie Els: Wrong club, no question about it. And I was all over him.
Roberts: He was not a happy camper when we left the tee box. I got the full verbal. Nobody could hear it because the roar was so loud, but he let me have it good.
Ernie Els: He was just doing his job. A yard less and it comes off the slope and we're looking at another birdie chance. Honestly, it was a bit of a shock, making a mistake like that. We got out with a two-putt [par], but I was pissed off about the tee shot. There were two 1s right before we got there.
Liezl Els: I'm more excited than nervous at this stage. I'm trying to stay mentally with Ernie and not worry about the leader board--you focus on his round and see where it puts you at the end. We have two friends from Texas who walk with us. Some people get nervous around you or try to say the right thing, but it comes out wrong. These guys are always positive. They keep things real.
Roberts: He drove it a mile on 17. We're walking up the fairway and I look over at 15. There's Phil, punching out from the left trees. I said to myself, "Since when did he start chipping out?" You expect him to take out a 3-iron and try to carve something in there.
Mackay: He made the decision to lay up because the pin was very accessible for a third shot. He also knew he was taking 6 out of the equation, and we'd still have a putt for a 4.
Phil Mickelson: We've seen a lot of different pins at 15 over the years. When it's back-right, I'd rather leave my second short of the water instead of hitting it over the green and dealing with that chip. Ernie hit an amazing shot to get up and down. If you fly that shot onto the green, it can roll down to the water. If you land it short, it catches the grain and stops. How he got it close, I'll never know. I drove it in the trees, so [reaching the green in two] wasn't an option.
__Pelz:__I know Phil's personality. He's thinking about blowing it under the trees and getting it somewhere up near the green, and I'm thinking, "Don't do it." One of the things we talked about is to ask yourself, "Can I win it here or can I lose it here?" You weigh the odds. Not making birdie there was a huge disappointment, but he made the right decision. He didn't lose the tournament there.
A group earlier, Langer's third shot at the 15th found the water, leading to a double-bogey 7 and knocking him out of contention. Shortly before Els saved par from seven feet at the 16th, Choi rolled in a 10-footer for birdie. The 68th Masters was a three-man race to the finish.
Els -8 (17) | Choi -6 (17) Mickelson -7 (15) | Els -3 (1:40)
Harrington: I knew it was very exciting behind me. I remember doing [post-round] interviews and saying, "Let's keep this short, guys. I want to go in and watch them play the last couple of holes."
Feherty: The minute the last group went through the 15th, we put the canvas down [over the tower] and watched it on the monitor. I'm a jaded golf fan--it's like a plumber going home and fixing his sink--but I couldn't leave.
DiMarco: I looked back and took it all in. The thing I remember the most was the look in Phil's eyes--it was different than any other time. And I remember how loud it was. We got to the [spectator] crosswalks on 14, 15 and 17, and even 40 yards after passing through, you basically couldn't hear a thing. It was louder than any concert I've been to.
Mackay: Our experience at the 16th is to ignore any breeze you might feel coming at you. After years of caddieing here, you get to some of these holes and really can't explain why the ball does what it does. We felt the breeze hurting slightly but weren't going to make the mistake of hitting it long. It was 7-iron yardage. He hit 8-iron.
Feherty: He hit it and I'm thinking, [bleeping] hell, did he start that left? That was a draw! There was a lot of talk about the new, conservative Phil making better choices. I didn't think it was true. He was just hitting better shots.
Phil Mickelson: It's a hole that sets up better for a right-handed player. Nicklaus used to talk about taking the water out of play--a right-hander hooks it and it goes long but carries the water. And if he comes out of it, he hits a fade that catches the hill. For me, it's the opposite. The fade is short-left and in the water. If I pull it, it carries up the slope and stays there. I'd made a double bogey there on Thursday, so the shot Sunday was probably the most critical shot, certainly the hardest, because I'd been hitting fades all day. I ended up drawing it. I started it over the water and brought it back, caught the slope and got myself an uphill putt [from 15 feet].
Rick Smith: It's a shot we've worked on for years, and if you don't have control of your ball, you're in trouble. He decides to draw it knowing this is where it cost him [in 2002]. The energy I felt going up my spine after watching that swing is something I'll never forget. I knew he was going to make that putt. He had that look.
Amy Mickelson: The moment [the putt went in] was so loud, so surreal. It was the loudest roar I think I've ever heard at Augusta. Very, very emotional.
Tricia Smith: I remember Amy's tears were uncontrollable.
The birdie pulled Mickelson even with Els, whose par-par finish capped a round of 67--eight under for the week. A solid par at the 17th meant Mickelson could claim his first major title with a birdie at Augusta National's fearsome 18th, a 465-yard par 4 that requires players thread their tee shots through a narrow chute of trees.
K.J. Choi: I told Ernie when we signed our scorecards, "You're going to win." I didn't think anyone could catch him. He was very humble.
Ernie Els: I was feeling pretty good about it. Let's be honest here--Phil has finished second in so many majors and made mistakes at crucial points, which is why he finished second so often. So I was feeling good. Nothing against Phil as a person, but his history in majors, plus the toughness of the 18th at Augusta, I was feeling all right.
__Roberts:__The guy made birdie on 16, so yeah, I'm a little nervous. I know 17 is a tough pin to make birdie, but 18 ... Still, I'm thinking our worst scenario is a playoff.
Mackay: You can't say enough about Phil's tee shot. I don't think it moved an inch either way. He asked me on the tee, "Can I get this 3-wood to the front bunker?" It was like 305 yards up the hill, so I said, "Absolutely not." He hit it so flush that if he hadn't taken a line to the right, it might have come close.
Nantz: We didn't have any commercials so we followed Phil up the 18th, walking to his tee shot. As he trudged up the hill, I made the remark to [CBS analyst] Lanny [Wadkins] that he seemed to have such a peacefulness about him, a countenance you don't normally see in a moment like that. I forget what the actual stats were, but that Sunday there were five times more bogeys than birdies at the 18th. [For the week, there were 20 birdies and 98 scores of bogey or higher].
Mackay: He took his second shot right at the flag, a very straight 8-iron. We're waiting for the crowd reaction, and sure enough, we hear it. We know he's got a putt to win the Masters.
Rick Smith: I'm behind the green and all I see is Phil's head coming up the hill. Amy and Tricia are there. Coach Loy is there, and he's a mess.
Ernie Els: I'd signed my scorecard and did a quick interview with the Masters people, then I went to the putting green to wait. I had to eat something--I was a little tense--and couldn't see much. I could see Phil hitting [his second shot], then I heard huge applause, so I knew he was on the bottom part of the green and pretty close. I could sense that.
DiMarco: I was thinking, "OK, let's get out of the way, this is big for him," but I was also thinking Ryder Cup points, then I left my next one [his third shot] plugged in the bunker. Now, I'm saying to myself, "My God, What are you doing?" When I hit my [fourth] shot I could barely see the top of the pin. I climbed out and saw my ball was right behind his.
Prodger: I've got to admit, as soon as I saw where DiMarco's ball stopped on the green, I thought this has to be Mickelson's destiny.
DiMarco: Phil came over and said, "Show me the way, Bud." That was the first time I was nervous all day. I said to myself, "Hit a good putt here, show him the line." And I did. It was my best putt all day--it broke at the end, caught a lot of lip and spun out. That was the way the day went for me.
Ernie Els: It's the weirdest thing, that his ball stopped right behind Phil's. Unbelievable.
Vanstiphout: That's up to the big boss. That's golf, man. But Mickelson still had to hole his putt.
Phil Mickelson: My routine that week was to look at putts from all angles. Behind the hole, from both sides, trying to get the speed and all the intricacies of the read. I had just seen DiMarco's, however, so rather than go through all that, I stepped up and hit it. Normally I take two practice strokes. I took one this time. One stroke and hit it.
DiMarco: Standing on the edge of the green, I knew he was going to make it. There are 10 times a year when you have that feeling. Sure enough, it looked like it wanted to miss, but after all the times he'd come close, all the times he'd had his heart broken, this was his time.
Phil Mickelson: It broke [left] a little more than I thought. I could see it missing low and thought it was turning too much. I'm thinking, hang in there, hang in there. Since the green levels out right at the hole, there's no threat of running it four feet past.
Weir: At Augusta, your putts have to go in the center of the hole if you expect to make them. You don't see many putts catch the lip and go in, especially on the low side. This one lipped back and went in, and that never happens. Low side, breaking away--you're meant to win when those things happen.
Rick Smith: When it went in, I didn't know what to feel. The blood hit the top of my head at a thousand miles an hour. It was an out-of-body experience.
Mackay: When we hugged, I was yelling way too loud in his ear, "You did it! You did it!" I also remember thinking that I hoped all the excitement didn't send my wife into labor. [Jennifer Mackay would give birth to their first child, Oliver James, four days later].
Feherty: I was still in the 15th tower behind the tarps, and that tower nearly came down. It's probably still quivering.
Vanstiphout: Ernie was sitting near the practice green, eating an apple. At that particular moment, there was nothing to say. Anything would have sounded absolutely ridiculous.
Ernie Els: Bill Macatee [of CBS] comes up and says, "Can I talk to you?" I'm like, "Yeah, sure." He tells me to wait there, and I'm like, "You want me to wait?" He says he's just waiting for a camera. I stood there for two or three minutes, which is a long time when you've just lost the Masters. Then he tells me, "The camera is down there with Phil." I told him, "Forget it. See you later, man."
__Nantz:__It's a bit of a circus act for me to get from the 18th tower to Butler Cabin [for the televised green jacket ceremony]. I really thought I'd be walking into a very tearful scene. What was great was that Phil was so high, his attitude very powerful. This wasn't going to be a ceremony of deep reflection and tears. This was a total celebration.
Weir: I remember his whole family just bawling their eyes out. I'm sure it was very much the same the year before with my dad and brother, but when you're sitting back and watching it unfold, when you're slightly removed from it, it becomes very emotional. Very cool.
Amy Mickelson: All of us are obviously sobbing, totally out of control, but Phil never cried. Phil didn't cry one tear over that victory. The rest of us cried for months and months, but Phil was very calm. He had it together. Pure happiness, pure excitement, pure satisfaction.
Roberts: We go into the locker room. [Els] looks at me and says, "You OK?" I told him I felt gutted. I know how much it means to him. He says, "You did a great [bleeping] job." We went back to his house and had a couple glasses of wine. The other guy shot 31 on the back nine. What the [bleep] are you going to do?
Rick Smith: In the Butler Cabin, President Bush called. We go to the awards presentation, then dinner. Phil and I were toasting every 10 seconds. Even [Masters chairman] Hootie Johnson was toasting.
Phil Mickelson: I didn't know you had dinner at the club after you won. And the Masters people were terrific--they let our entire party in: My mom and dad, Amy's mom and dad, our brothers and sisters, Rick and Tricia, Steve Loy ...
Mackay: One of my favorite memories happened when we were cleaning out Phil's locker. Virtually everyone had gone home and Phil is handing me his stuff, and there are two or three men waiting for him. I've never seen these guys before, but they gave Phil the biggest bear hugs all day. Well, Phil is a big tipper, and it turns out they're locker-room attendants. They know Phil's heading upstairs to the champions locker room, and they're so happy for him, but they also know he won't be using their locker room anymore.
Ernie Els: We get home and my kids [4-year-old Samantha, 18-month-old Ben] are there. They're like, "Hey Dad, how was your day?" And I was like "Oh, Samantha! Your dad was this close to winning." She says to me, "Oh, Dad, don't worry about it. Second isn't too bad."
Loy: What looked like a very formal dinner turned out to be a wonderful celebration. It was mainly family, some members of the club--we were with a different group of people who enjoyed the moment as much as we did. And the wine was very good.
Phil Mickelson: I don't drink wine but maybe two or three times a year. That was one of them.
Mackay: My friend, Bertis Downs [manager of the rock band R.E.M.], is an amazing guy who, other than Augusta National itself, has the most amazing wine cellar in the free world. He brought a tremendous collection of his finest reds to the dinner afterwards, which the club was nice enough to let him bring in.
Amy Mickelson: We've been told by numerous members that we're the most fun group ever to hit that party, which is weird because I don't think of us as loud and crazy at all. They had asked us, "Would you like to go back to your house and get cleaned up [before dinner]?" You know how you look after you've walked a Sunday major--mud, grass, dirt. We said, "Can you make an exception? I know we look like trash, but can we please just go to this dinner? We don't want to miss anything." And they made an exception for us. We didn't have to get dressed.
Phil Mickelson: I don't remember what I ate. Maybe sea bass--it was either steak or fish. We'd all raise our glasses. Rick would be at one table and Steve would be at another table, and we'd raise our glasses and yell and drink. Finally, Hootie took part in it.
Amy Mickelson: We had two long, rectangular tables with all our friends. We're sitting next to Hootie and his wife, and out of nowhere, somebody from our group would yell, "yee-hah!" and raise their glass, and we'd all start screaming. Hootie's trying to talk to Phil about course changes, this and that, but at one point he raises his glass and says, "Well, I can Yee-hah with y'all, too! Yee-hah!" And we're like, "Did he just do that?" It was absolutely darling.
__Ernie Els:__Brad Faxon and Jeff Sluman were staying in the house next door. They came over and they're into their wines, so they brought a bottle over. Everyone was cool. All my friends showed up. We had quite a few beers, actually, then headed to the airport and flew back to Orlando.
__Jeff Sluman:__I said to Fax, "We've got to go tell Ernie he didn't lose it, Phil won it." So we brought over a nice bottle of wine. I think he was genuinely happy we came over. We sat there for a half-hour, and he said, "You know, it probably won't sink in until tomorrow, but I'm going to have a few beers tonight."
Brad Faxon: You don't see Ernie like that too often. He's usually pretty good at putting things behind him. A guy like Ernie can get back up. For the Ed Sneeds of the world, it ended their careers.
Mackay: I went to TBonz [a local steakhouse, as part of a prior commitment], and one thing I'll never forget was that Ricci Roberts was there. He came over and was incredibly classy and complimentary, very nice. I can't tell you how cool it was for him to come over and say, "Hey, nice going."
Phil Mickelson: Amy and I drove very slowly down Magnolia Lane [after dinner]. It's hard to express the feeling, not just because of the accomplishment, or because I'd won a major, but to become part of the history of the greatest golf tournament in the world. Knowing that I get to come back every year, getting a champions locker--all the little subtleties that come with winning.
Rick Smith: We all went back to the house afterwards and watched the tournament highlights. We're all trying on the green jacket--I remember thinking this was the beginning of a lot of great things.
Phil Mickelson: I got into my sweats, put on the green jacket and played a lot of ping-pong. We stayed up until 2:30 or 3 a.m.
Ernie Els: I honestly think he was destined. I don't know the history of the Masters very well, but for a guy to make five birdies in the last seven holes to win, that doesn't happen every year.
__Feherty:__There was this incredible sense of denial right up to the final putt--90 percent of the gallery thought this was too good to be true. I wasn't there when Nicklaus pulled off the miracle in '86, but this was the most extraordinary atmosphere I've ever been a part of, even with all Tiger has done. You knew Tiger wasn't going to mess up. There was a tremendous sense of expectancy with Phil, and often [tremendous deflation] when it all went down the tubes.
Mackay: It had extra-special significance, even additional incentive, because of Bruce Edwards' passing. He was the most amazing guy and an amazing caddie. It was an emotional week based on a lot of things, and that was one of them. I thought about him all the time.
Roberts: People come up and tell me it was the best TV show they've ever seen. People over the world--South Africa, Australia, throughout Europe, obviously here in the United States. Not the best golf tournament they've ever seen, mind you. The best TV show they've ever seen.
Amy Mickelson: We wake up the next morning and we've got to return our tournament car. Phil's following me in his Ford and as we drive up Magnolia Lane, it's a little too much for me to handle. I start sobbing. I pull up in front of these kids who are hanging around the transportation area waiting for the cars--I mean, I was a mess. They're like, "Lady, are you OK? Is there anything we can do for you?" I handed them the keys and told them I was fine.