The Loop
That Kid At The Driving Range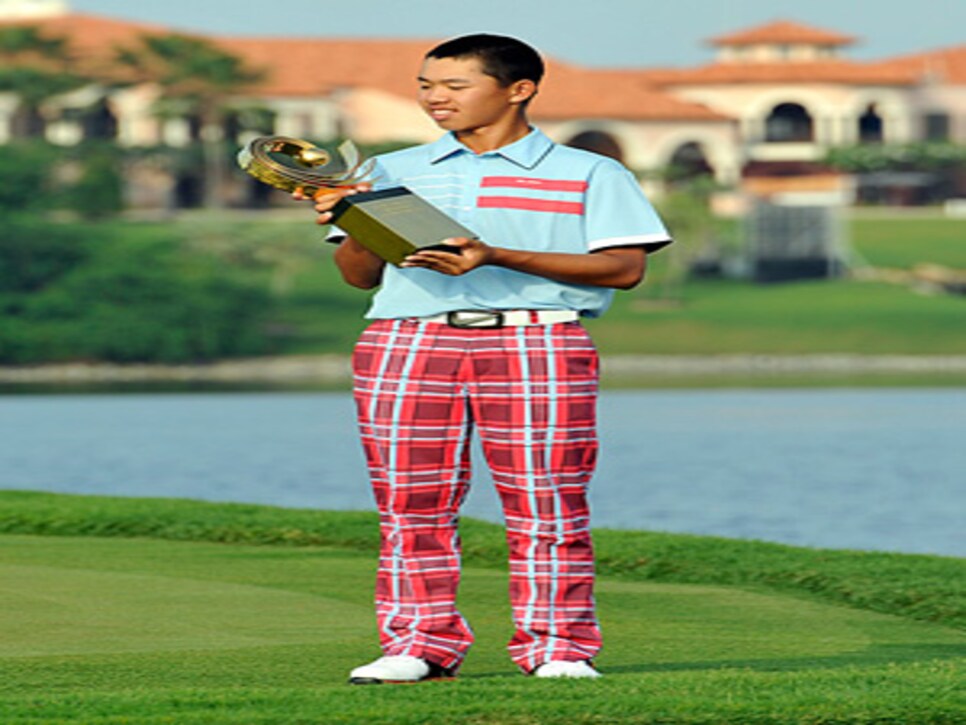 Tianglang after winning the Asia-Pacific Amateur
When the remarkable news spread that 14-year-old Guan Tianlang (Langly) won the Asia-Pacific Amateur Golf Championship to qualify to play in the 2013 Masters, many marveled at the historic significance of a Chinese boy still too young to drive competing on Augusta National's pine tree-lined fairways. I thought of the warm, engaging boy with the majestic swing who routinely occupied the driving range stall next to my own.
I met Langly this past summer at Angeles National Golf club in Los Angles (just northwest of Pasadena), where the young man would practice daily accompanied by his dad, Guan Han Wen, a medical doctor in China. Indeed, Angeles National stands as not only one of the best publicly accessible courses in the Los Angeles area, but one with arguably the best all-grass driving ranges this side of the Palm Springs/Coachella Valley's myriad of world-class golf facilities.
It certainly wasn't unusual, then, for me to find several talented junior golfers hitting balls on the range on any one of the hot and dry L.A. summer days I'd trudge away from my writing desk to do the same. Nor was the fact that many of them were Asian American kids, with great swings, wearing immaculate golf apparel, and using the latest and best golf clubs from Nike, TaylorMade, Callaway, PING (or other gear from the top name brand manufacturers), and dutiful moms and/or dads either waiting patiently for them to finish hitting balls or actively teaching them (usually with surprisingly well-schooled and sophisticated technical knowledge) how to do so.
Langly and his dad were just one of those kid/parent duos that I found myself practicing next to one day. That they were conversing in Chinese signaled to me both that not only weren't they Angelinos (the name we in the City of Angels go by), but also that they may appreciate a friendly gesture by a resident range rat regular like me. So I waited until the young man hit another ball and said hello.
Now I've been around teenagers (and I mean American teenagers) long enough to know not to expect more than one or two syllable answers to any question I might ask them, or hope to garner maybe two or three consecutive seconds at a time oftheir undivided attention. But this kid was different.
He immediately stopped hitting balls extended his hand to meet mine, then told me his name and that he was from China. He was spending the summer in the L.A. area, he said, to practice his golf and to play in junior and amateur tournaments.
I struggle to remember names like John and Jessica after hearing a new person introduce themselves to me, so I knew that with Guan Tianlang I would have no chance. So I asked him if there was a nickname or name the other kids over here called him, and he said, "Langly." Next I introduced myself to his dad, Han Wen Guan, whose English, actually, isn't as good as his son's, but whose friendliness and warm nature struck me as things his son obviously inherited. I think I was more interested in getting back to my bucket of balls than I was concerned about interrupting Langly's practice, so I just smiled, said "Nice to meet you both," and went back to trying to make a better shoulder turn with my driver swing. As I packed my clubs up for the day and heading toward the parking lot, I waved goodbye to my new friends, and was surprised to hear young Langly politely shout from a distance, "Have a nice day." I was impressed.
But the truth is I really didn't pay that much attention to the kid's golf swing at first. That would soon change, because each day that I came to practice (and I tried to get a bucket or two in each day, not only for my own improvement, but also because in addition to writing about it I do some teaching of the golf swing, so I always feel the need to explore and investigate some of the swing's latest theories and methods), Langly and his dad would greet me with warm smiles, which like magnets drew me into a hitting bay closer and closer to theirs.
There was a moment, I recall, when I realized that Langly didn't miss a shot, and that the balls shot off of the face of each club he was swinging like a rocket, and that his slow, long, deliberate and incredibly rhythmic swing had a machine-like repetitive quality to it. I hadn't seen the likes of such a precise motion since attending a new club launch at Callaway Golf or TaylorMade in Carlsbad, CA (about 100 miles down the coast), where company employees would attach a newly-designed driver to an Iron Byron hitting machine to demonstrate a performance aspect of its technology. Viewing footage of Ben Hogan's swing revealed the same kind of repetitive magic.
Still, I had very little idea of the amazing accomplishments young Langly had amassed at his ripe old age then of 13. His father would fill me in on them soon enough, but for the time being, having a young and supple and friendly Iron Byron-like-hitting-machine-boy next to me was just what I needed to test out this driver of mine, which just didn't want to cooperate by producing shots as good as the swings I thought I was making with it.
So I asked Langly if he would hit a few with the club.
He not only agreed to do so but also seemed grateful for the invitation, not only because he seems like someone who responds to honest gestures of friendship, but because he noticed right away that my driver had the same orange-stripped Graphite Design model shaft as the one used by Tiger Woods. I actually thought the clubhead of the driver may have suffered a crack, as so softly and with such little zip and compression were my drives flying, though Langly dispelled the suspicion with one swing. And then another. And another. Each drive he hit carved the same stream out of the sky, flying a good 260 or more yards in the air and drawing with as much precise control as Hogan's drives once faded.
"It's a good club," he said, saving me a trip to the UPS store to send it back to the manufacturer for checking.
That's when Langly's dad kind of took me aside and began listing the kid's remarkable achievements in the game: top-ranked junior player in China, youngest player to compete in a European Tour event, this year's China Open, youngest winner of the China Amateur Championship, etc. He didn't even bother to tell me that just a year or so earlier Langly won the Junior World Golf Championship in San Diego in his 11 and 12-year old age bracket by a record eleven shots. And this was months before the kid's greatest victory to date, Sunday's astonishing Masters-bound victory at the Asia-Pacific Amateur Championship.
But what I liked more than the remarkable range of motion in his swing (the likes of which I've only seen in recent years in another teenager's swing -- Lexi Thompson's) was his simple friendliness, his obvious intelligence and respectful nature. I'll add to this his willingness to smile and laugh at the innocuous quips or little off the cuff jokes about the game that I offered during our range sessions, even if he didn't thoroughly understand them.
His father told me that he was a doctor back in China, and when I asked him whether he would be continuing to practice medicine when he returned home later in the summer, he sort of deflected the question. What was absolutely clear to me, however, was that no matter the status or future of his medical practice back home, this man was steadfast in his devotion to his son and his beautifully budding golf career.
That he would guide young Langly with patience, love and wisdom became more and more clear to me as those few weeks that we occupied the same driving range together dwindled into the shortening days of autumn. Certainly, as winter gives way to next year's spring, I look forward to meeting up with young Langly and his dad once more, this time on the driving range at Augusta National Golf Club as they prepare to play in the 2013 Masters.