The Loop
Great golf courses: Machrihanish and Machrihanish Dunes
Machair is a Gaelic word that means pretty much the same thing as links, the sandy, wind-shaped coastal grasslands where the game of golf arose. It's pronounced "mocker," more or less, but with the two central consonants represented by what sounds like a clearing of the throat. The word is still used in parts of Scotland -- for example, on the island of South Uist, in the Outer Hebrides. The photo below, of me and my golf clubs, was taken on the machair at Askernish, the ghost course, on South Uist, in December 2008: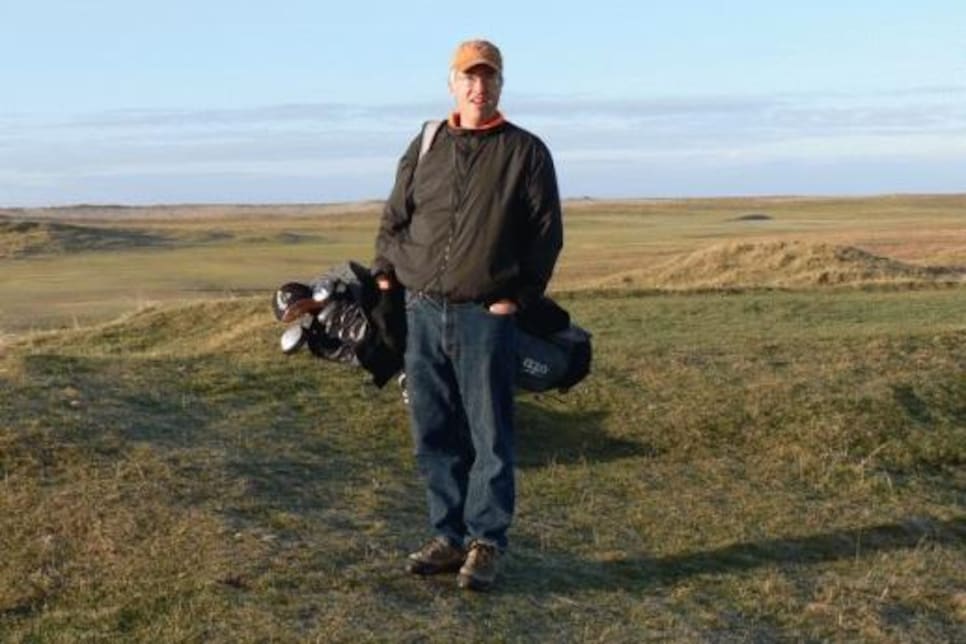 The word machair is also preserved in a number of places in Ireland and Scotland: Magheramore, Maghera Strand, Machair Bay, Macharioch, and Machrihanish. Those last two are villages on the Kintyre Peninsula, in southwestern Scotland. The southernmost tip of the peninsula, called the Mull of Kintyre, was celebrated in 1977 in a song by Paul McCartney, who owns a house nearby. A few miles north of the Mull is Machrihanish Golf Club, which was founded in 1876, with twelve holes, and was enlarged three years later by Old Tom Morris. Here's the view from the first tee at Machrihanish -- one of the coolest opening shots in golf (the beach is very definitely in play):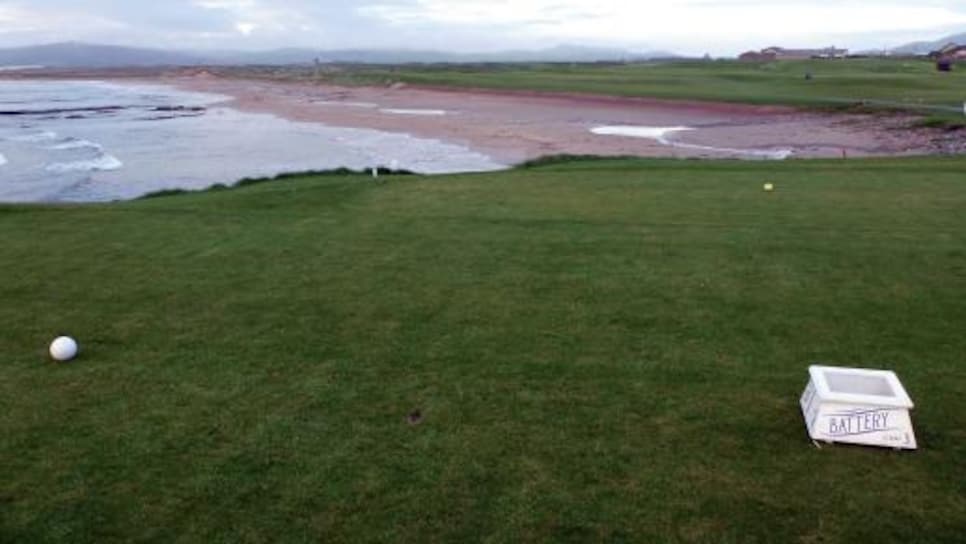 And right next to Machrihanish is a second course, Machrihanish Dunes, which was designed by David McLay Kidd, the architect of Bandon Dunes. It opened in 2009. It has my favorite kind of clubhouse:

Machrihanish was the setting of Michael Bamberger's book *To the Linksland, *which was published in 1992. One of the most and least appealing features of Machrihanish is that it isn't easy to get to. If you're traveling by car, the round trip from Glasgow can be more than seven hours, without much in the way of golf along the route. Flying is possible, although scheduling can be problematic, especially if you're trying to connect from another flight. The workaround my friends and I used during a recent buddies trip -- with help and planning from Celtic Golf -- was to go by water, on a chartered boat, which was operated by a company called Kintyre Express. We made the trip, from Troon, in less than an hour and a half. The boat ride turned out to be one of the week's many highlights:

We passed this lighthouse on the way: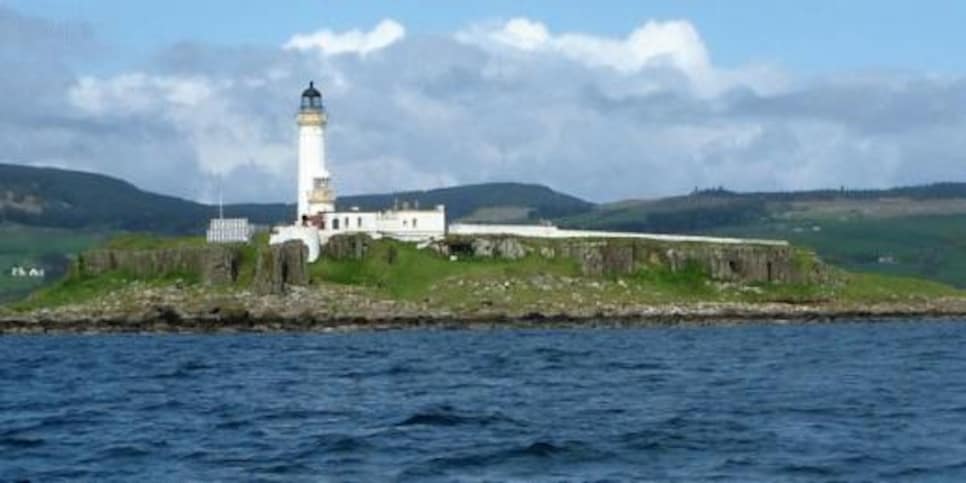 And this is what we saw as we entered the harbor at Campbeltown, the town closest to Machrihanish:

Our hotel was right on the harbor, a short walk from where the boat tied up: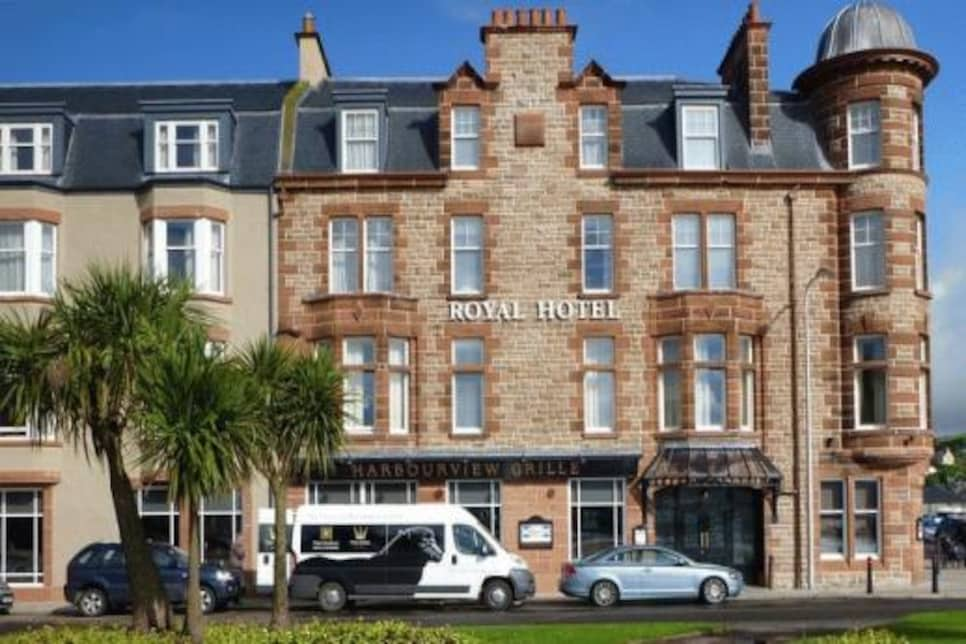 And both courses were just a short drive (by van) from the hotel. This is a little lookout platform at Machrihanish. You climb it to make certain the fairway ahead of you is clear: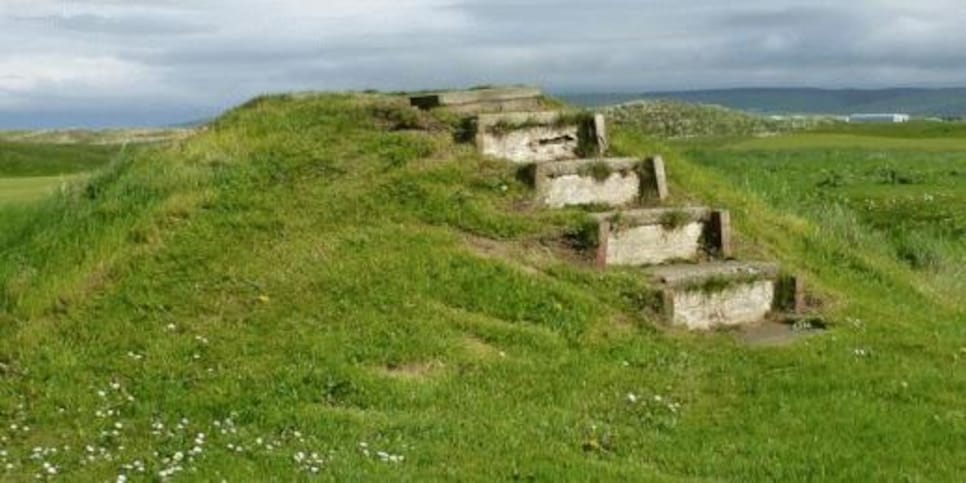 And this is Peter, putting from a fairway: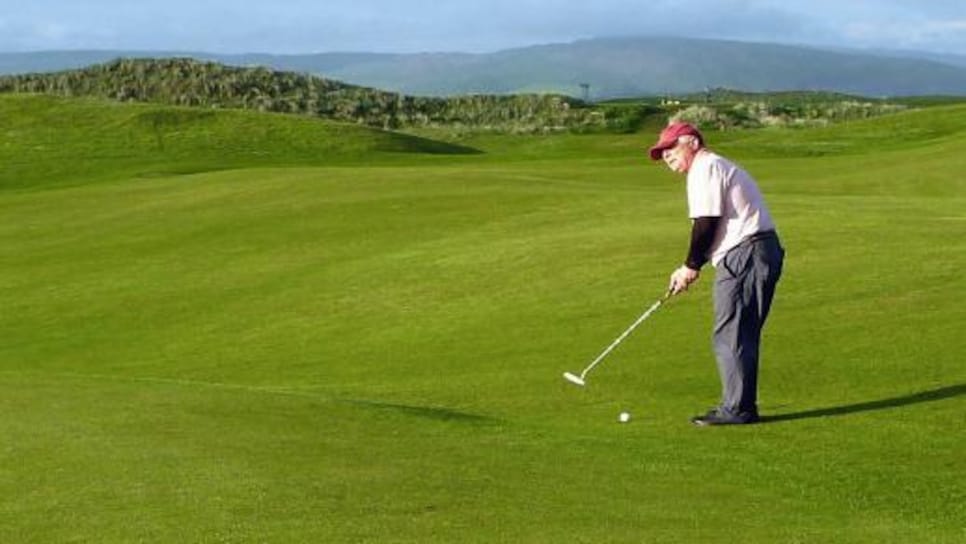 The two guys in the photo below, who were out for a walk with their wives in Campbeltown, chatted with us about golf, and then came back without their wives to tell us a story about Tony Lema. I think they were interested in us partly because I had played two Scottish courses they hadn't believed an American golfer would even have heard of: Reay and Strathpeffer.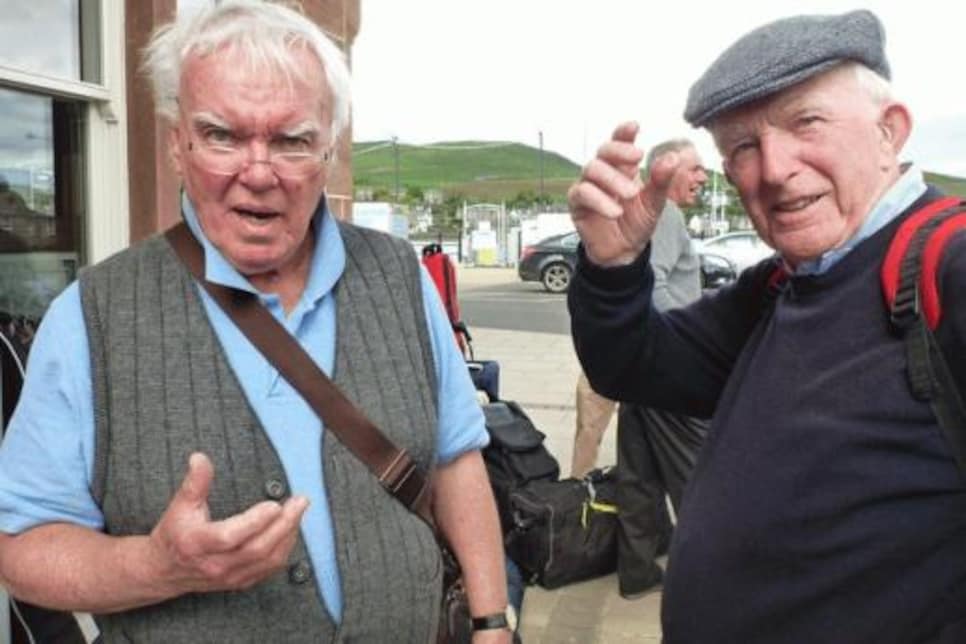 The photo below is a view of the water from Machrihanish Dunes. The course was built, with numerous conservation restrictions, on what the British call a Site of Special Scientific Interest. The maintenance crew doesn't use fertilizer, and there's no irrigation system. Only a tiny fraction of the land was disturbed during construction. And the course is terrific.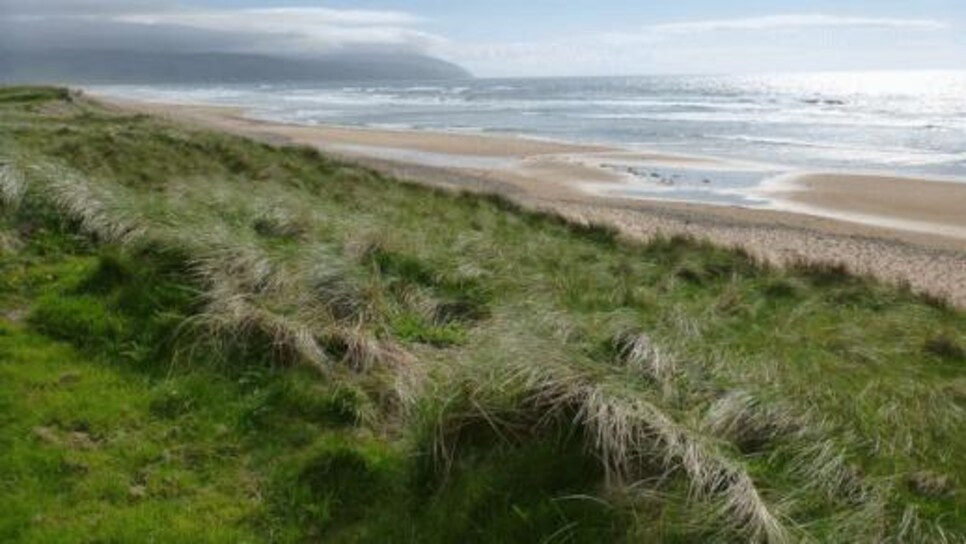 The photo below is of a former RAF base, which borders both courses. A U.S. Navy SEAL commando unit used to be stationed there. Part of the facility still functions as Campbeltown's airport. The runway is so long that even I could land an airplane on it, probably.

After three days at Machrihanish, we got back on our boat and headed to our next destination: Northern Ireland, which is actually closer to Campbeltown than Troon is. Here's the skipper, loading our golf bags in Campbeltown harbor: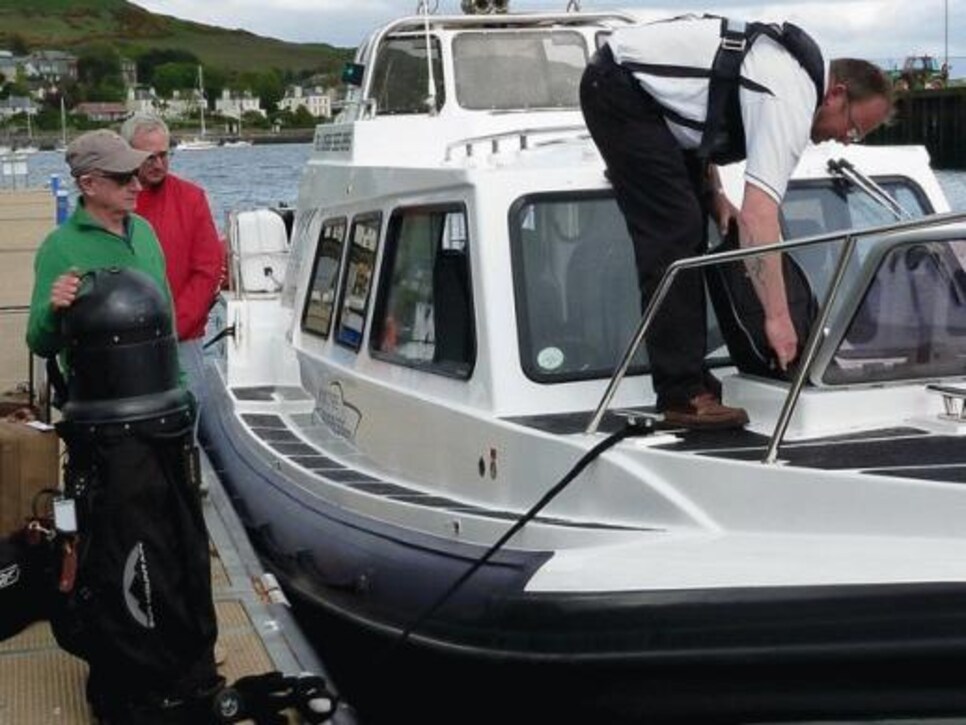 On the way to Northern Ireland, we passed the Mull of Kintyre, an area of weird currents and whirlpools, a place where a guy had recently drowned, a goat (basking on some rocks) that was descended from goats that were brought to Ireland by the Spanish Armada, and what used to be the cottage of Gugliemo Marconi -- whose name was not derived from *machair, *and who may or may not have been a golfer, but who was one of the inventors of radio. In fact, he made his first long-distance transmission was from the cottage, which is right on the water, to an island a few miles away. Here's the cottage as it looks today:

The weather was perfect during our trip. The skipper took us close to both coasts, so that we could get a better view.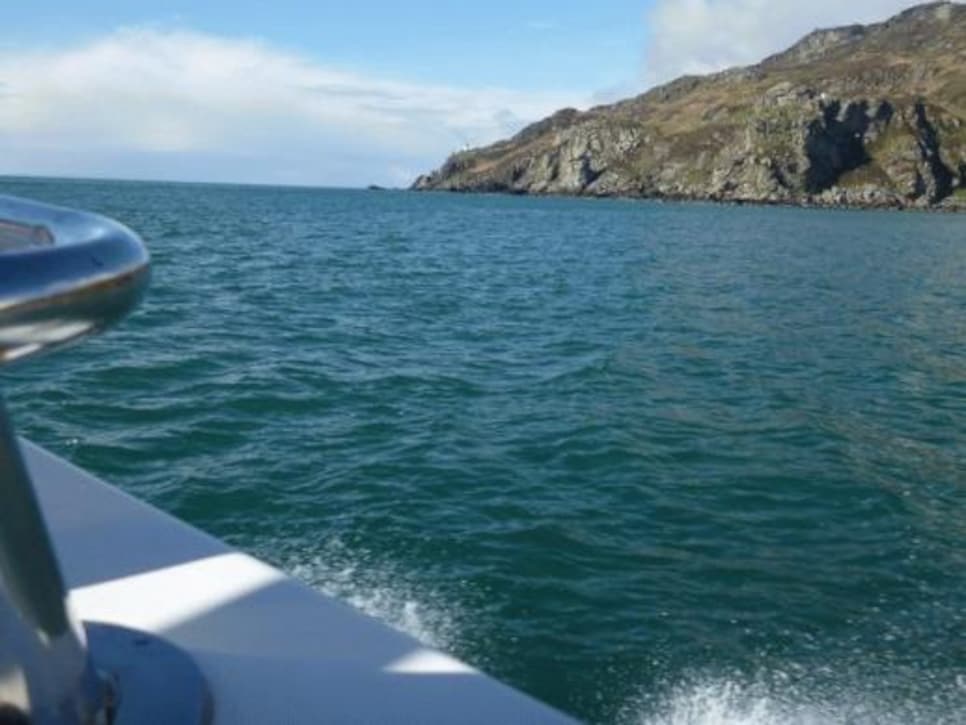 Here we are landing in Ballycastle, where the first thing we did was go to a grocery store and buy about a thousand dollars worth of junk food. Then back to golf.