News
Grand plan to pair European Ryder Cup hopefuls with captain/vice captains goes a little awry in Denmark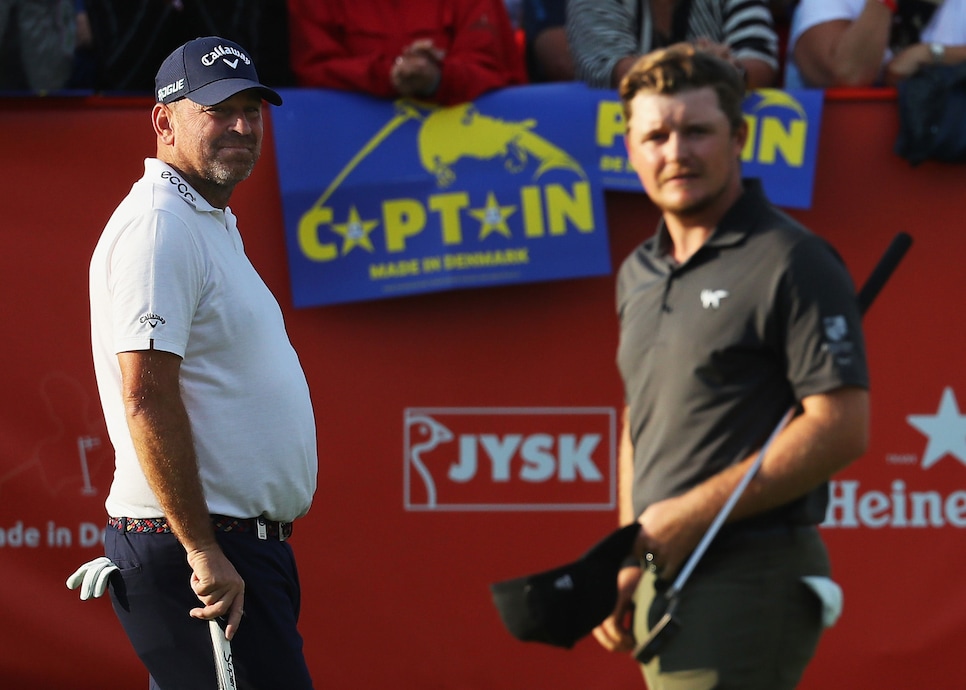 Warren Little/Getty Images
It was no coincidence how the pairings shook out Thursday during the first round of the European Tour's Made in Denmark, the final tournament before the selection of the European Ryder Cup team.
At Silkeborg Ry Golf Club, playing with vice captain Lee Westwood in the 8:30 a.m. pairing off the 10th tee were Thomas Pieters and Thorbjorn Olesen, two golfers in the running to be picked for the squad if they don't qualify this weekend. In a 1:20 p.m. group with another vice captain, Robert Karlsson, was another hopeful, Matt Fitzpatrick. And in the 1:30 p.m. tee time with the captain himself, Thomas Bjorn, was Eddie Pepperell.
According to the European Tour, Olesen, Fitzpatrick and Pepperell can all jump into the final automatic qualifying spot by virtue of their play in Denmark.
So how did the strategy of keeping a watchful eye on the Ryder Cup contenders work out on Day 1? Ehh … you be the judge after seeing their scores.
Westwood, -4/68
Pieters, -3/69
Olesen, +1/73
Karlsson, E/72
Fitzpatrick, E/72
Bjorn, -2/70
Pepperell, -2/70
The fact that none of the players out-performed the captain or vice captains they were paired with was not lost on Pieters. Have a listen:
We're assuming that Pieters, a standout rookie on the 2016 Euro Ryder Cup team, was using his usual dry wit when he joked he didn't know Westwood was a vice captain. But he was probably serious when he said: "I don't think he was very impressed, he beat us both!"
Karlsson's stole a bit of the limelight from Fitzpatrick in their group, as he was celebrating his 600th career start on the European Tour, a milestone the crowds helped make all the more special.
Pepperell would seemingly be feeling the most pressure, playing in the same group as Bjorn and then watching the captain get to five under par at one point during his round. Bjorn eventually cooled off, while Pepperell struggled to find fairways but grinded out his sub-par round. The 27-year-old Englishman says he was flattered to be picked to play with Bjorn (Martin Kaymer rounded out their threesome).
"It's probably more an inspiration. I wouldn't say it's a distraction," Pepperell said. "I'm still really focused on my game. I don't think it's affected my score today. I've still got to hit golf shots and have to be comfortable with my swing. It's not really on my mind."
Yeah, we believe you, Eddie.