News
A tour winner blends doses of humor with dashes of self-loathing. *With John Huggan*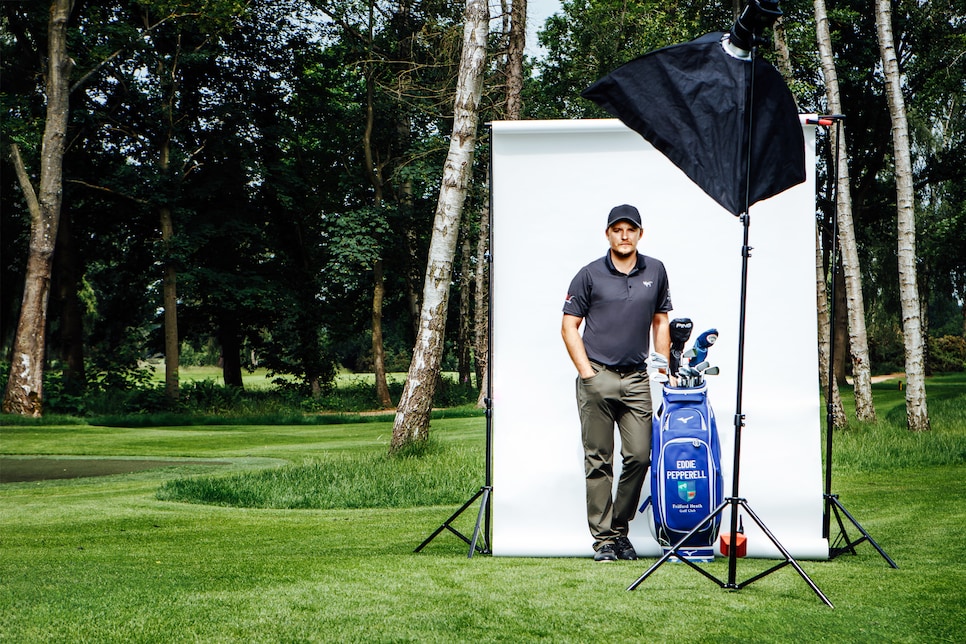 Photo By: Photo by Andy Ford
Eddie Pepperell will let you know what he's thinking. Whether taking on life's amusements and challenges on his provocative Twitter account or posting alternately funny and brooding items to his blog, the 27-year-old pro from England chronicles the roller coaster of a career that experienced an uptick in February with his first European Tour victory.
"I didn't think winning a tournament would give me as much satisfaction as it has," he wrote after the Qatar Masters. "It's made me realize my apathy and lack of interest is mostly a deception I've just played on myself." But, he added, "If I ever get above my station, my sister will put me right. She has a knack for four-letter curses and pinpoint truth-telling."
Pepperell has endured plenty of humbling moments, including the time his credit card was rejected the morning he won a Challenge Tour event in 2012. Now a member of the European Tour's Tournament Committee, he candidly addressed his life and self-doubts in two sit-downs with Golf Digest.
TELL US ABOUT THE DREAM YOU HAD OF TRYING TO BUY A CAR BUT GETTING A SURPRISE INSTEAD.
I did have a dream about a tiger, but any others I've had, I'm not sharing. [Laughs.] The tiger dream was weird, though. I dreamt that I bought a BMW 7 Series in China. It was £100,000, and I arranged to have it shipped home. But they delivered a baby tiger instead. I have no idea what that means. But in the dream, I was fuming.
WHAT MAKES YOU LAUGH?
Sometimes Twitter.
YOU GET CLOSER TO THE EDGE THAN MOST GOLFERS ON THERE.
I probably go over that edge sometimes. I don't care if people give me abuse because they don't agree with my opinion on something. Get over it. That's just life. So as long as I don't cross certain boundaries—which I never get into—the rest is just a joke. And Twitter is that side of me.
It would be easier for me not to get involved on social media. I actually delete most of my tweets @PepperellEddiebefore I send them. I get that I'm probably not doing myself many favors commercially.
[In a spat with veteran tour pro Gary Evans, Pepperell tweeted, The beauty of having no sponsors is that you can actually say what you think.] But if someone is giving me some crap, I'll have a bit of fun. Sometimes that comes off, sometimes it doesn't.
I know where the 65 came from today. Last night, upon stepping down from the top of the bunk bed (of which Laurie was sharing with me), my boxers got caught and I gave myself, frankly, a tremendous wedgie. I was hopeless and stranded for a moment. It gave me perspective.
WE GET MORE INTROSPECTION ON YOUR BLOG EDDIEPEPPERELL.WORDPRESS.COM.
My blog has always been a bit intermittent. I tend to write only when I want to or feel like I have something to say. I write mostly when I'm struggling or playing badly, or when I read more. If things are going OK, I'm not thinking about stuff as much. I'd hate to have to write to deadlines.
THIS AFTER NOT READING YOUR FIRST BOOK UNTIL YOU WERE 19?
I was on holiday in Cyprus with my girlfriend. It was Lawrence Dallaglio's autobiography [former England rugby captain]. I found it fascinating. And something clicked in my mind after that. I was off and running.
WHAT PISSES YOU OFF?
Nothing, really. I always start from the assumption that we are all imperfect. So I'm never surprised—or not often. I am surprised when I see someone do something really good. I never expect that. I always assume that we're all a bit shitty.
YOU'RE A CYNIC.
I am. Which is not to say I'm pessimistic about everything or want the world to come crumbling down. But I do think too many people expect perfection these days. And that isn't realistic.
ONLY A COUPLE OF YEARS AGO YOUR CAREER WAS AT A LOW EBB. YOU LOST YOUR TOUR CARD UNDER TRAUMATIC CIRCUMSTANCES. RUN ME THROUGH THAT AGAIN.
In 2016, I came to the final event of the season, the Portugal Masters, right on the bubble for keeping my card. It would have been a lot less stressful had I shot 76 the first day and 64 the second. But I did it the other way and was leading or one shot back after 18 holes. But to follow that up with a 76 that included a double bogey on the last, where I drove out-of-bounds and missed the cut, was disastrous. I say that because it was tough to hit O.B. on that hole. It was a terrible, terrible shot. It was worse than that shot Jordan Spieth hit on the 13th hole at Birkdale last year in the Open. This was Jordan without a right arm. I haven't cried many times in my career, but when I got back to my room, I broke down. It was a sickening moment for me, my family and anyone who really cares about me.
CAN YOU RECALL LOOKING UP AND SEEING WHERE THE BALL WAS HEADED?
Oh, yes. But the worst moment was the feeling at the top of my swing. I was literally frightened. I knew I was either going to flat hook it or block it. I chose to block it.
I was in a bad way with my swing then, and it became mental. So I was back at qualifying school. I played there predominantly with my 3-wood and got through.
WAS GOING THERE A BIG BLOW TO THE EGO?
No. I don't have an ego.
OH, COME ON. EVERYONE DOES.
No, I don't think I do. I know a lot of people would love to do what I do for a living. But that works both ways. I'm sure there are some very successful people here at Frilford Heath [Golf Club] who I would love to emulate.
THERE ARE QUITE A FEW BMWS IN THE CAR PARK.
There you go. That says it all. Or maybe it's just that the finance deals are good these days. [Smiles.] Listen, Louis Oosthuizen lost his card a few years into his career. Look what he has gone on to do. So people lose their way, lose their cards and come back.
I've never had a Plan B. It's always been about Plan A.
So I don't really know how to advise young people. Do I tell them to do what I've done, which is fairly unique? Or do I tell them to do what most people have done? In my mind, there is an inherent fear of failure. So there has only been one way with my Plan A: execute it. If my career ended now for whatever reason, I'd be sad, but I feel like I've learned enough through playing for 20 years and professionally for six that I could go and do something else.
YOU COULD BE AN AFTER-DINNER SPEAKER.
I'm not sure about that. I'd need a few jokes. As I've gotten older, I've realized that the future is never as bleak as you think it might be. But when you're young, you don't think like that. I was fortunate in many ways. I have a great family. My dad never pushed me. I see some kids I grew up with who never made it but were plenty good enough. I have to think that has something to do with their family influences.
ONE OF YOUR LOW POINTS HAPPENED BEFORE YOU WON ON THE CHALLENGE TOUR.
When I went to pay my hotel bill on the morning of the final round, my credit card was rejected. I didn't have enough funds, so my mum came to the rescue. Actually, my mate Laurie Canter paid, then my mum paid him back.
THE WOMAN IN YOUR LIFE [JEN RHODES] HAS HAD A BIG INFLUENCE ON YOU, HASN'T SHE? [PEPPERELL ONCE DELETED HIS TWITTER ACCOUNT TO IMPROVE THEIR RELATIONSHIP, SAYING HE WAS SPENDING TIME ON SOCIAL MEDIA "NARCISSISTICALLY."] YOU'VE HAD A LONG RELATIONSHIP FOR ONE SO YOUNG.
Yeah, that's not normal, is it? [Laughs.] We've been together since we were 16, so over 10 years. She's great. We're very different. She's intelligent. She studied law. She has a master's. And now she's training to be a health coach. I see that as a great opportunity for her. As a society, we have become way too interested in curing people rather than preventing the actual illness.
HAS ANYTHING CHANGED FOR YOU SINCE WINNING IN QATAR?
The big thing I learned was that I was able to hit the ball—by and large, at least—as well in the final round as I had over the first three days. Anyone who has played golf under pressure will know that the tendency is to move faster, especially the big muscles. But that week was different. I'd just started with a new instructor, Simon Shanks—which is a great name for a golf coach—and his assistant is Matt Hacking, which is even more incredible.
I've always thought of Zach Johnson as an example of how to win tournaments. I mean, why has he won more times than, say, Paul Casey? He's even won more often than Henrik Stenson on the PGA Tour. There's no way that Zach is a better ball-striker—or a better golfer—than either of those guys, but when it comes to the crunch, Zach can hit the right shots when he absolutely has to. That shows how it all comes down to swing feelings.
SO YOU GET YOUR MENTAL REASSURANCE FROM A PHYSICAL FEELING?
Exactly. And I always thought that would be the case. I have never questioned my mental capability to win. Why should I? I won as a kid. I won as an amateur. I won on the Challenge Tour. I'm not all of sudden going to be afraid to win on the European Tour. That makes no sense to me. Which is not to say that it's not harder to win on the European Tour. It requires more types of shots and a better quality of shot.
I could always achieve that level when not under pressure. But I found it more difficult when I was under pressure.
I WAS PARTICULARLY IMPRESSED WITH THAT DRIVE YOU NECKED OUT THERE ON THE 72ND HOLE.
[Laughs.] I nearly missed it.
YOUR TEMPERAMENT IS CLEARLY MORE ARTISTIC THAN SCIENTIFIC, AND THAT MAKES THE SHOTS YOU HIT A LITTLE DIFFERENT FROM THE NORM. FAIR?
When it comes to hitting the same shot over and over, I've either got too much talent or a lack of talent. Whatever, I can't do that. I wish I could go to a course in easy conditions and shoot 25 under par. But I'm not good enough to do so.
I happily admit that. I've not got the driving game or the putting game. But I have got the ability to hit a variety of shots. I'm creative with shots. I play better in the wind than most other guys on tour. I can adapt to different conditions. That is a skill, and that's my skill. We're all different. That's important to realize, I think. I just have to hope that the modern game encompasses a big enough variety of courses so that I can still succeed being me. I think I can have a great career and earn a lot of money with the game I have. And if it changes over the next five years, I can always go off and try something else.
IF THE BALL WAS REINED IN AND ALLOWED TO GO SIDEWAYS MORE, YOU WOULD BENEFIT.
Trust me, I hit it sideways enough. [Laughs.] The interesting thing for me stems from hitting so many 3-woods off the tee. If they hauled the ball back, people are going to have to hit more drivers. They just will. So those who will benefit most are the best drivers of the ball.
Arguably, if there is more sidespin on the ball, I would find it easier to shape and get it in play. And when I look at Rory, I think he would benefit from the old equipment. When he stands up under pressure, he wants to hit that 15-yard draw. That's the shot he sees. But the modern equipment stops him from doing that. I wouldn't be buying shares in myself or Henrik should a ball change come in—we just don't hit driver enough. But I would buy shares in Rory or Dustin Johnson. They're the best drivers, and they would only be helped by a ball change.
WHAT ENERGIZES YOUR BRAIN WHEN YOU'RE NOT PLAYING GOLF?
I'm really into the markets and the economy. I used to follow politics, but I grew to hate that. I find economics fascinating, though. At home, I often have Bloomberg or CNBC on. I know that sounds incredibly boring to most people, but I enjoy it. I don't actively invest, though. I'm not trying to make money. I'm just interested in where money comes from and how it all works. More generally, I'm intrigued by how we all become victims of our own success. There seems to be a natural undercurrent in nature and in life—no matter what industry you're in—where things flow in cycles. And the economy is like that in that there are always going to be recessions and expansions. It almost always comes down to how people feel about things. Careers are like that, too. I know mine is. I've often had some of my lowest points right after my biggest successes. Why is that? Because I get complacent and stop focusing on the right things. And when I'm in a low, I have to re-think and reinvigorate myself. So I rise again. But I love the rawness to life, good and bad. And often it is bad. People fail, and people die. But that's necessary to show the disgusting beauty of life. We can't avoid it.
YOU'RE ON THE EUROPEAN TOUR TOURNAMENT COMMITTEE. YOU'RE NOT THE TYPICAL COMMITTEE MEMBER. IS THIS THE FIRST SIGN OF THE EROSION OF AN INQUIRING MIND?
[Laughs.] I did it because I didn't want to be that guy who complains in ignorance. I don't complain about many things on tour. I don't complain about bus schedules or the food in the players' lounge. Some players do. I think we're pretty lucky, and there are bigger issues. I want to understand the predicaments the tour faces in a whole host of areas. It's been brilliant, too. I get the chance to spend time with [CEO] Keith Pelley. I get to understand his vision and the way he is. I get to spend time listening to Thomas Bjorn in an environment where he is really productive. He can be good and bad at times, I know, and I've said that to his face. But I really quite like him. And in committee, he has been brilliant. Which is not to say we haven't had disagreements.
WHAT ARE YOUR POLITICS?
Away from golf? That would get me in trouble. All I would say is that I am a big advocate of freedom and responsibility. There are so many things right now where people just don't accept responsibility. They spend too much time trying to get the government to subsidize their needs or wants. Pro golfers are more likely to sit on the right politically, much more than on the left, because of the nature of golf. To be successful on tour—which is difficult to achieve—you have to take a lot on yourself. There is no one holding your hand out there. It's a cutthroat environment professionally. And that transfers into how a player is likely to see the world politically. Which is definitely what has happened to me over the last five or six years. Having experienced the tour, I've come to see that as resembling real life.