News
GolfSixes a success on and off the course as Denmark takes the inaugural title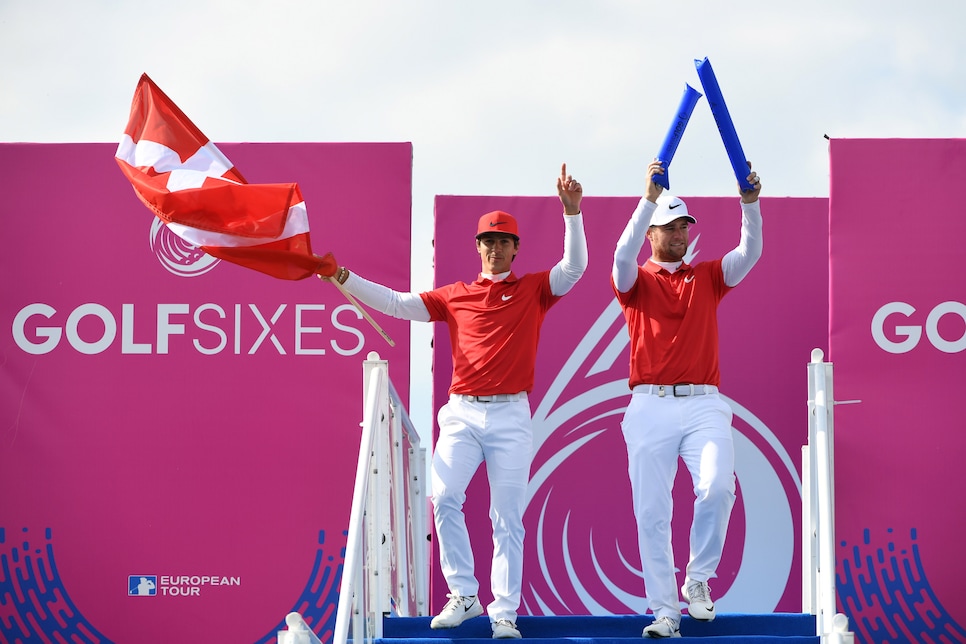 When it comes to team golf, don't mess with Denmark. That was the competitive message emanating from GolfSixes, the European Tour's latest innovative attempt to liven up the week-to-week routine that is 72 holes of stroke-play competition. Seven months after teaming with compatriot Soren Kjeldsen to lift the World Cup of Golf at Kingston Heath in Melbourne, Thorbjorn Olesen combined with Lucas Bjerregaard to share the €200,000 first-place check at the Centurion Club outside London. The Danes knocked off the Australian side of Scott Hend and Sam Brazel by a score of 3-1 in the final (2 up in regular golf language).
Identifying winners and losers was never really the point, of course. This event—the brainchild of European Tour chief executive Keith Pelley—was all about engaging with new audiences, providing quicker and easier-to-follow entertainment and, for all concerned, fun.
In most of those aims, GolfSixes succeeded, even if, as with all experiments, not every aspect worked perfectly.
The 32 (flag-waving) players marched into battle before each match accompanied by music and pyrotechnics, a fact that clearly went down well with the children massed beside the opening tee.
The 40-second shot clock provided a little tension and claimed a victim in American Paul Petersen. The left-hander was penalized one-shot when he took too long to reach impact on the opening day. Elsewhere though, the general pace of play was a pleasant contrast to the often snail-like procession that plays out each week on tours the world over.
Each player was mic'd and available for interview during matches, a fact that surely provided valuable insights to an audience presumably (and hopefully) stacked with those for whom the often-confusing and intimidating nuances of the game are unfamiliar.
No one embraced the inclusive aspect of the proceedings more than Englishman Andy Sullivan, whose "cheeky chappie" persona was perfectly suited to the atmosphere of fun and games. The Ryder Cup player's epic chest-bump with the giant pink foam mascot by the first tee will surely go down as the lasting image of the two-day event.
The rules-laden Masters this was not.
At least where U.K. television viewers were concerned, the presence of non-golf commentators and announcers was more irritating than informative. The tired collection of long-retired sportsmen and D-list "celebrities" added nothing to the proceedings. Should the six-hole-match format prove attractive to prospective sponsors, the elimination of such nonsense will surely be a pre-condition.
Likewise, the unrelenting cheerleading that was a too-prominent aspect of the Sky Sports coverage needs to be, at least, toned down. Were the broadcasters there to report on the event? Or were they part of it? At times, that line was crossed.
GolfSixes is something worth repeating. "It will definitely be back next year," Pelley said. The crowds were decent, and the presence of so many youngsters was encouraging enough to silence any sneers from traditionalists, for whom this event was never going to be attractive. As former European Tour player Raymond Russell, a spectator along with his three children, said: "It went really well. And it wasn't as funky as I thought it might be."