Editor's Letter
Golf's relationship with trees is complicated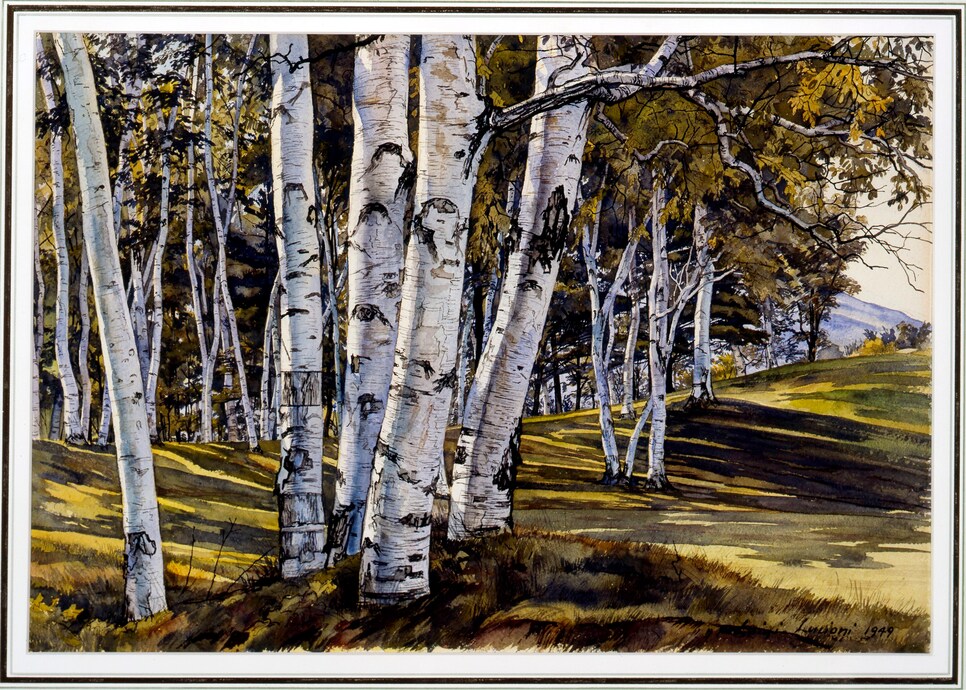 Luigi Lucioni loved to paint the white birches of Vermont's Ekwanok Country Club. Gift of Mrs. E.R. Tinker to Ekwanok Country Club
Forget the tour pros fighting for zeroes. The real war in golf that affects everybody continues to rage with untold cost and loss of lives. Emotional divisiveness rips apart foursomes and green committees. I'm speaking, of course, about trees, and in this issue Architecture Editor Derek Duncan explains why the sound of chainsaws has been echoing so loudly across our courses lately.
Duncan gets down to the roots of removalist reasons that make sense, such as improved turfgrass health, more shot options, restoration of dead architects' original strategies, and more. It's the very rational thinking of adults, and accordingly, my experience has been that senior and junior golfers tend to be the most wistful/shocked when a big one goes down. Sure, short-and-straighthitters would have proclivity toward obstacles that punish their wayward prime-of-life opponents, but maybe the old and young are more attuned to the power of trees and their deep state of abnormal well-being.
As a kid, my first 300 rounds of golf were played on two courses seven miles apart in southern Vermont. Our family had a membership to the Dorset Field Club, a nine-holer that became 18 the year I shipped off to college (timing I regarded as tragic), and I caddied at Ekwanok Country Club, perennially ranked as the best course in the state as well as lenient toward employees stretching the rules of which afternoons we were allowed to play.
Both clubs derive their logos from trees and so their spirits. Dorset's robust maple with golf clubs and tennis rackets crossed like swords is a specific colossus whose age was estimated at 130 when it succumbed in 2017. Halfway down the longest par 3 it reigned, and if not for the alternate right tee box, I never would've learned to hit a cut. The busy logo reflected, at least to me, the pack-it-all-in, family-sports-jamboree atmosphere. There was a tournament for something seemingly every day, but only the big member-member golf event during peak autumn foliage was and still is called the Flaming Maple.
Ekwanok's logo, two slender white birches framing a lone flagstick, is not an actual location but evocative of multiple groves that dot the property. A member commissioned the famed Italian-American artist Luigi Lucioni to create it in 1970, and his Renaissance-like precision captures the special serenity of the place. Lucioni loved Ekwanok. In the flora of the Green Mountains perhaps he saw the foothills of the Alps where he was born in 1900 to a poor coppersmith father. He spent winters in New York City but his summers driving a pale-blue station wagon onto the course to work en plein air and chat with golfers, sometimes selling them paintings.
Lucioni never painted my favorite tree at Ekwanok, an unheralded maple about 100 yards from the eighth tee on the left. After handing players their drivers at the seventh green, caddies would quickly scoot to its soothing shade, drop the bags, and lean against this specimen's marvelous trunk that fit the small of the back perfectly. There were two roots like armrests, and the earth between had been grooved by the asses of caddies large and small for nearly a century. Sitting on the job was a bad look, but the vantage for following drives over No. 8's bulbous crest fairway was so ideal that this one moment of leisureliness was accepted. It was unspoken that a caddie of higher rank got the spot, and I remember my first season being astonished at the gall and dexterity of a veteran who rolled a cigarette and managed some puffs during our quick break. In time, I became part of the cadre who would leave notes for each other by scratching the soil at the base with a twig.
This tree is gone now. From a playability perspective, I totally get it. But I also think of what a highly accomplished tournament player once confided in me during a loop: Whenever he felt anger rising within, he looked at the tops of trees swaying in the breeze until he felt recomposed.
That was a more valuable lesson than hitting a cut.
What's your favorite golf tree and why? Please write me at max@golfdigest.com.