News
Golf's major tours, governing bodies will stop taking TV viewer call-ins regarding potential rules issues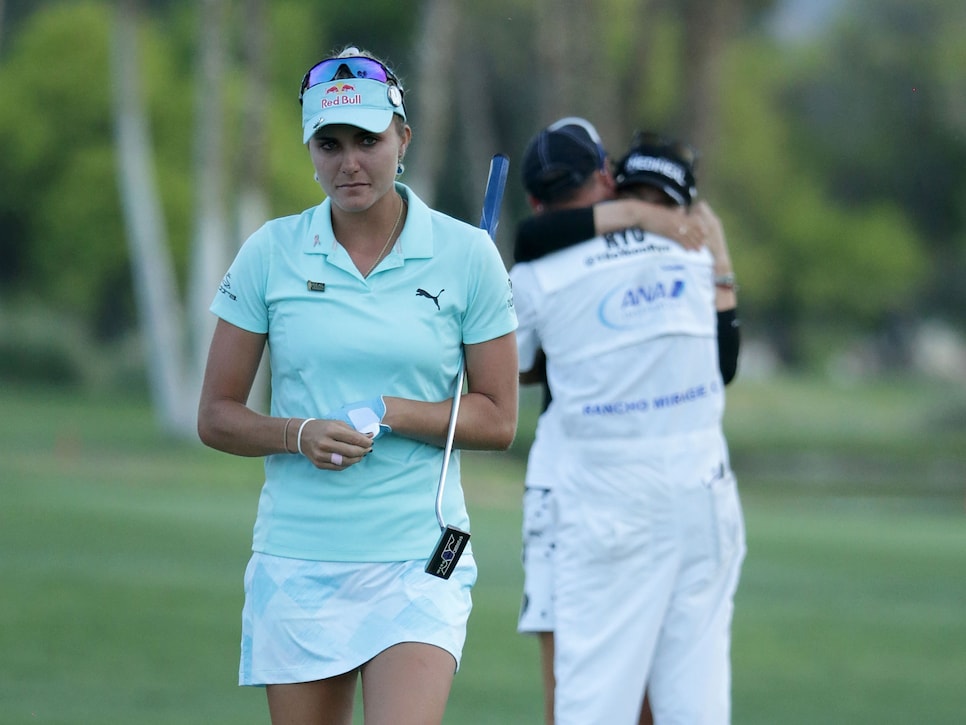 Perhaps Lexi Thompson can take some solace from the announcement made on Monday by the USGA and R&A, in conjunction with the major men's and women's professional tours around the world and the PGA of America. Starting Jan. 1, these associations collectively will no longer field rules inquires from viewers watching golf-tournament broadcasts on TV or streaming online as part of a new set of video review protocols.
Had the new policy been in place earlier this year, chances are Thompson would not have received the four-stroke penalty for incorrectly marking her ball on the putting green and instead would have likely cruised to victory over So Yeon Ryu at Mission Hills. LPGA officials would not have accepted the email that came to them during Sunday's final round asking about Thompson's mark on the 17th green the previous day.
In the aftermath of the ANA ruling, the USGA and R&A formed a working group made up of representatives from the PGA Tour, LPGA, European Tour, Ladies European Tour and the PGA of America to develop guidelines for video review. The foundation of the working group's new protocol is that each of these entities has committed to assigning one or more rules officials to monitor video broadcasts of their events to help identify and review potential rules issues as they arise. In turn, the tours will discontinue consideration of call-ins as part of the rules review process.
"The committee [at each tournament] will take on the responsibility of monitoring in real time," said Thomas Pagel, the USGA senior director of Rules of Golf and Amateur Status. "Essentially everything you're seeing at home we've already seen it. We're going to apply the rules accordingly."
Should players, caddies, officials or spectators at tournaments raise questions about potential rules issues, the video review staff at each tournament can return to the broadcast footage to help with rulings.
In addition, the USGA and R&A have approved the creation of a Local Rule that will eliminate the additional two-stroke penalty players can receive for failing to include a penalty on the scorecard when a player is unaware of the penalty. This Local Rule will be available starting Jan. 1, and all associations that are part of the video working group will implement it. Meanwhile, the scorecard penalty will be removed entirely in 2019 when the modernized Rules of Golf go into effect.
Pagel said that the working group's first point of conversation upon gathering in April was whether to allow video reviews of any kind. Their conclusion was that obvious benefit of seeing footage to determine facts and help apply the Rules—as well as exonerate players—was too big to do away with video review altogether.
However, there was agreement that the type of video that would be reviewed needed to be limited to broadcast footage. Videos taken onsite by phones or other digital technology will not be used as part of the review process.
"We see this today in social media and otherwise, and not just limited to golf, you see video that's clipped and manipulated," Pagel said. "And rather that put yourself in a position of having to trust that, we're just saying we're going to rely on those credible sources."
No other major sport allows spectators to potentially change the outcome of a competition based on what they saw, viewers getting to act as de facto arm-chair officials. Beside the Thompson affair, the 2013 Masters was memorably impacted when a viewer called to say that Tiger Woods had taken an improper drop on the 15th hole during the second round after hitting a shot off the flag stick and into the water. (That viewer happened to be a former PGA Tour and USGA rules official, David Eger.)
More often than not, however, when call-ins occur they don't amount to actual Rules infractions and become distractions to tournament officials, according to Pagel.
"When a call or email would come over to our desk where we were reviewing video, 90 percent of them, maybe 95 percent, we had already seen and determined there were no issues," Pagel said. "And maybe somebody calls about something and it was from four hours ago, and all of a sudden you go to the source video and realize there's nothing there. So it's a labor-intensive process, and really it's taking us away from focusing on conducting the event."
That said, Pagel acknowledges that under the new video protocol there is potential for rules issues to be overlooked. Take Thompson at the ANA. If not for the email from the viewer, it would have been incumbent upon LPGA video rules officials to have caught Thompson's improper mark in real time.
"There may be things that the committee after the scorecard is returned, will come back and say, 'You know what? We missed that. We didn't catch that as it happened. We're human.' The committee will accept that responsibility."
Pagel characterizes these changes as the next step in golf's ongoing conversation regarding video review. Shortly after the ANA incident, the USGA and R&A announced a new decision (34-3/10) to the Rules of Golf that allowed for a "player's reasonable judgment" to be acceptable in cases where they video evidence later shows they might not have taken precisely the nearest point of relief.
The governing bodies also put in that Decision a "naked eye" standard so that if a player's action could not reasonable have been seen as it happened—think Anna Nordqvist at the 2016 U.S. Women's Open—and the player was not otherwise aware of a potential breach, he or she would not be considered to have broken the Rules if video technology shows otherwise.
Everyone realizes that video can play a helpful role for players and officials. This latest announcement is in an attempt to make sure it doesn't play a hurtful role, too.