Golfers We Like: A Canadian Superfan's Big Adventure In The Bahamas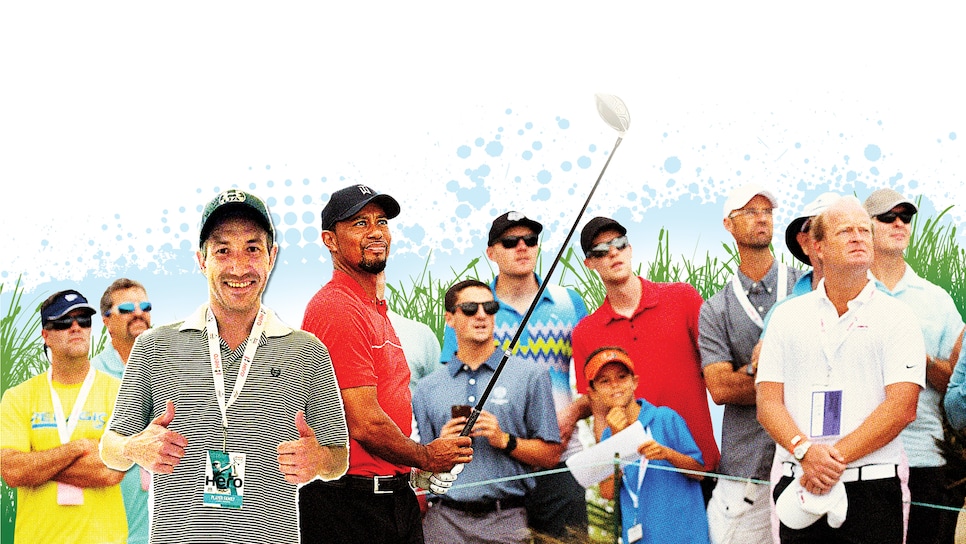 Photos: Stan Badz/Getty Images/Illustration: Sean McCabe
Jeff Davidson is a 35-year-old from Nova Scotia who paints houses for a living. He also identifies as a huge Tiger Woods fan, but the 12-handicapper had never seen his hero in the flesh. So when Big Cat was set to return to competition after a 15-month absence, at the 2016 Hero World Challenge in December, it felt to Davidson like "maybe my only chance in life ever, because who knows what's going to happen with Tiger?" (This was before Woods was charged with driving under the influence in May.) Davidson did know that if any tournament promised more than a paltry glimpse of Tiger, it was this annual competition to benefit the Tiger Woods Foundation. It features an 18-player field and tiny galleries.
For a month, Davidson scoured the Internet for tickets, but found none. On the Tuesday of tournament week, the hype surrounding Tiger's return neared a crescendo. To heck with it. Davidson purchased a plane ticket to the Bahamas for the next morning, which, for $500 round trip, seemed a last-minute steal to the sun-starved Canadian.
The only person perhaps more responsible than Woods for Davidson's love of golf is Davidson's mother—a fine player in her day—but he didn't tell her about his plan. "If she'd known I was flying there with nowhere to stay, no one I know, and no ticket to the tournament, well, she would've begged me not to."
The plane from Halifax took off in a snowstorm. On the ground in the Bahamas, Davidson took a cab to a back gate of the course, where a guard promptly intimated physical violence if the ticketless Davidson didn't disappear. A kindlier guard explained: This was Tiger's tourney, not some regular tour event, and Davidson was crazy if he thought he could talk his way in.
For the next hour, Davidson traipsed through jungle brush in flip-flops, following the concrete perimeter of the resort. At the next gate, marked for volunteers, he offered his services. Sorry, the woman said, but every volunteer needed strict security clearance in advance.
At the third gate, Davidson tried some "alternative facts." A friend's wife had broken her collarbone yesterday, he said, so they weren't coming, and this friend had emailed to put his name on the list. No, he couldn't produce the email because his phone was dead.
At the final gate, word of the suspicious interloper with the friendly accent had circulated the walkie-talkie waves. Our man was escorted to a bus station faster than he could get out his next story about being a lost hotel guest.
His seatmate on the flight down was heading for the Atlantis Casino, so Davidson figured he'd go there to suck his thumb. Penny slots equaled free beers, and he'd stay up all night if he had to. Suddenly, buying the plane ticket and ditching all responsibilities at home seemed like a selfish act (and, as was becoming increasingly apparent, foolish). He was determined not to spend more than the $200 in his pocket.
And who should be at the front desk? None other than the Golf Channel's Steve Sands and Tiger Woods' caddie, Joe LaCava! Davidson effusively professed his fandom for each, got autographs, and asked about tickets.
"It's like the Fort Knox of golf courses," Davidson said.
"Sure, meet me here in 10 minutes," said LaCava, who was switching rooms.
From then on, everything bounced onto the green for Davidson. Though the guards recognized him, he got in and saw each shot of Tiger's second-round 65. He crashed the Tiger Woods Foundation party, where he complimented Henrik Stenson on his club throw earlier in the day. Stenson laughed and took Davidson under his wing for much of the evening.
Plying the Atlantis concierges with small tips, Davidson stowed his backpack there and spent all but one night sleeping on the beach. "I was the only person on the beach and actually slept pretty well with just a towel."
Watching Tiger was "mesmerizing, like seeing a ghost," Davidson enthuses. "It's the greatest tournament. Next year I'm coming with my buds and we'll do it right. Even if Tiger isn't playing."