The Loop
Golfers should love the Apple Watch
Full disclosure: The author is a First Team All-Conference, Executive Platinum, Apple Fanboy.
My 42mm blue "fluoroelastomer"-band Apple Watch Sport arrived on April 24th's launch day even after having received a June ship date. Us baby blue band-wearers were apparently in the aesthetic minority, thus we were moved up the ship list while the space grey fans and stainless steel set are just now getting the coveted timepiece.
Apple Watch is better than expected. Especially if you're a golfer.
I had doubts this would be the revolutionary product that Apple claimed it to be. And the watch is not yet on the iPhone's groundbreaking level because third-party app developers have had no time with the product. However, the Apple Watch already does so many little things that make social and athletic experiences better in ways unimagined. Like a round of golf.
Since Phil Mickelson is about the only golfer on the planet who doesn't seem to mind wearing a watch as he plays — it helps to be paid to wear one — the idea of the Apple Watch embellishing a golf experience was not on my radar. Instead, the promise of text and email notifications, safer directions or inspirational fitness tracking seemed more appealing. Because we all need to look at our phone less.
To date, the notification software has been incredibly seamless, with several fun software touches adding to the pleasure of owning the watch. In the case of a few apps, like rain-forecaster Dark Sky ($3.99), the notification element can be downright jaw-dropping. In other situations, simply sitting at dinner waiting on one person who texted their ETA, allowed an interesting conversation to go on uninterrupted.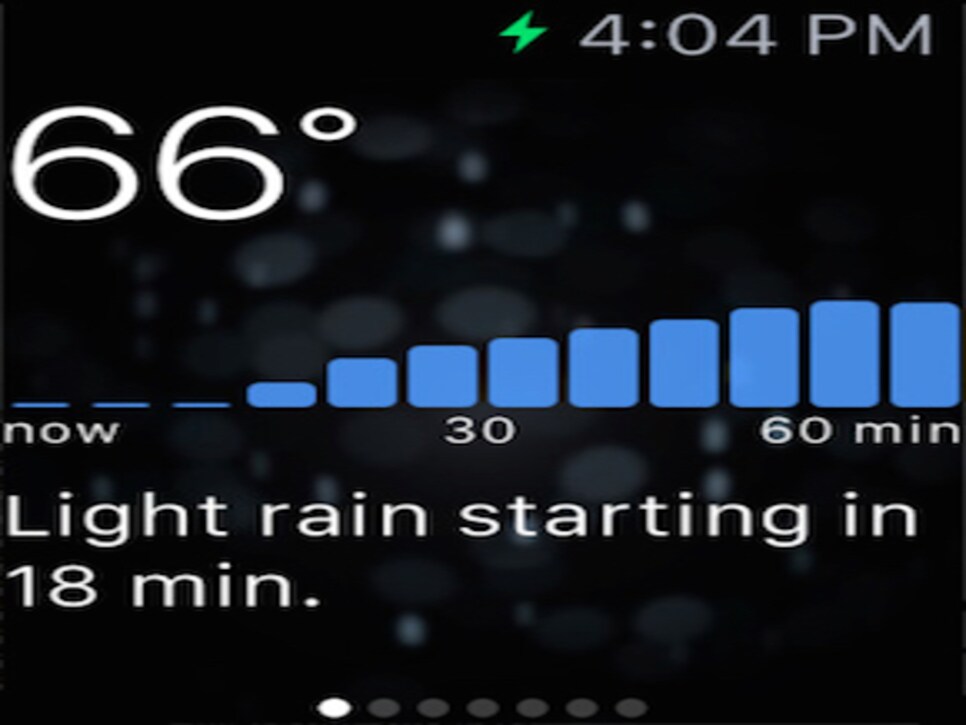 Last week I put the watch to test by driving from Orlando to Palatka, Florida, for golf. The iPhone Apple Maps could have guided me there just fine with verbal directions, and did. Yet traveling back roads in unfamiliar territory (with ditches just off the road), having the option to make simple glances at the watch as my hand was on the steering wheel informed me how long to go before the next turn. And as a turn approached, a left or right vibration added to the verbal reminders that you sometimes miss because you're listening to the radio, again preventing me from picking up the phone while driving in unfamiliar territory.
This may sound like a first world problem solved, but anything to make driving safer is a huge positive. Especially when headed to a new golf course.
Once at the Donald Ross-designed Palatka, the phone went into my golf bag and only came out to take a few photos. Otherwise, texts and even a phone call I answered quickly all came to the watch. Nothing was important enough to require action and I was able to enjoy my round much more even though it was during a workday. I never felt disconnected but also felt more free to take in the on-course proceedings.
For most, total disconnection isn't possible any longer and the Apple Watch delivers as a healthier middle ground. In a sport where connectivity remains an issue at clubs, in social rounds and spectating at tournaments, the Apple Watch might make it easier for dad and daughter to go play a late nine or a businessperson to put out a few fires without abandoning their leisure time.
The ultra-light 42mm Sport was never a hindrance when swinging the club. The band is surprisingly comfortable and easy to clean. Off the course, the bright blue borders are embarrassing for an adult. Apple evidently wanted the first models to have loud colors as conversation starters. It worked. Down the road, more discreet fluoroelastomer bands will be welcomed by adults who don't want to look seven.
The only negative to date: the confusion between the Activity, Workout and Health apps that track your athletic endeavors. While seeing a few weeks worth of data continues to be an inspiring experience for those trying to stay in shape, the number of tracking options from Apple and their obsession with calories has made this component the only letdown. I sense third-party developers will come up with clever, consolidated and targeted software to track your activities while inspiring walking instead of taking a cart or helping you learn to swing the club a bit more fluidly. A golf-specific option in the "Workout" app, for instance, would be a nice touch, too.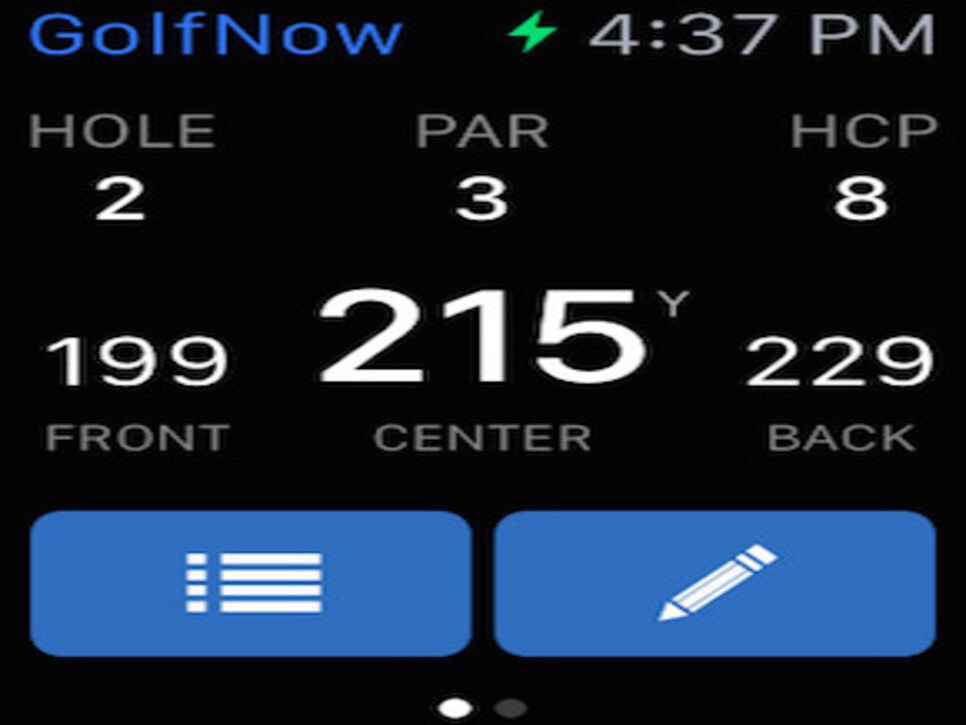 Some big-name golf-specific apps are already Apple Watch-compliant and field testing with Golf Now and Arccos will be a necessity before drawing conclusions about the accuracy and speed of yardages provided. But on the surface, they appear to be well thought out and compelling.
Ultimately, the Apple Watch will delight because it should allow you to more discreetly remain connected while never losing touch with the real reasons you are on the golf course. Purists will scoff at the inability of some to disconnect, but realists will appreciate anything that lets them enjoy their passion just a little more.