Features
The healing power of golf—explained by these four essential workers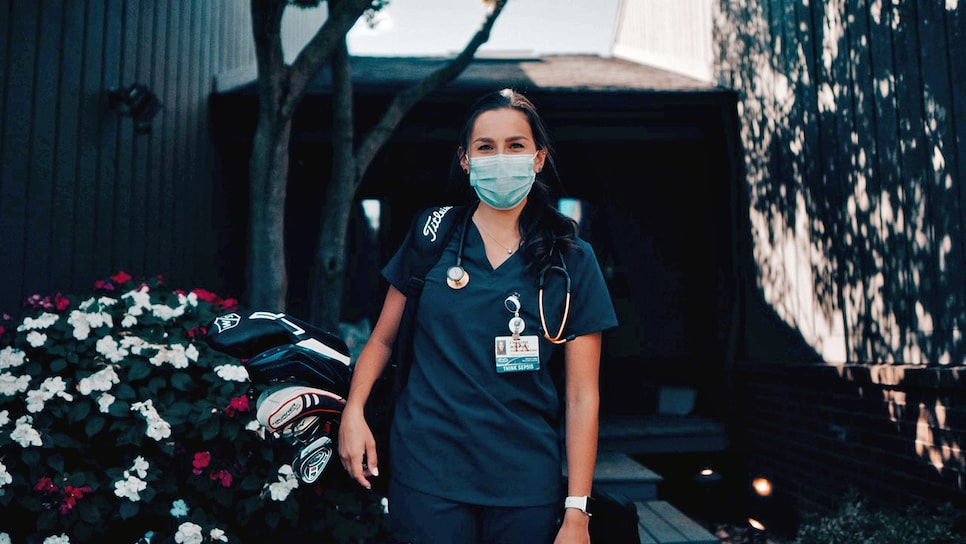 Through the years, Golf Digest has written extensively about the healing power of golf, from the ash-covered firefighters of September 11 who found a sense of peace and community in the game to the transformative stories of our Golf Saved My Life series. In moments of personal crisis, golf and fresh air can be profoundly cathartic. This has been true of the coronavirus pandemic as well. In Issue 9 of Golf Digest, we invited six frontline workers to share their stories. As a companion, we've made four short documentary videos to help bring their accounts of helping to fight COVID-19 to life. What has it meant for these professionals to risk their lives to help others? How has golf helped them cope? These stories are a vivid reminder of the human cost of this virus—more than 210,000 have now died—but also of our resolve and shared humanity.
Christine Bonamici, 26, works in the emergency department at Henry Ford Hospital in Detroit. After a week of long shifts in the ER during some of the worst weeks of the pandemic, the golf course became "the perfect place for me" to find balance, she says.
Watch the video below for more on Bonamici's story:
Calvin Gardner, 46, a healthcare worker at Stamford Health in Connecticut, lost his father to COVID while he was on the frontlines risking his own life. He didn't even get to say goodbye. "Nobody should die alone unable to see their loved ones."
Watch the video below for more on Gardner's story:
Haley Campbell, 25, a third-year nurse at Morristown (N.J.) Medical Center, compares her first day working in the COVID unit to an apocalyptic scene from a science-fiction movie. "It was shocking and disorienting," she says.
Watch the video below for more on Campbell's story:
Scott Russell, 54, is a paramedic in the Nassau County Police Department in New York. During the height of the pandemic surge in New York in the spring, Russell said he averaged 14 emergency calls a day. Almost all of them COVID-related.
Watch the video below for more on Russell's story: